More Victims: ANOTHER Woman Disappeared From House Where Three Women Were Rescued, 'R.I.P.' Scrawled On Wall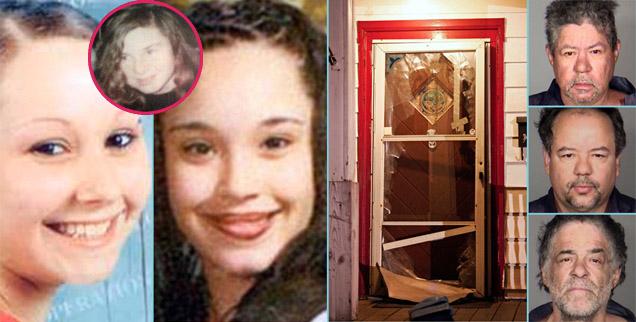 Article continues below advertisement
"Knight told police that there was another woman in the home when she got there, but one day she woke up and the woman was gone," the station reported. "There is writing on the wall in the basement which includes the name of a female and says, 'Rest In Peace.'"
Now with the women safe after a decade of what appears to be unthinkable abuse, authorities are interviewing them for a complete picture of what occurred inside Castro's house as they hunt for more victims.
There were multiple pregnancies among the imprisoned women but they were beaten while pregnant, multiple reports sourced to law enforcement revealed.
Berry emerged from the house with a six-year-old daughter.
"One of the victims had two to three miscarriages in the Seymour Avenue because she was malnourished," reported newsnet5.com.
"Another police source who is actively working on this investigation told NewsChannel5's Michael Baldwin at least five babies were born inside the home."
Article continues below advertisement
And a second search warrant was issued Tuesday looking "for evidence of bodily fluids related to 'births,'" reported fox8.com.
Berry's young daughter called Castro's mother "grandma" multiple sources told newsnet5.com. And one neighbor told the station that Castro was seen with a little girl who called him "dad."
Castro and his brothers Pedro and Oneil Castro were arrested Monday night in connection with the case.
Meanwhile, neighbors revealed Tuesday that they never suspected Ariel but did see some suspicious things over the years, including a scream loud enough to draw the police and an unconfirmed report of a naked woman crawling in the backyard.
"One man says he heard pounding on doors at the house," reported.
"Another neighbor says her daughter once saw a naked women crawling on her hands and knees in the backyard.
Article continues below advertisement
"Both say police looked around but never went inside the house where the three women were found Monday after a frantic 911 call."
Juan Perez lives near the now infamous house at 2207 Seymour Avenue and said his sister heard a scream and called police. "My sister actually a few years ago heard a scream and she called police," he told .
And there were other signs that something wasn't right – signs Perez is berating himself for missing. According to Channel 5: "He described Castro as stopping at the home sometimes 10 minutes or an hour at time. Thinking back on the suspect's behaviors and appearances, Perez said, "Now it's like, red flag, red flag, red flag, somebody should've said something.'"
During a Tuesday press conference police said they had been to the house previously but did not make contact with anyone. Their description of when and why they went to the house does not match up with the neighbors' report but officials admit they are still looking through records.
It is not known if any of the women other than Berry delivered babies alive, but disturbed dirt in the backyard hinted at an even more sinister twist in this saga of joy and heartbreak.
Article continues below advertisement
Berry broke free on Monday and got the attention of neighbor Charles Ramsey. He helped kick in a door and her frantic 911 call has received worldwide attention.
Police have not released the woman's name written on the basement wall and have not revealed if babies were stillborn, killed after birth or the women all miscarried. But it is clear that the search for more victims is heating up as the FBI treated combed the house thoroughly Tuesday, even wearing hazmat suits inside.
Castro owned other properties and authorities are also investigating if he was part of a much larger ring than what they have discovered so far.
"He locked us in the basement with chains," Berry told neighbor Angel Cordero, who helped free her. Cordero relayed her statement in an interview with RadarOnline.com and said when he broke down the front door he could see a chain.
"Amanda came outside and said, 'Call 911. I have been locked in here for 10 years. That's when we went to the street and called police," Cordero told RadarOnline.com.
Article continues below advertisement
Cleveland FBI special agent in charge Stephen Anthony told reporters: "These ladies are the ultimate definition of perseverance and hope. Everyone kept the faith believing one day, they'd see their daughters, nieces, sisters alive again.
"In the coming days and weeks, we will track events over the past several years."
Those events are sure to include what happened to the woman Knight saw when she was first imprisoned in the home and a search for other victims.