'Spoiled!': Judge Nixes High School Cheerleader's $2600-A-Month Request From Estranged Parents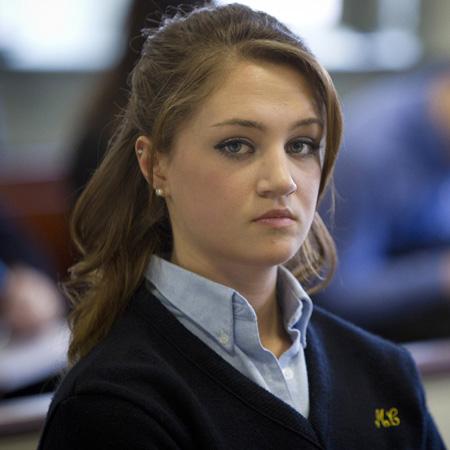 Meet Rachel Canning.
The New Jersey teen is the talk of the nation after she unsuccessfully requested Tuesday to have her parents pay her tuition and give her $2,600 a month in child support after she moved out of their home two days before turning 18 last fall, amidst a number of disagreements with her parents.
Canning, a senior and cheerleader at Morris Catholic High School, was clad in her school uniform in the courtroom Tuesday as State Superior Court Judge Peter Bogaard shot down the request, saying a win for the "spoiled" youth could create a "potentially slippery slope" in legal precedents between parents and children.
Article continues below advertisement
"Are we going to open the gates for 12-year-olds to sue for an Xbox?" the judge asked. "For 13-year-olds to sue for an iPhone?
"Do we want to establish a precedent where parents live in basic fear of establishing rules of the house?"
The girl's parents, retired Lincoln Park police Chief Sean Canning and wife Elizabeth said their daughter left Oct. 30 after saying she was an adult, and did not have to live under their rules relating to dating, curfews and behavior.
The teen claims in court docs that her parents had been abusive to her -- including detailed allegations that her father showered her with "inappropriate affection" and pushed her to drink alcohol, while her mother routinely ribbed her with nicknames such as "fat" and "porky."
"I am not willingly and voluntarily leaving a reasonable situation at home to make my own decisions," Rachel Canning said in court docs. "I had to leave to end the abuse. My parents simply will not help me any longer.
Article continues below advertisement
Watch the video on RadarOnline.com
ABC Entertainment News | ABC Business News
"They want nothing to do with me and refuse to even help me financially outside the home although they certainly have the ability to do so."
She added that they had pressured her to get a scholarship playing basketball.
The parents' lawyer Laurie Rush-Masuret countered in legal docs, saying, "There is no abuse. There is no neglect. They are not unfit parents. She could come home tonight."
The judge told the girl Tuesday, "They're always going to be your parents … that may not be something you're ecstatic about, but ... sometimes children become adults, they change their feelings on their understandings on what it takes to be a parent."
In an interesting twist, the girl's legal defense is being funded by John Inglesino, the father of the friend she moved in with.
Following the hearing, her father Sean told The Daily Record newspaper, "We love our child and miss her. This is terrible. It's killing me and my wife. We have a child we want home. We're not draconian and now we're getting hauled into court.
"She's demanding that we pay her bills but she doesn't want to live at home and she's saying, 'I don't want to live under your rules.'"
The case will return to court Apr. 22.