The Feud Between Brody Jenner & Kris Jenner Continues, As Brody Hatches New Plot Against 'Step-Monster'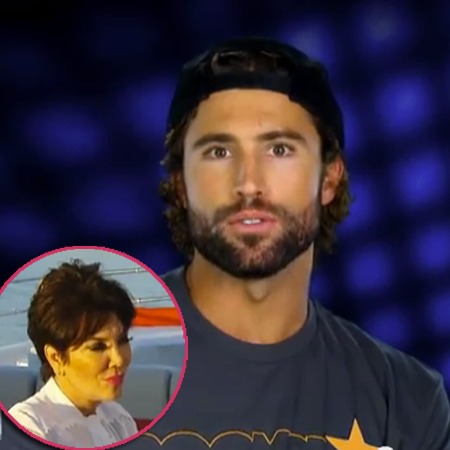 Brody Jenner, who spent most of the Kardashian family vacation in Greece confronting stepmom Kris Jenner, now is scheming with his brother Brandon to get his dad Bruce Jenner his own golf "putting green" at home -- something the family matriarch won't like one bit!
On Sunday night's Keeping Up with the Kardashians, viewers saw Brody continue to challenge Kris' authority, going behind her back with Brandon Jenner and planning to build the putting green for their golf nut father.
Article continues below advertisement
As RadarOnline.com readers know, Bruce has very little of his own space in the home he shares with wife Kris -- and even briefly tried moving to his own Malibu man cave to get some freedom.
Watch the video on RadarOnline.com
Later, Kourtney also got on board with the Jenner boys, saying of Bruce, "He needs something at the house that's like his."
She also admitted in a show confessional, "It's probably not the best idea trying to go behind my mom's back."
Brandon pointed out if they went ahead and built the putting green, then Kris found out later, it would be better for Bruce.
"He typically has more success when he asks for forgiveness rather than for permission," Brandon said.
Article continues below advertisement
Kourtney's baby daddy Disick smiled, "That would drive her nuts."
As the episode opened, however, Brody and Kris continued hashing out their deep differences that were brought to light on last week's show.
RadarOnline.com previously reported that Kris behaved inappropriately with Brody, flirtatiously rubbing sunscreen on his back, falling all over him, and comparing his hunky body to Bruce's when he was younger!
But then, the two began an explosive conversation in which Brody brought up his pain from the past about their strained stepmom/stepson relationship.
When their heart-to-heart continued on Sunday night's episode, Brody raged against Kris' materialistic ways, gesturing at the opulence of their Greek yacht and asking her, "Are these things really what's important in life? I don't give a s**t about this. These are things we need to talk about."
Article continues below advertisement
Kris insisted he was misjudging her: "It's not about stuff. It's about heart."
The talk got so heated that Kourtney, who overheard Brody's angry tone, decided to step in.
"Her and Kim like to have their flashier things," she told Brody. "But I feel genuinely her soul is not like that."
Brody conceded to Kris, "You're an incredible mother to your children."
But he added about the Jenners and his own mother, Bruce's second wife, Linda Thompson, "I think that discord between Linda, Bruce, and maybe you has created such a little hiccup."
Kris explained, "When I met Bruce, your parents had been separated for eight to ten years, so it wasn't like I was breaking up a marriage, you know what I mean?"
"Where are we going with this?" Brody demanded.
An emotional Kris said, "Bruce came with kids and I was really excited. I know that sounds crazy. What I thought was going to be this amazing relationship from the get-go, maybe it didn't happen in that time frame. It happened later and everything happens for a reason and I now get that."
Article continues below advertisement
Kris pointed out that Kourtney didn't immediately accept stepdad Bruce, either.
"She didn't talk to Bruce for five years and literally wore black. She had a hard time," Kris told Brody.
Getting teary-eyed, Kris said, "I want you to honestly know that I'm really trying to do my best. I'm trying to be a good mom and I'm almost there. I love you. I really do and I always have," she said as Brody smiled.
Brody told viewers, "Growing up, I might have thought Kris was the villain. But it's great we're able to now open those lines of communication." He added, "Kris and I right now, we're not by any means perfect. We definitely have so much more to learn about each other."
He told her, "We've never really gotten to know each other. Look me up! You have my number."
"It's time for a new beginning," Kris said in a confessional segment.
Article continues below advertisement
But although Brody told his stepmom the Greece trip brought them together, not so fast! He soon hatched the plan to interfere in the Jenner marriage by getting his dad a putting green.
Meanwhile, Sunday's episode also showed Bruce and Kris' daughter, Kendall having a meltdown after she felt she was ignored during the family vacation. Kylie, Khloe and the Jenner boys went ATV riding together, leaving Kendall behind.
She objected, "No one asked me to go."
The young model told the camera, "I've been left out and it's a little disappointing."
Later, Kendall fumed to her mom, "I might as well not be on this trip."
She admitted, "I'm not as outspoken as my family," and sometimes felt ignored.
She cried and stormed off to her room, telling the family, "I haven't been included in one thing for this entire day!"
"I'm not happy at all," the teen sobbed to her big sister Khloe.
Article continues below advertisement
But Khloe, who said Kendall was the shy one in the family, enlisted Brody's help to make Kendall's vacation a dream come true. After Brody took her out on an ATV ride, she was finally happy!
Viewers of KUTK also continued to see Kim Kardashian's pregnancy journey on the show--and she appeared very uncomfortable during the Greek vacation.
"She's so miserable," Khloe pointed out to mom Kris.
Kris sighed, "Kimberly is real fragile right now."
Khloe concluded, "The baby will bring her happiness."
Later, the momager commented about Kim's pregnant shape in front of the entire clan!
"I really don't know how she goes day to day and carries those boobs around. They're two watermelons," Kris said.
Kim smiled, "There's not even milk in them yet, which is the scary part."
But she wasn't smiling later, when the paparazzi arrived to get shots of her pregnant body!
Article continues below advertisement
Still, Kim survived a fish pedicure in Greece, even though she was scared to have the fish nibble at her feet (just like they did on her laughing sisters).
Kim then left the family vacation early to go spend time with baby daddy Kanye West in Paris.
Meanwhile, although Khloe and Lamar Odom's marriage has been under fire lately over reports the basketball star cheated on her, during the Greek trip, Khloe was always thinking of her man.
After leaving Mykonos to go to the beautiful island of Santorini, Khloe raved, "This is where I want to go to die with my husband."
Like Kim, Khloe also left the trip early -- to go back to L.A. to be with Lamar.
"I can't wait to come back here with Lamar -- It's truly heaven on earth," she said.
While Khloe was looking forward to seeing her husband, Kris and Bruce had a testy moment when most of the Kardashian women jumped into the pool at their Greek hotel fully clothed -- but he refused to follow suit. Although Kris tried to wrestle Bruce into the pool, he wouldn't budge.
Article continues below advertisement
"Some people don't know how to have fun," Kris pouted.
As RadarOnline.com has previously reported, Scott Disick, who joined Kourtney and the rest of the family in Santorini after making public appearances in London, was not a happy camper being in such a big group. He retreated to his own private corner until Brandon's wife, Leah, urged him to be romantic again with Kourtney, who had been missing him during the trip.
Kourtney and Scott had a Greek dinner date and he told her, "I'm extremely happy to be here at dinner with you."
At the end of the trip, the family all got up and did some Greek dancing before heading home to L.A.
"We have to stop and think about how blessed we are," Kris concluded.
But not for long! It looks like Kris and Bruce will soon be squabbling over his very own home putting green!