Brandi Glanville Battles With Joyce Giraud Over 'Ugly Men' During 'RHOBH' Reunion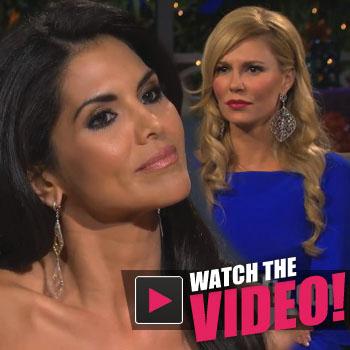 Old feuds never die in the 90210, and Andy Cohen makes sure of that!
The battle between Joyce Giraud and Brandi Glanville reignites during the upcoming Real Housewives of Beverly Hills reunion and RadarOnline.com has a sneak peek of the upcoming blow out.
Cohen starts the fight as he reads part of a controversial blog post Glanville had written about Giraud and her husband, Michael Ohoven.
"Brandi you said,'The difference between myself and Joyce is that I won't settle. I have to be physically attracted to the men I date. If I just wanted to marry some short, rich guy that promised to make me famous I could have done that long ago,'" Cohen said, reciting the post.
Article continues below advertisement
Cohen asked Giraud to respond.
"First of all, Michael isn't short. He's absolutely gorgeous," she said. "I've seen Brandi date short, ugly, old men."
"Have you?" Glanville charged. "No, you have not!"
Giraud responded: "I've seen you kissing a guy when your tampon is hanging out of your private parts."
Glanville laughed about her tipsy night out, stating the man was actually her agent.
"He's a gay man! And don't call him ugly," she said, adding, "I've never dated an ugly man. Sorry!"
Faked Scenes, Lies & Payoffs – The Ultimate Guide To Reality TV Shows
Speaking to Cohen, Giraud continued: "First of all, she barely knows my husband, so for her to say that, she should do a little more research. I do make my own money. I probably make money than her before she married her husband, so if you're saying 'settle,' do your research. I'm a working actress."
"You're acting now," Glanville quipped.