Brandi Glanville 'Making Pathetic Attempt To Stay Relevant' By Plotting A 'Coup' Against Lisa Vanderpump, Slams 'RHOBH' Co-Star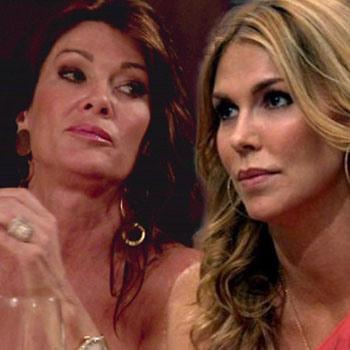 Article continues below advertisement
"Brandi bringing back something she had already discussed and resolved in a previous season was a pathetic attempt to stay relevant and was the beginning of what I saw as a coup against Lisa," Giraud wrote on her Bravo blog.
"Brandi is the one who started plotting against Lisa from the get go."
According to Giraud, Glanville has been plotting the take down for ages – and even tried to convince the RHOBH newbie that Vanderpump was trouble!
The Craziest & Most Outrageous Celebrity Rumors — What's True, What's Not?
"I was shocked … She was supposedly warning me against her very own BFF," she recalled.
Reflecting on her troubled relationship with Glanville now, the former Miss Puerto Rico finds the single mom's behavior unsettling.
"Brandi saying Lisa was having her do her dirty work and having her say things is very contradicting… she always claims to be honest and says no one can make her do anything she doesn't want to do," she wrote.
"She is a hypocrite and a desperate girl that will even betray her own BFF just to stay relevant!"
Calling out her RHOBH co-stars, Giraud opined that their mean girl behavior is a desperate attempt to become the show's leading star.
"I think they are all fighting to be the Queen Bee, so they decided to attack Lisa," she concluded.
Are you Team Brandi or Team Lisa? Tell us below!