Lisa Vanderpump 'Shocked & Disappointed' By Feud With Brandi Glanville, Slams Her RHOBH Co-Star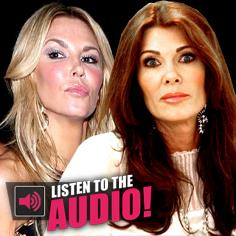 Article continues below advertisement
"I know you're the chess player of all-time, but I just f**king checkmated you, b*tch," Glanville says to Vanderpump in the clip.
"I didn't know she plays chess, I thought she'd be more like Chutes and Ladders … That's right at the end, so I'm not going to give you the final pages to the book, but yeah it got pretty intense there," Vanderpump told Seacrest.
"I was kind of like a bit surprised where it came from. I thought we were great friends and I've really been supportive and loved her and as far as I'm concerned really loyal to her and really kind of stuck my neck out," she added.
"So I was shocked and disappointed to be honest."
RadarOnline.com was first to expose the falling out between Vanderpump and Glanville, which started during a girls trip to Puerto Rico earlier this year.
Cameras captured Yolanda Foster confronting Vanderpump about allegations that the British beauty was a two-faced back-stabbing friend, and Glanville backed David Foster's wife — putting a major ripple in their once tight bond.
Article continues below advertisement
"It was absolutely wild! Yolanda directly went after Lisa and accused her of always stirring the pot among the other cast members, and accused her of being a crappy friend. Shockingly, Brandi had a go at Lisa as well!" a show insider told RadarOnline.com.
"Brandi revealed that Lisa had told her to take magazine articles about Kyle Richards' hubby Mauricio Umansky cheating on her on a trip the ladies took several weeks earlier to Palm Springs.
"Brandi told Lisa, 'Don't you dare try to lie about this one, there is no way you are going to weasel out of this one.' Needless to say, Lisa was absolutely floored and couldn't believe Brandi had turned on her!"
And it seems there is still a little bad blood between Vanderpump and Richards.
"Like, in last week's episode, when I was looking at the scene and I was petting Richards' hair saying, 'You miss me. Don't you?' I didn't expect her interview bite to be, 'God that was so patronizing,'" she told Seacrest on Monday.
Article continues below advertisement
"And I was thinking, 'Where did that come from?'"
Vanderpump's recent legal battle regarding a commercial space in West Hollywood has kept her busy, but it's nothing compared to the Housewives drama!
"It's certainly been a challenging year for me trying to open P.U.M.P., my new restaurant next to the Abbey on Santa Monica, and running my assistant businesses and doing Dancing With the Stars plus producing Vanderpump Rules and being in both shows," she said.
"So I've felt like I've been stretched in all bloody directions, but it's been an incredible year part from the emotional roller coaster I've been on with Housewives."
Do you think Vanderpump and Glanville will ever kiss and make up? Sound off below…