Exclusive
90210 Turf War! Housewives Lisa Vanderpump & Brandi Glanville Have HUGE Fight, Now No Longer Talking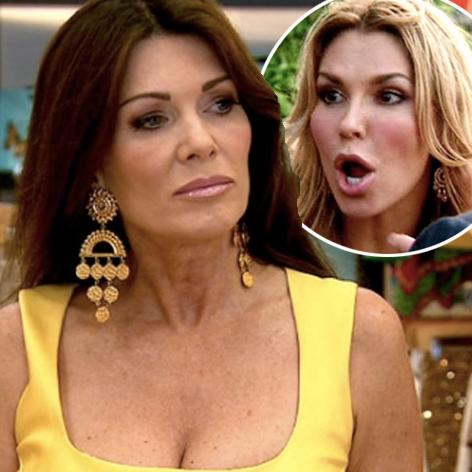 The gloves are off in the 90210!
Former BFF's Lisa Vanderpump and Brandi Glanville got into an epic fight while filming the Real Housewives of Beverly Hills in Puerto Rico, which has resulted in the duo no longer speaking to each other, RadarOnline.com is exclusively reporting.
Cameras captured Yolanda Foster confronting Lisa about allegations that the British beauty was a two-faced back-stabbing friend, and Brandi backed David Foster's wife — putting a major ripple in their once tight bond.
Article continues below advertisement
"It was absolutely wild! Yolanda directly went after Lisa and accused her of always stirring the pot among the other cast members, and accused her of being a crappy friend. Shockingly, Brandi had a go at Lisa as well!" a show insider told Radar.
"Brandi revealed that Lisa had told her to take magazine articles about Kyle Richards' hubby Mauricio Umansky cheating on her on a trip the ladies took several weeks earlier to Palm Springs."
The source continues, "Brandi told Lisa, 'Don't you dare try to lie about this one, there is no way you are going to weasel out of this one.' Needless to say, Lisa was absolutely floored and couldn't believe Brandi had turned on her!"
The ladies went on the trip to Puerto Rico at the beginning of August and hubbies Ken Todd and Mauricio tagged along on the trip.
Kyle has been at odds with Lisa and Brandi over reports that her husband has been cheatingon her.
Filming for the upcoming season of RHOBH has been completed, but "Lisa and Brandi are absolutely not talking right now. They both feel extremely betrayed by each other and have vowed to never speak again," the source added.
---
UPDATE 2:31 p.m. -- A source tells Radar that the feuding reality stars will appear together at Lisa's Villa Blanca restaurant on Tuesday night in what is being described as a pre-arranged commitment. When probed, the source said "not saying they're friends... again." Yet.