'RHOBH': Brandi Glanville Questions Lisa Vanderpump's Friendship With Eddie Cibrian's Mistress; Says, 'I Feel Like I'm Being Cheated On Again!'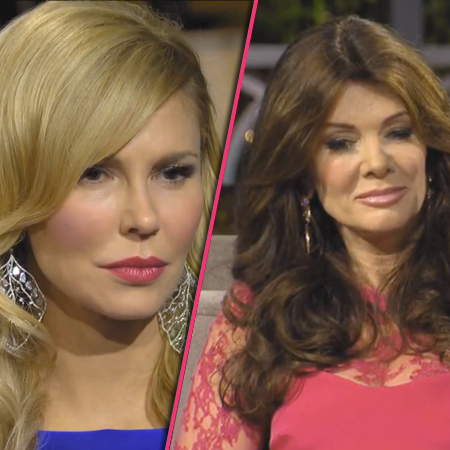 Article continues below advertisement
The NY Times best-selling author continued to corner Vanderpump about why she hung out with Scheana Marie – who slept with her ex-husband Eddie Cibrian.
"I feel like I'm being cheated on again by the same women. If there was a fire burning, and it was me and her, who would you save?'
Vanderpump responded, "I wouldn't let any of my waitresses burn to death. Scheana isn't a friend. She's a waitress and she's on the show."
Trying to help Vanderpump understand, Foster interjected: "As a women who went through infidelity, I couldn't see that woman. It was a deal-breaker."
"It brings me back to a funky place. You have been with one man for a very long time," Glanville said about Vanderpump always bringing Scheana around. "It isn't fun to keep remembering that."
Cohen asked the paid if they thought there was any hope to fix their friendship.
Article continues below advertisement
Article continues below advertisement
Richards, 45, shot back: "I did text you. You want me to get my phone right now?!"
"I said, 'Are you ok?'" Richards said about the texts, which RadarOnline.com obtained. "You did me wrong. I didn't do you wrong."
Unable to let the tabloid story die, Richards confronted Vanderpump about why she brought up the cheating rumors on camera.
"You brought up the tabloids on camera in my kitchen, and I said to you, 'Can you please stop doing that?'" Richards revealed. "Do you think you'd want me to bring up things that I've heard about you like that or lies that I've heard?"
Not letting Vanderpump get a word in, Richards continued to vent.
"You know that when you bring it up, we're giving it a platform – and now it's a whole f**king season of lies about my husband, who doesn't deserve it! That's wrong!" Richards scolded her co-star.
"I'm not going to talk behind your back," Vanderpump said. "I said it was absolute nonsense… I apologize but my intention was to talk about it and give it NO credibility."
Article continues below advertisement
Then, Cohen asked the ladies to weigh in on whether or not they were ganging up on Vanderpump.
"It seems a whole bunch of people ganged up on Lisa, but we didn't. Individually, it all came together at the same time," Yolanda Foster said.
Then, the housewives' husbands came out to air their grievances.
First, Richards' husband Mauricio Umansky confronted Vanderpump about bringing up the tabloid rumors about his alleged cheating.
"I didn't think it was cool. I was having a good time," he said.
Vanderpump's husband Ken Todd defended her: "It was a joke!"
"A joke in front of a 5-year-old? That was a bad joke," Umansky said.
Then, the drama continued when Glanville broke down into tears over her troubled friendship with Vanderpump and Todd.
"We didn't feel like the relationship was going where it should go… I don't think I could ever let you back in my life. I'm sorry," he said, adding that he forgives everybody.
Article continues below advertisement
Horrible Bosses! Hollywood's Assistants Reveal The Outrageous Demands Of Their Honchos
"I'm emotionally exhausted. When I get hurt, I sting back, but you know I love you," she told Vanderpump and her husband. "It's not nice to be dropped. I need someone to stay."
"Okay, maybe I forgive you," Todd laughed, adding that he doesn't like seeing people cry. "I don't like to see a woman cry."
Looking back on the season, the ladies seemed cheerful about the future.
"I'm emotionally exhausted. I don't want to cry anymore," Glanville said. "Ken, out of nowhere, gave me a hug, and it made my night."
Vanderpump admitted she felt isolated from the cast as "it has been a stressful year.
High Heels, Lacy Bras & Fishnet Stockings: 20 Cross Dressing Scandals To Rock Hollywood
"Seeing her cry makes me cry … it's been hard. I felt so hurt."
Cohen pushed further and asked if Vanderpump was surprised by the level of emotion her co-stars had toward her.
"Yeah. I think they're all amazing women individually. Sometimes some of them just don't go together," Vanderpump said.
Hollywood Sexcapades — Tinseltown's 36 Sleaziest Prostitution Scandals
Richards went on to explain that she thought this season would be her "least favorite ever."
"I've always cared about Lisa, and hopefully we can end up in a better place," Richards concluded, as all the ladies all clinked their glasses to "friendship".