Scheana Marie Slams Brandi Glanville's  'Ludicrous' Lies:  We Did NOT Sit Down Multiple Times To Talk About Eddie Cibrian!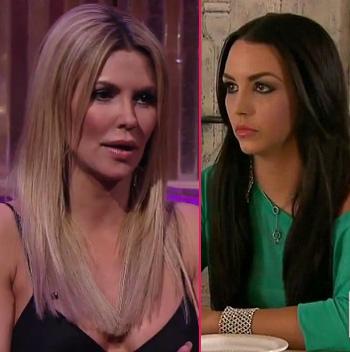 Scheana Marie is calling BS on Brandi Glanville – yet again.
In an exclusive interview with RadarOnline.com, Marie slammed the outspoken RHOBH star's claims that Lisa Vanderpump made them sit down multiple times to discuss Scheana's hookup with Eddie Cibrian.
"It's ludicrous. For her to say, we sat down multiple times with each other is a complete and blatant lie. We sat down once, which everyone saw. There were no other sit downs, so whatever she is talking about that Lisa supposedly asked her do for the show is ridiculous," Scheana told Radar.
Article continues below advertisement
As we previously reported, Glanville appeared on Watch What Happens Live and claimed Vanderpump made her sit down for the uncomfortable pow-wows with Scheana on several occasions to rehash the affair.
"I sat down with Scheana for her multiple times to help her show Vanderpump Rules," Glanville said. "And I said, 'Iwill do whatever you like,' and then I got tired of it. So I think I fed that b***h!"
Scheana is appalled by Glanville's behavior toward Vanderpump and can't understand her motives.
Article continues below advertisement
"When I hooked up with her d-----bag ex-husband, who wasn't wearing a ring, I was 21 and just moved to LA. I had no idea who he was. Unless you're Brad f—king Pitt, I don't know who you are. It happened so long ago. It's so irrelevant, but Brandi keeps bringing it up and calling me a wh-re. It's like get a new storyline!" Scheana vented.