Kyle Richards Releases Text Messages She Claims Prove Lisa Vanderpump Lied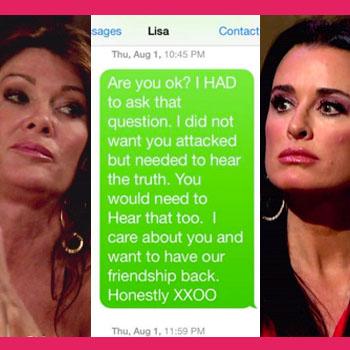 Real Housewives of Beverly Hills star Kyle Richards took her on-going feud with Lisa Vanderpump to Twitter on Tuesday, claiming the British beauty lied about not hearing from her co-stars after fleeing Puerto Rico.
Responding to Vanderpump's Bravo blog, Richards wrote: "You said you 'had not heard from any of them' after PR… but you heard from me three times."
Richards then uploaded a series of text messages she sent Vanderpump as proof that she'd reached out.
Article continues below advertisement
The first text from Richards, sent Aug. 1, reads: "Are you ok? I HAD to ask that question. I did not want you attacked but needed to hear the truth. You would need to hear that too. I care about you and want to have your friendship back. Honestly, XXOO."
Richards sent two more texts, including one the following morning: "I hope you are ok."
After Richards released the messages on Twitter, Vanderpump revealed why she didn't respond.
Faked Scenes, Lies & Payoffs – The Ultimate Guide To Reality TV Shows
"I turned my phone off and hid. I knew producers would try to find me!" Vanderpump wrote.
But Richards wasn't satisfied with that answer, shooting back: "If so, when you turned back on, you saw that I was trying to reach you. Multiple times. Just clarifying."
Although Vanderpump didn't specifically respond to Richards, she quipped to a fan that she would never release private text messages to the public.
"No I haven't ...but maybe I should...actually thinking about. No I won't stoop," Vanderpump wrote on Twitter.
The claws are out! Are you Team Vanderpump or Team Richards? Tell us below.