Terror At The Boston Marathon: 7 New Developments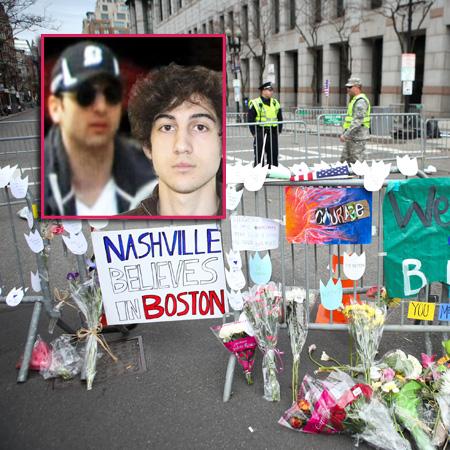 Article continues below advertisement
2. Who Is This Mysterious Misha?
Tsarnaev family members said Tamerlan was drawn to Muslim extremism by a friend only known as an Armenian man with a red beard named "Misha."
"Somehow, he just took his brain," his uncle Ruslan Tsarni told reporters, adding that his brother, the father of the accused bombers, had worried aloud to him about Misha's evident influence on his son. Ruslan said that as the relationship between Misha and Tamerlan developed, Tamerlan lost interest in boxing and music, and began vocalizing his opposition toward the Afghanistan war, insinuating the C.I.A. was instrumental in the events of Sept. 11, 2001; and claiming that Jewish people run the world.
The Tsarnaev brothers' mother Zubeidat denied the claim, telling ABC News rumors Misha radically changed her son are "nonsense.
"He was just a friend," she said in the phone interview.
The Feds have yet to talk to Misha.
|
|
3. International Investigation
Authorities from the U.S. have interviewed Zubeidat Tsarnaev in Dagestan, a mostly Muslim area of Russia.
Article continues below advertisement
"The investigation is ongoing, it's not over," a U.S. Embassy official told the AP on condition of anonymity, indicating that the FSB -- The Federal Security Service of the Russian Federation -- is working with them on the investigation.
4. Capitol Hill Critics
In the wake of news that federal investigators tracked Tamerlan Tsarnaev's 6-month trip to Russia in 2012, lawmakers are feverishly trying to get to the bottom of why info about the late 26-year-old's travels weren't circulated to all of politicians and agencies who should, presumably, be in the know.
In Tamerlan's case, Homeland Security Secretary Janet Napolitano confirmed her agency was aware of his travels, while the FBI, according to Sen. Lindsey Graham, R-S.C., claimed "they had no knowledge of him leaving or coming back."
Following a private meeting between the Senate Intelligence Committee and the FBI, Sen. Susan Collins, R-Maine, said "there still seem to be serious problems with sharing information, including critical investigative information ... not only among agencies but also within the same agency, in one case."
Article continues below advertisement
5. Suspicious Shopping
William Weimer, vice president of Phantom Fireworks, confirmed that Tamerlan Tsarnaev on Feb. 6 spent $199 on 48 mortar shells at the company's Seabrook, N.H. location. The explosives, meant for amateur fireworks displays, came in "lock and load" kits consisting of 24 shells and four tubes, he said.
Weimer said the amounts of hazardous explosives the accused bomber could have extracted -- up to 1.5 pounds -- were a negligible amount compared to substances legally available at "gun stores and hobby stores and hardware stores.
"My assumption is he experimented with them and probably quickly came to the conclusion it wasn't going to do him much good," Weimer said.
6. The Boat
David Henneberry, the owner of the Slip Away II, the boat Dzhokhar Tsarnaev was hiding in when cops found him, told CNN affiliate WCVB he was just tinkering with the vessel when he found the accused terrorist on the lam.
"I was just going to put the pads back -- they were bugging me all day," he said. "So I went out in the yard and felt the freedom that everyone in Watertown was feeling. When I pulled the strap, it was a lot looser than it usually is. But again, the wind could have loosened things up."
Article continues below advertisement
Henneberry said -- contrary to police reports -- there was no evidence of blood on the boat's protective tarp.
There was "no indication of anything," he said. "I know people say I saw blood on the boat, 'He saw blood on the boat' -- not true."
He said once he went inside the boat, he did see plenty of blood, and Tsarnaev "was just lying there by the engine block and the floor.
"I couldn't see his face -- I'm glad I didn't see his face -- he didn't move," recalled Henneberry, who called himself an "incidental hero" for alerting authorities to the much-sought-after capture.
7. Sisters Speak Out
Ailina and Bella Tsarnaev, the N.J.-based sisters of the accused terrorists, said in a statement Tuesday that they were saddened "to see so many innocent people hurt after such a callous act. As a family, we are absolutely devastated by the sense of loss and sorrow this caused.
"We don't have any answers but we look forward to a thorough investigation and hope to learn more."
Ailina, who's West New York, N.J. apartment remains under police protection, told reporters of her brothers: "I have no idea what got into them."
Keep checking back with RadarOnline.com for the latest on this still developing story.