Bow-Chick-A-Bow-Wow! Amanda Seyfried Channels Her Inner Porn Star In Lovelace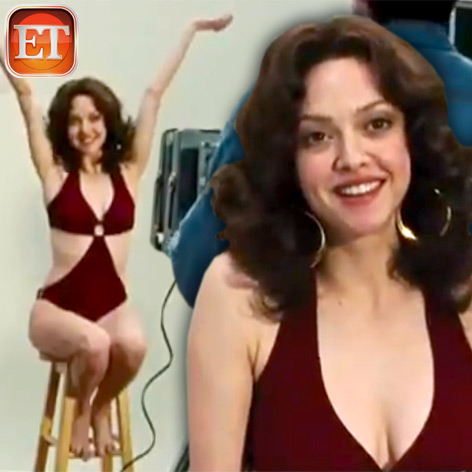 She might not have been born until 1985, but Amanda Seyfried embodies the free-loving spirit of the 1970s as porn star Linda Lovelace in a new clip from her film about the late sex symbol, and RadarOnline.com has the video.
In the clip from Lovelace, the 27-year-old Seyfried - bearing curly black locks, and clad in a berry-colored one-piece - speaks softly to Wes Bentley (playing Lovelace's second hubby Larry Marchiano) about what turns her on, as he snaps shots with a camera.
Article continues below advertisement
"At first, I'm closed up like a flower bud," she says. "And then gradually the petals start to open … and then I finally learn about myself and I learn how to enjoy sex. And I feel free."
In a later clip, the sexy Seyfried, clad in a colorful robe and garish hoop earrings, marvels over how beautiful she looks in the polaroids just taken of her.
"Don't worry, they're just polaroid snaps," Bentley tells Seyfried, who reassures him, "No it's not that, it's just ... you made me beautiful."
In a chat with ABC News late last year, Seyfried said playing the porn star-turned-anti-porn activist, who died in 2002 after a car accident, is "something completely different" than anything she's done previously in her career.
"I do have some liberties," the pretty actress said, "but I am playing someone that existed in history and had quite an established reputation for something very extreme."
The film, written by Rob Epstein and Jeffrey Friedman, boasts a loaded ensemble cast including Chris Noth, Hank Azaria, Sarah Jessica Parker, Peter Sarsgaard, Juno Temple, Sharon Stone, James Franco, Robert Patrick and Chloë Sevigny.
Article continues below advertisement