The Meanest Comment Ever! La Toya Jackson Blames Omarosa For Giving Fiance Fatal Heart Attack On 'Celebrity Apprentice'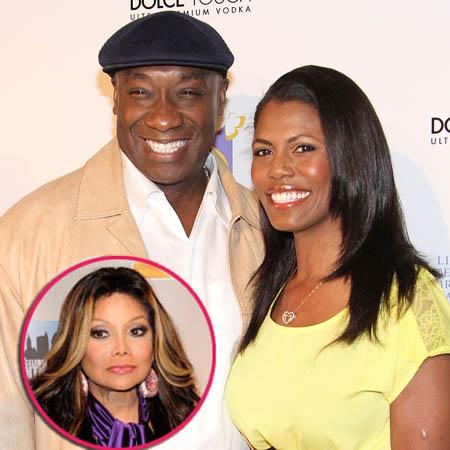 Reality TV hit a new and nasty low on Sunday's edition of All-Star Celebrity Apprentice.
La Toya Jackson and Omarosa traded vicious barbs throughout the show but it was Michael Jackson's sister who made the comment that will live in infamy, blaming Omarosa for causing the death of her fiance, actor Michael Clarke Duncan last fall.
SPOILER ALERT: Who Was Eliminated On All-Star Celebrity Apprentice?
'Omarosa's fiance passed away not long ago. He had a heart attack – I'm sure she gave it to him," La Toya said in a shockingly cruel moment.
Article continues below advertisement
In the end it was La Toya who moonwalked out of the boardroom Sunday after locking horns with Omarosa for much of the episode, which was both defined and overshadowed by the nasty comment.
Sunday's task was to perform a 5-minute soap opera sketch for Crystal Light, with Stephen Baldwin and La Toya the team leaders.
At one point, La Toya team member Omarosa had to leave the rehearsals after learning a TV show was planning to release the 911 calls of Duncan falling ill.
The women clashed and traded barbs over her absence, as La Toya believed it to be an act of sabotage.
Omarosa didn't take kindly to the implications, sternly warning La Toya, "I will take you down -- I will take you down if you disrespect me --I am not your staff - get that straight. Next time, you fix your mouth!"
In the boardroom, Omarosa made clear she didn't regret abandoning the task to defend the memory of her late love.
Article continues below advertisement
"I will never, ever choose Apprentice over Michael," she said. "I will never make that decision. And if I have to, and take care of my honey, I will.
"I will never apologize for what I had to do -- having to hear the last moments of his life played out on national TV -- I will never apologize for that."
After Baldwin's team won, it was time for the chopping block: Strangely, when it came time to decide who on her team would have to face Trump, La Toya spared Omarosa, bringing in Rodman and Brande Roderick instead.
La Toya explained to a confused Trump that she didn't bring back Omarosa because she felt the reality TV veteran would play the sympathy card in the wake of Duncan's death, though Trump figured the real reason was because she wanted to avoid further confrontation.
"When it counted you brought the wrong people back to the boardroom -- you stood up to her, except when it counted" he said, adding that he "probably would have fired Omarosa."
Article continues below advertisement
Trump finally came to his decision, telling the Jackson family member, it was "a pretty easy choice.
"I hate to do it La Toya, but you made a terrible choice when you didn't bring back Omarosa, because I probably would have fired Omarosa.
"La Toya, you're fired!"
After La Toya was eliminated, she threw some venom toward her reality rival, calling her "the most evil person I have ever met.
"She's a conniving, scheming, cut-throat, probably pulled the cord on Michael Duncan Clarke … and I thought Mr Trump was falling for that fake cry. Such a lie!"
"When I met her I knew she was a snake, I should have handled her a little differently: They will always bite you."
Fun fact: Both Omarosa and La Toya had notable personality clashes in previous seasons of Celebrity Apprentice: Omarosa with Piers Morgan, La Toya with NeNe Leakes.
Watch the video on RadarOnline.com
All-Star Celebrity Apprentice returns on NBC Sunday at 9/8c.