Unreliable Sources: The One Where 'Reliable Sources' Question Radar's Sources, Explodes Over New Year's Eve & The 'Sanctimonious' One Invokes Donald Trump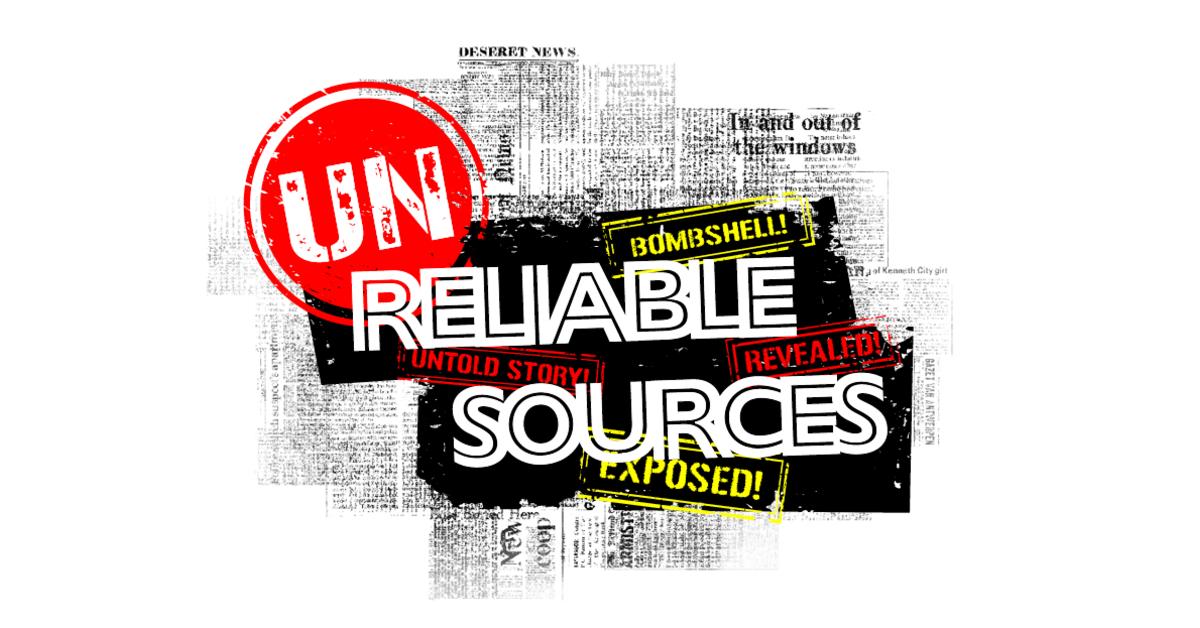 Everyone loves a good bit of gossip, and none more so than those of us who work in the industry. Welcome to Unreliable Sources, where you'll find the juiciest scandals, most shocking stories, and buzzy bits of info currently circulating in the halls of power throughout American culture. If you don't have anything nice to say, come sit by me...
Article continues below advertisement
When Humpty Dumpty exploded this week, and had a great fall, not even all the king's horses and all the king's men could put him together again!
CNN's Brian Stelter, who is wrongly fat-shamed as "Humpty Dumpty" on cable rival FOX News, fell off the wall in epic fashion this week — all over RadarOnline.com!
He used his nightly email newsletter to proudly complain about how this website had told supposed "lies" about him.
Stelter, who shed 75 pounds when he moved from an underground blogger to a mainstream reporter, appears to have taken umbrage at two articles — as that's all this website has substantially published about him.
(Or perhaps it was the proctology examination of his ego? I mean, fair shake of the sauce bottle, Stelter was also mocked on his own-air for being "full of sanctimony.")
One RadarOnline.com article said Sanctimonious Stelter was "humiliated" in the aftermath of Chris Cuomo's firing because "when the biggest media story in years" broke "under his nose" at his own employer, "he got it wrong."
Sanctimonious Stelter had predicted a day before Cuomo's axing that the former primetime star would be back on the box in 2022. Oops.
"This is deeply embarrassing and also very upsetting that his sources inside CNN didn't trust him enough to tell him the truth," a source told RadarOnline.com, at the time. "They let him go on national TV and make a fool out of himself."
The second report detailed how ambitious Sanctimonious Stelter wanted to replace Cuomo. But RadarOnline.com's sources said, at the time, Stelter had almost no chance of replacing Cuomo "but that isn't stopping him from trying."
"Brian just doesn't look like other people on TV," the article stated. "Which is why Jake (Tapper) is the heir apparent."
The trigger for Sanctimonious Stelter's Monday night newsletter meltdown was a report detailing how senior CNN staffers had told RadarOnline.com they were "embarrassed" to work for the cable giant following Andy Cohen's drunken New Year's Eve Live.
During the coverage, the Bravo host went on a rant about Bill de Blasio, encouraged his parents, aged 90 and 85, to have an edible—and even called Ryan Seacrest's viewers, on competing ABC, "losers."
Admitting that he was "overserved" during the coverage, Cohen was forced to apologize for his performance on SiriusXM January 3.
"The only thing that I regret saying, the only thing is that I slammed the ABC broadcast," Cohen said. "I really like Ryan Seacrest and he's a great guy and I really regret saying that and I was just stupid and drunk and feeling it."
RadarOnline.com's report also led CNN to issue an ambiguous, semi-denial about Cohen's future on New Year's Eve, stating: "We look forward to having him back again next year." (Of course, we won't know until the 2022 NYE coverage, as to whether or not Cohen is co-host. The statement did not make it clear whether he would be in the same role after the significant backlash.)
Sidenote: Interestingly, CNN spokesperson Shimrit Sheetritto refused to call RadarOnline.com to provide the statement and instead called upon an NBC executive to inform the site.
That led a hysterical Sanctimonious Stelter to bemoan out aloud: "I have some personal experience with RadarOnline.com's lies, so allow me a short rant. They post something nutty; they claim to have multiple sources, but they don't check with the subject at all; and they aren't swayed by reality.
"Then they garner follow-up coverage from outlets with an ounce of credibility, which triggers even more coverage, and eventually the original "report" is two or three or four steps removed from the unreliable source.
"Ordinary users end up reading, sharing and sometimes believing a lie without realizing the original story was garbage. RadarOnline.com wins page views and loses nothing because it had no credibility to start with. Sad!"
The "sad" sign-off to his "rant" appeared to invoke the former president, Donald Trump, widely known to have been synonymous with the "sad" insult as part of his diction.
That same vocabulary was found to have been at a third-to seventh-grade reading level – lower than any other President since 1929.
Article continues below advertisement
If RadarOnline.com doesn't have sources, Sanctimonious Stelter, what say you about this fine piece of reporting.
What's more, why have you — as the chief media warden — chosen to ignore this … a very serious ethical issue that is being overlooked at your own network?
Please explain.
In all fairness, we can understand why RadarOnline.com touched Humpty Dumpty's nerve.
It's been a rough few weeks for Sanctimonious Stelter, who has also came under criticism for deliberately turning a blind eye to controversies impacting MSNBC, The New York Times, Washington Post, and even his own network, last year.
The pundit "turned a blind eye to many headlines that were far from flattering to his liberal allies in the industry," argued FOX.
Most notably, they noted Stelter completely avoided ABC News' shocking coverup of the Jeffrey Epstein scandal, omitting it from his "top ten media stories" of 2019 — a story that has been the subject of dozens of exclusives on RadarOnline.com.
MORE ON:
UNRELIABLE SOURCES
Article continues below advertisement
In fact, it's been a tumultuous few weeks for CNN as an entire network with two of its producers under criminal investigation involving potential juvenile victims.
First, it was Senior Producer, John Griffin, who has now departed from the worldwide leader in news, after being charged on three counts of child sex crimes alleging he attempted to entice minors to engage in unlawful sexual activity.
He offered a woman $30,000 for a "mother-daughter weekend with me," and told authorities that he was "ashamed" when he was taken into custody after allegedly abusing a nine-year-old girl and enticing other minors.
Then Jake Tapper's friend, Rick Saleeby, resigned in December as a senior producer of The Lead with Jake Tapper after cops started an investigation into "serious allegations involving potential juvenile victims."
At least CNN's top on-air stars were not caught in text messages.
FOX News had to weather quite the storm this week after it emerged Sean Hannity was one of three Fox News hosts who sent texts to Mark Meadows, chief of staff to Donald Trump, urging that the president put an end to the Jan. 6 havoc last year.
Brian Kilmeade: "Please get (the president) on TV. (The event was) destroying everything you have accomplished."
Sean Hannity: "Can he make a statement? Ask people to leave the Capitol."
Laura Ingraham, tellingly wrote: "Mark, the president needs to tell people in the Capitol to go home. Please get him on TV. This is hurting all of us. He is destroying his legacy."
Article continues below advertisement
At least, CNN's top brass, CNN President Jeff Zucker and Allison Gollust, the cable giant's Executive Vice President and Chief Marketing Officer, are swift to deal with issues.
FOX has been silent on this apparent ethical issue of becoming part of the story.
Lovebirds Zucker and Gollust were quick to rub out the offenders when confronted with their serious ethical issues of staffers being accused of crimes with children..
Swift action, yes, save for Jeffrey Toobin, its chief legal analyst.
Unreliable Sources think it's pretty brave of CNN to feature Loobin' Toobin via Zoom on a remote panel less than 12 months after he exposed his Little Toobin on a Zoom call with colleagues at The New Yorker.