Soulja Boy Shoots His Shot With Kim Kardashian Despite Sexual Assault Lawsuits, As Kanye West Moves On With Irina Shayk
There's no time like the present to shoot your shot with Kim Kardashian.
Article continues below advertisement
Just ask Soulja Boy, who dropped a fire emoji on Kim's latest sizzling bikini photo just minutes after she posted it to Instagram.
In the hot shot, Kim's seen sitting poolside wearing a teeny-tiny peach-colored bikini that even has two small peaches located on the triangle-style top. Her hourglass shape is on full display as she seductively poses with her hands up to her head, holding back her long dark locks as they blow in the wind.
Article continues below advertisement
And the Crank That crooner likes what he sees!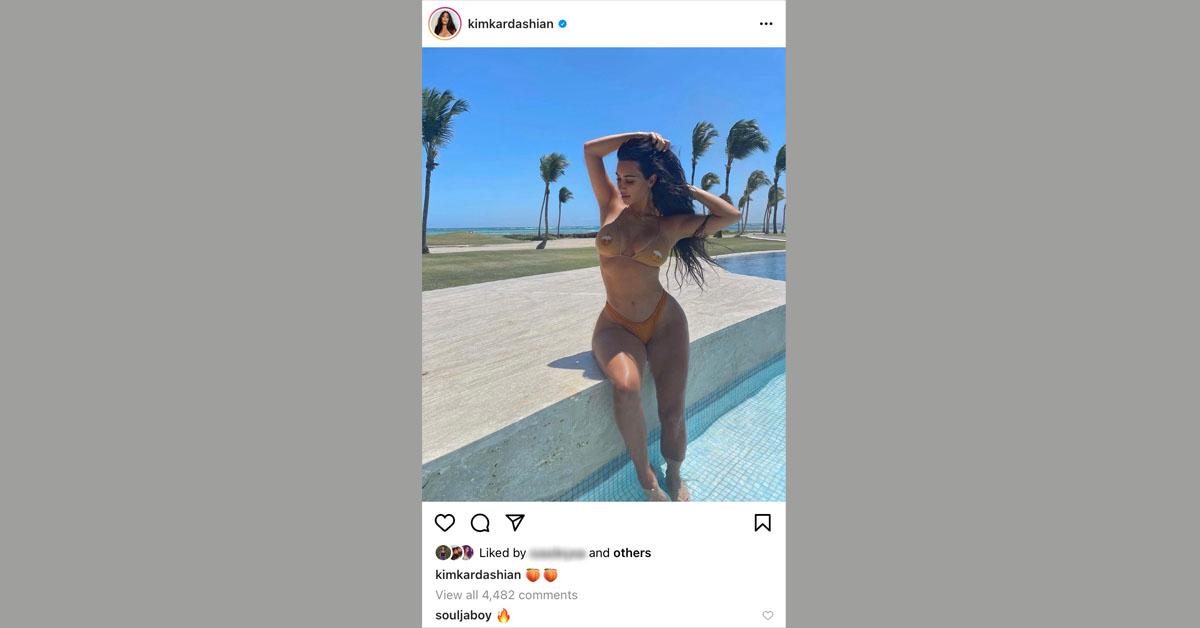 Article continues below advertisement
However, we're not sure the 30-year-old rapper and 40-year-old reality star-turned-makeup mogul would be an ideal match considering he's currently being sued for sexual assault by two ex-girlfriends.
As RadarOnline.com previously reported, one of Soulja Boy's exes, Kayla Myers, filed a lawsuit against the rapper (real name DeAndre Cortez Way) over a February 2019 incident, during which she claims he beat her at his Malibu home, where she says they were partying.
Article continues below advertisement
According to her filing, Myers tried to leave the party but experienced car issues. The car problems allegedly led to her fighting with Way's female assistant. Myers said she was knocked to the ground during the altercation.
Way approached them, claims Myers, and allegedly started kicking her in her stomach. The hip-hop artist's ex said he proceeded to bash her in the head with a "large gun."
Article continues below advertisement
He allegedly told her she was going to die while he held the gun to her face. She claims Way then had his male assistant tie her up to a chair in his garage using extension cords, where she was allegedly held hostage for over six hours.
The male assistant allegedly told Myers he would release her only if she performed oral sex on him. She said she felt she had no choice, so she complied. She says the assistant then released her, and she ran home.
Article continues below advertisement
Myers claims to have suffered three fractured ribs and a bruised face from the alleged attack. After Myers reported the incident to police, officers raided Way's home and found guns during their search, which triggered a probation violation in a separate case. As a result, he was sentenced to 240 days in jail.
Prosecutors did not press charges against Way for the alleged assault on Myers, and he says any injuries she sustained were caused by third parties whose actions he is not liable for.
Article continues below advertisement
The other lawsuit against the musician was filed last month by an ex who chose to identify herself in court docs as "Jane Doe." In the filing obtained by RadarOnline.com, the unidentified woman says she was in a long-term relationship with Way, and during that time, he sexually and physically abused her.
Article continues below advertisement
In the filing, Doe claims Way "threatened her life and engaged in other forms of domestic violence during and after they lived together" and that he would resort to violence if she didn't want to have sex.
She also alleged that in 2016, he pulled a gun on her and threatened to take her life.
One of the most horrific claims Doe made is that Way allegedly caused her to have a miscarriage in 2015, saying then-couple was having a conversation when the rapper became "irate and violent."
Article continues below advertisement
She alleges Way "began to punch" her "in the face and chest, until she could no longer stand on her feet."
"His punches caused her to fall to the ground, where she curled her body in to protect her stomach and used her hands to cover her head," the documents read. When Doe was on the ground, the musician allegedly began kicking her "all over her body, particularly in the stomach."
"Soon thereafter, Plaintiff suffered a miscarriage and was unable to carry her pregnancy into full term," the filing states. "Due to the miscarriage, Plaintiff also had to undergo a dilation and curettage procedure to remove her uterine lining after the miscarriage."
Article continues below advertisement
So, yeah, maybe Soulja should refrain from shooting his shot with anyone these days?
As for Kim, her estranged husband – 44-year-old rapper-turned-designer Kanye West – is busy moving on with Bradley Cooper's supermodel ex, 35-year-old Irina Shayk.
The two went public with their romance earlier this week, as sources say they've been keeping their relationship a secret for months.