Khloe Kardashian Standing By Tristan Thompson Despite Alleged Baby Mama Saying Son Has NBA Star's Last Name, Couple Goes On Lunch Date With True
Khloe Kardashian doesn't seem too concerned over Tristan Thompson's ongoing baby mama drama.
On Thursday afternoon, the on-again couple was seen spending some quality time with their 3-year-old daughter, True Thompson, as they all grabbed lunch together at Porto Villa restaurant in Calabasas, California.
Article continues below advertisement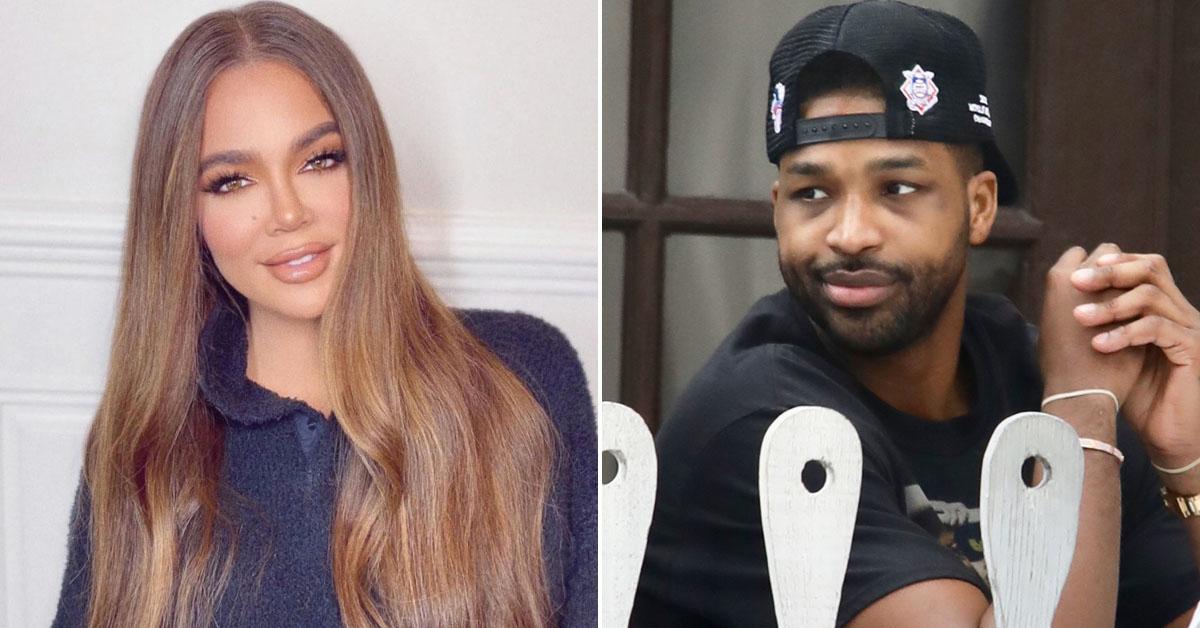 The 36-year-old Good American founder looked effortlessly chic in a tight, all-black workout ensemble, top knot and her signature hoops. The 30-year-old Boston Celtics player was also in all black – a T-shirt, some basketball shorts and a simple silver chain around his neck.
Article continues below advertisement
The two looked like they had just finished up a workout, something we know they did often together during the coronavirus-induced lockdown.
As for True, the tiny tot was all smiles as she rocked a simple white sundress and matching sandals, adorable stuffed animal in tow.
Whether or not they are actually the happy family they're making themselves out to be, we know there's a lot going on behind closed doors.
After all, one of the NBA star's alleged baby mamas is now claiming that her child has Tristan's last name.
Article continues below advertisement
As RadarOnline.com previously reported, Kimberly Alexander recently showed off her son's alleged birth certificate for the first time since accusing Thompson of being the father.
The model – who was recently hit with legal threats by Khloe and still facing a lawsuit from Tristan – has decided to continue talking trash on social media.
Posting a screenshot of a portion of her son Peyton's alleged birth certificate – which showed his date of birth as July 6, 2015 – Alexander wrote, "Since TT [Tristan Thompson] lawyers are sooo convinced when my son was born. Let's shut it down today with his BIRTH certificate!!!"
She added, "He knows the date and is scared it will show he was a cheater once again!! Khloe it don't make you any better."
Article continues below advertisement
Kimberly then dropped a bombshell during a later Q&A with her followers after someone asked, "Does your son have Tristan's last name?"
"Yes," she replied. "It was never a reason to think he wasn't his father."
Over the past year, Alexander has been consistent with her demand that Thompson submit to a second DNA test. The first test he took came back showing that he was not the father of her 5-year-old; however, she claims the test was done by a facility affiliated with the Kardashian family, so she didn't buy it.
Article continues below advertisement
Just as consistent, though, has been Tristan's denial. He insists he is not the father to her son and that he already proved it with a test. But because Kimberly would not let up, he slapped her with a civil lawsuit, accusing her of defaming him.
Unfortunately for both Tristan and Khloe, that's only the tip of the baby mama drama iceberg. He's also facing accusations he cheated on Kardashian with a Los Angeles-based model named Sydney Chase.
When Thompson's attorneys called her a liar, Chase responded by hiring powerhouse attorney Gloria Allred, who said they were ready to show proof of her client's claims.