Miley & Cody Share Morning After Kissing Photo As She Slams Love Life Haters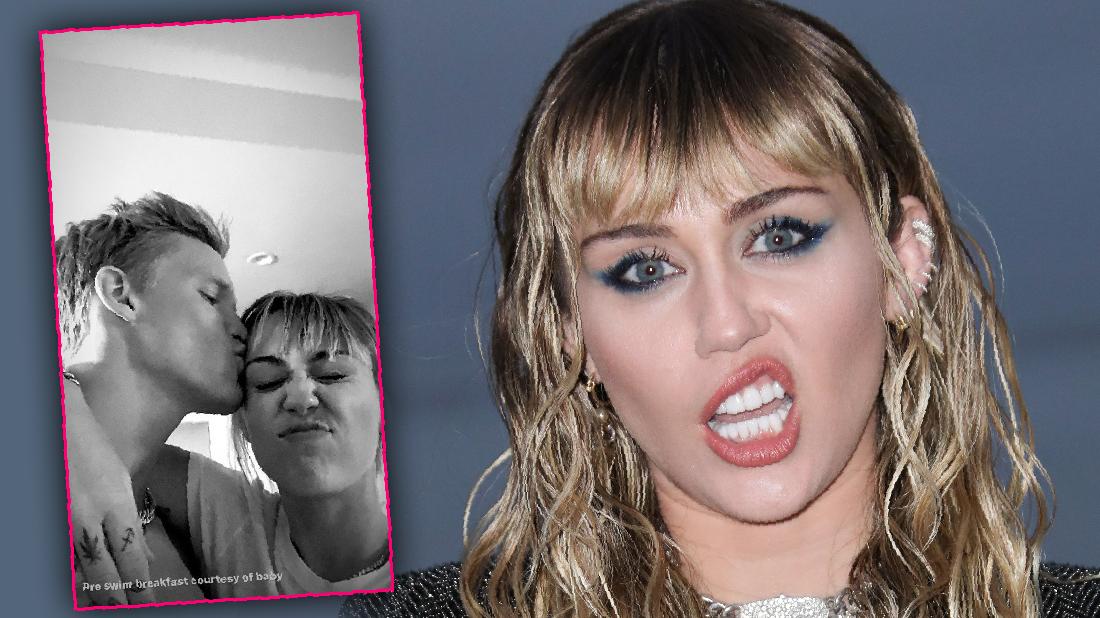 Miley Cyrus' new romance with Cody Simpson is heating up and she's blasting critics of her hectic love life.
The hunk, 22, posted a morning after photo of the two of them kissing on Saturday, October 5, and thanked Cyrus, 26, for making a meal before a swim meet he has today.
"Pre swim workout courtesy of my baby," read the photo of Simpson kissing the singer on her cheek. The following post displayedwhat appeared to be nut butter sandwich with bananas and a smoothie.
Article continues below advertisement
The lovebirds went public only a day ago after Cyrus ended her marriage to Liam Hemsworth, 29, and then split from galpal Kaitlynn Carter, 31, following a brief fling.
As RadarOnline.com readers know, the "Slide Away" hitmaker took to Instagram on Friday, October 4, confirming her romance with Simpson, who swims for USC, after she was spotted kissing him in Los Angeles.
"22 check Australian (my type) check Abs check,Hot Girl Fall check," she captioned a photo of the shirtless blonde hunk in her story.
The singer later shared a video of her kissing the male musician at Backyard Bowls in West Hollywood.
"Can a girl not get a f**King açai bowl and a morning make out session in peace?!?!," she wrote.
Cyrus went on Twitter shortly afterwards, where she addressed all the critics who had something to say about her moving too fast between relationships.
"I know the public feels invested in my past relationship because they felt like they saw it thru from the beginning," the "Wrecking Ball" singer began her post, seemingly referencing her relationship with Hemsworth.
Article continues below advertisement
"I think that's why people have always felt so entitled over my life and how I live it because they've watched me grow up."
"But I am grown now and make choices as an adult knowing the truth/details/reality," she continued.
"People only 'know' what they see on the internet."
Cyrus then channeled her inner feminist to point out that she wouldn't have experienced this level of scrutiny if she were a man.
"Men (especially successful ones) are RARELY slut shamed," she wrote. They move on from one beautiful young woman to the next MOST times without consequence. They are usually referred to as 'legends,' 'heart throbs,' 'G,' 'Ladies Man,' etc…. where women are called sluts/whores!"
"I am trying to just THRIVE/survive in a "mans" world," the star continued. "If we can't beat em, join em!"
Cyrus and Hemsworth's nightmare marriage officially ended with the actor filing for divorce in August. They had been married for just eight months.
Now, after a female hookup, she's moving on with another Australian stud!