Johnny Depp Claims He 'Hugged' It Out With Alleged Assault Victim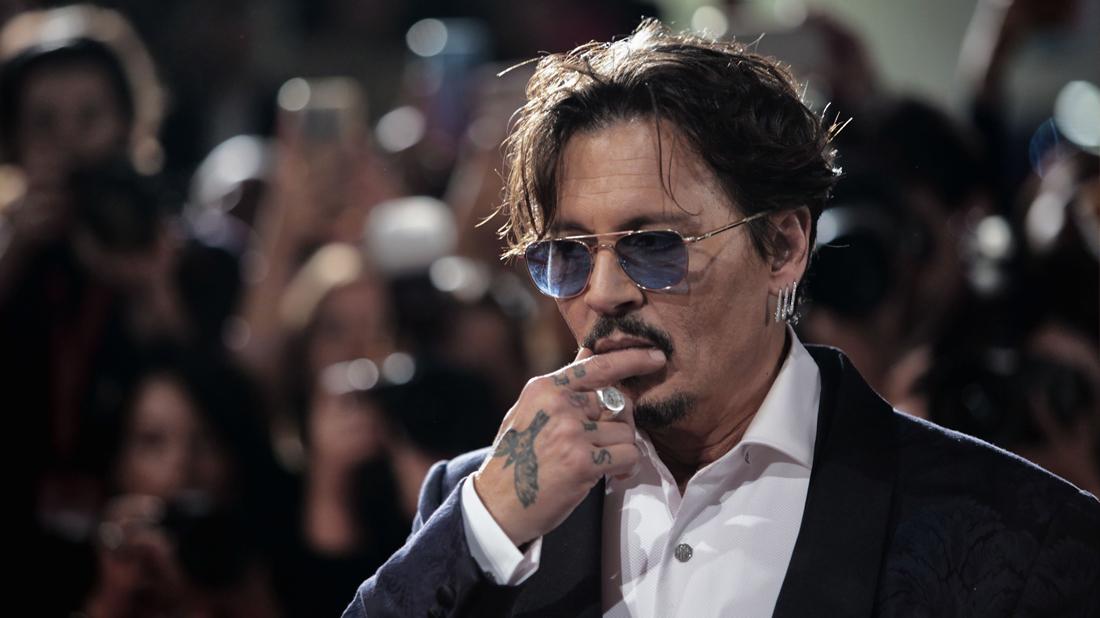 There's a surprising new twist to a lawsuit involving Johnny Depp.
According to The Blast, the Pirates of the Caribbean star, 56, was sued for his alleged assault of Rocky Brooks, a location manager on the set of a movie.
Now legal documents obtained by the website reveal Depp's claims about his altercation with Brooks.
In the lawsuit, Brooks claimed the actor punched him after disagreements over filming hours and location, but Depp argued his interaction was solely an intervention in response to Brook's disrespect toward a homeless woman on the set.
Article continues below advertisement
"I witnessed Mr. Brooks behaving in an irrational and sort of angry manner in which he began too -- there happened to be an elderly woman who I supposed he felt was in his way -- I don't know. But he -- he was very disrespectful to her and use harsh words with her as if she had done something to him," the actor began.
Depp continued, "My reaction to that was to stop that confrontation. Was to remind him that he was on a film set and this -- he had no right to speak to that woman in that way he was speaking to her. Had no right to treat her that way."
The star alleged that Brooks' initially "had quite a cocky attitude" following the confrontation, but the two eventually spoke and "squashed their beef."
"I'd had my assistant bring a bottle of wine. And we toasted in I think paper cups. And, you know, no harm, no foul. I apologized. He apologized. Gave him a hug. We embraced. You know, I hugged him. And everything was cool," Johnny said.
He reportedly also agreed to taking selfies with Brooks following the toast.
Article continues below advertisement
During the deposition, Depp alleged Brooks was working with his ex-wife Amber Heard, whom Depp sued for defamation.
As RadarOnline.com readers know, the former spouses have been going through a nasty legal battle after Heard penned a Washington Post op-ed in 2018 claiming she was a victim of domestic abuse.
Depp denied ever hitting or threatening her and claimed her details of alleged abuse was "an elaborate hoax to generate positive publicity for her to advance her career." Though she didn't mention Depp by name in the essay, he filed a $50 million defamation suit against his ex-wife.
"Ms. Heard is not a victim of domestic abuse; she is a perpetrator," the court documents read.
Depp has also claimed Heard's history of domestic violence backs his argument that he was innocent, but she maintains she suffered abuse at his hands during their marriage, especially when he was under the influence of drugs and alcohol.
As RadarOnline.com reported, Depp recently claimed Heard's new attorney, Roberta Kaplan, and her associates approached his lawyers and showed them incriminating photographs of him, including one in which he appeared to be smoking drugs from a glass pipe, and several other photos showing alleged illegal drugs and paraphernalia located inside Depp's home. He alleged the photos were an attempt at blackmailing his team if they didn't drop their opposition to a protective order to keep details of the defamation case private. The photos were presented in court when he refused.
Article continues below advertisement
Kaplan argued, "Mr. Depp's legal team has grossly mischaracterized our discussions. Before the hearing, we showed them certain photographs to express our astonishment that Mr. Depp was opposing entry of a standard protective order that would preserve BOTH parties' privacy as we engage in discovery prior to trial.
We did not threaten to 'release' any photographs, including photographs showing Mr. Depp using illegal drugs. Instead, we presented certain photographs to the Judge during the hearing in order to explain that a protective order would make sense in this case."
She continued, "By suing her for defamation, Mr. Depp himself has put at issue the grievous physical and emotional abuse that Ms. Heard suffered at his hands during their marriage," Heard's lawyer said. "Ms. Heard has already testified that it was almost always drugs and alcohol that fueled Mr. Depp's abusive behavior and this is consistent with multiple accounts of his drug-fueled rages over many years."
The case is expected to go to trial in the next few months.