Rosie's Family Drama Exposed: Daughter Chelsea's Baby At Center Of Her Nasty Divorce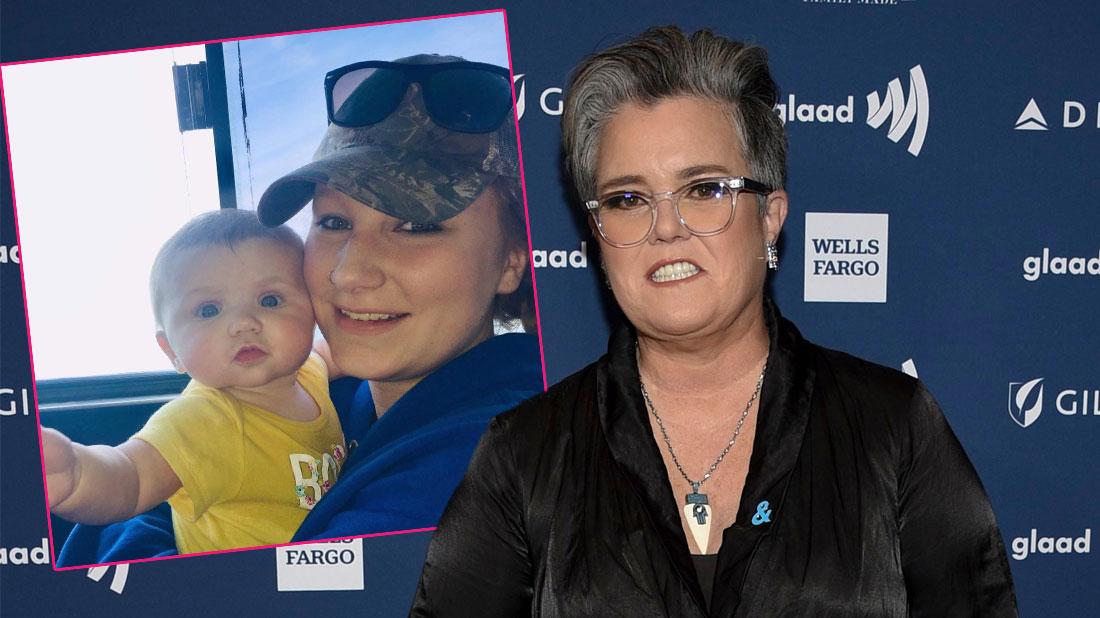 Rosie O'Donnell's family drama is getting worse! RadarOnline.com exclusively learned that her daughter Chelsea's baby born out of wedlock is at the center of her nasty divorce.
Chelsea, 21, gave birth to a baby girl named Skylar Rose with her current boyfriend, Jacob Bourassa, last December. While Chelsea has been estranged from her husband, Nicholas Alliegro, for over a year, court documents showed that the identity of Skylar's father is what's now causing the divorce case to drag on in court.
Article continues below advertisement
RadarOnline.com was the first to report that Chelsea and Nicholas were ordered to submit to DNA testing due to child support issues in the divorce battle. Court documents obtained by RadarOnline.com showed that the DNA testing determined that Nicholas "is not the father."
Still, according to Wisconsin law, Nicholas is presumed to be the father because he was still married to Chelsea at the time of the birth. In order for the the divorce to be finalized, the court has appointed a Guardian ad Litem, who is expected to submit a report about the baby's paternity later this year, documents confirmed.
The appointment of the Guardian ad Litem is "required to overcome marital presumption," the case's online court docket explained.
As RadarOnline.com readers know, Chelsea has been living in Wisconsin, where her boyfriend also lives. Meanwhile, Nicholas lives in Waco, Texas.
The exes have battled in court for the last year in an effort to get their divorce finalized. Chelsea previously accused her ex of refusing to return her personal belongings, including home goods and her dog, Zoe.
Article continues below advertisement
Now, due to the Guardian ad Litem being appointed, Chelsea and Nick will have to wait until October at the earliest for their divorce to be finalized.
The appointment of the guardian ad litem also cost the estranged couple a total of $1,000.
The guardian will then make a recommendation to the court before the divorce can be finalized.
"The guardian ad Litem shall have her report filed regarding the issue of marital presumption with the Court by Tuesday, October 1, 2019 with a copy to the Family Court Commissioner and to each party or their respective attorneys," a court document filed in late August explained.
MORE ON:
Chelsea O'Donnell
A court hearing has been scheduled for October 7, where both Chelsea, Nick and their attorneys are expected to appear in a conference call, the documents furthered.
As RadarOnline.com readers know, Chelsea and Nicholas previously declared their relationship "irretrievably broken" in court papers.
Following Chelsea's claim in June 2018 that Nicholas had stolen her dog, he agreed to pay for "the safe transportation" of Chelsea's canine, "along with Zoe's veterinary records and any papers, no later than August 20, 2019."
Article continues below advertisement
Additionally, Rosie's daughter informed the court that she has "already begun" using her maiden name of O'Donnell as her last name.
As RadarOnline.com readers know, Rosie and Chelsea's relationship was fractured for years after the two fought publicly in 2015. Chelsea fled Rosie's home at the time and moved in with her biological mother.
The former View host has since appeared to reconcile with Chelsea since the birth of Skylar. On August 24, Rosie proudly took to Instagram to share a recent photo of the 8-month-old.
"baby sky #nananews," Rosie captioned the photo.
Skylar is Rosie's first grandchild. According to court papers, once the Guardian ad Litem submits its report, Chelsea and Nicholas's divorce may be finalized for good.