Jill Duggar's Husband Slammed For Working As Grubhub Delivery Man After TLC Firing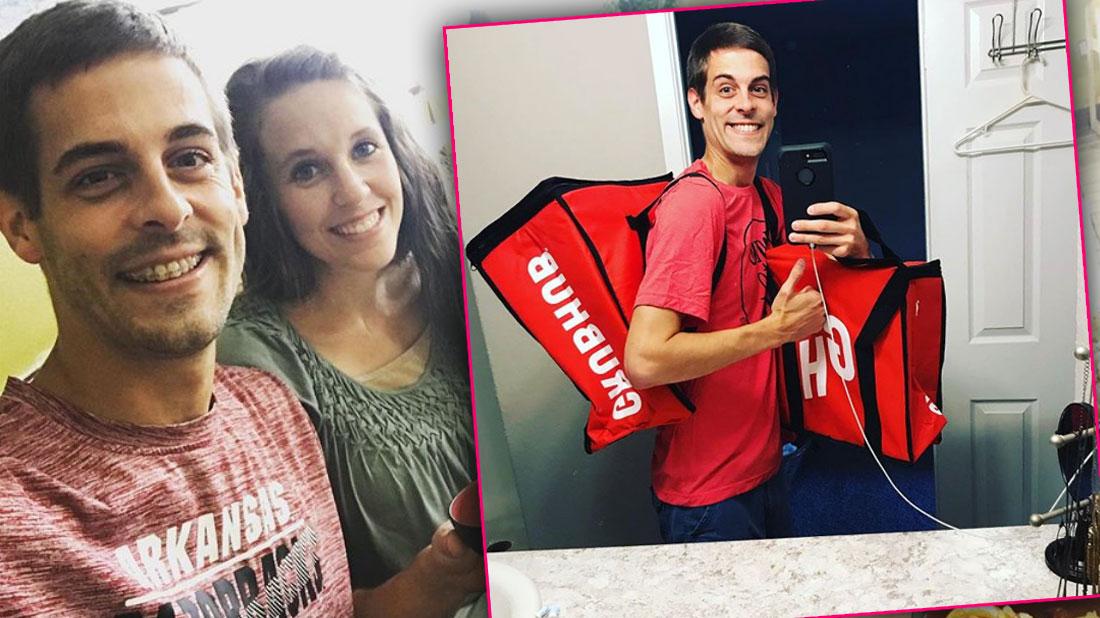 Jill Duggar's husband Derick Dillard is working as a Grubhub delivery man nearly two years after he was axed from the TLC network.
The former controversial Counting On star showed off his new Grubhub uniform and supplies in a shocking mirror selfie posted to his Instagram account.
"This is how I get date ideas! #food #letsdothis #studybreak How do you make extra cash? Would love to hear in the comments below :) #daveramsey #millenialsmakinmoney #daveramseybabysteps" he captioned the photo.
Article continues below advertisement
And now the ex-reality star is on the receiving end of social media trolls, who shamed both Derick and Jill for his part-time gig.
"Or maybe your wife could work," one annoyed Instagram user responded. As RadarOnline.com readers know, a majority of the Duggar daughters have previously been shamed for remaining stay-at-home moms.
Others were disturbed that Derick's uniform selfie was taken in his family's home bathroom.
"I don't think I'd feel comfortable ordering if I knew the bags had spent time in a bathroom," another user wrote. "I'm sure Jill could have snapped this picture without causing a possible health code violation."
As RadarOnline.com readers know, TLC is the network that skyrocketed the Duggars to fame with their former 19 Kids and Counting show. The famous Duggar children and their respective spouses continued on with a spin-off, which Jill, 28, and Derick, 30, have been edited out of due to Derick's attack against the network's transgender star Jazz Jennings.
Article continues below advertisement
In a statement on Twitter, TLC announced, "We want to let our viewers know that Derick Dillard has not participated in Counting On for months and the network has no plans to feature him in the future. We want to reiterate that Derick's personal statements do not reflect the views of the network. TLC is proud to share the story of Jazz Jennings and her family and will continue to do so."
Derick and Jill have been questioned about their income in recent years since the TLC firing. The two traveled to Central America for a missionary trip, and then again to Mexico, after the axe.
In 2018, Derick shocked fans when he enrolled into the University of Arkansas School of Law.
Despite the critics, Derick defended himself after a fan this week asked why he didn't share news of his part-time job sooner.
"I try not to respond to 'haters' who don't know what they're talking about. I've had multiple jobs while in law school (most recently with the Arkansas Attorney General's office), but I don't believe people should post their whole life on social media and/or make assumptions based on a false belief that others post about their whole life," Derick said to a fan.
He continued: "I personally don't post about most stuff going on in life because much of it is private and I wouldn't share it on social media, even if some might make patently false accusations. Hope this helps :)"