Home From Hell? Jen Aniston Shows Off Her Bel Air House After Alleged Knife Horror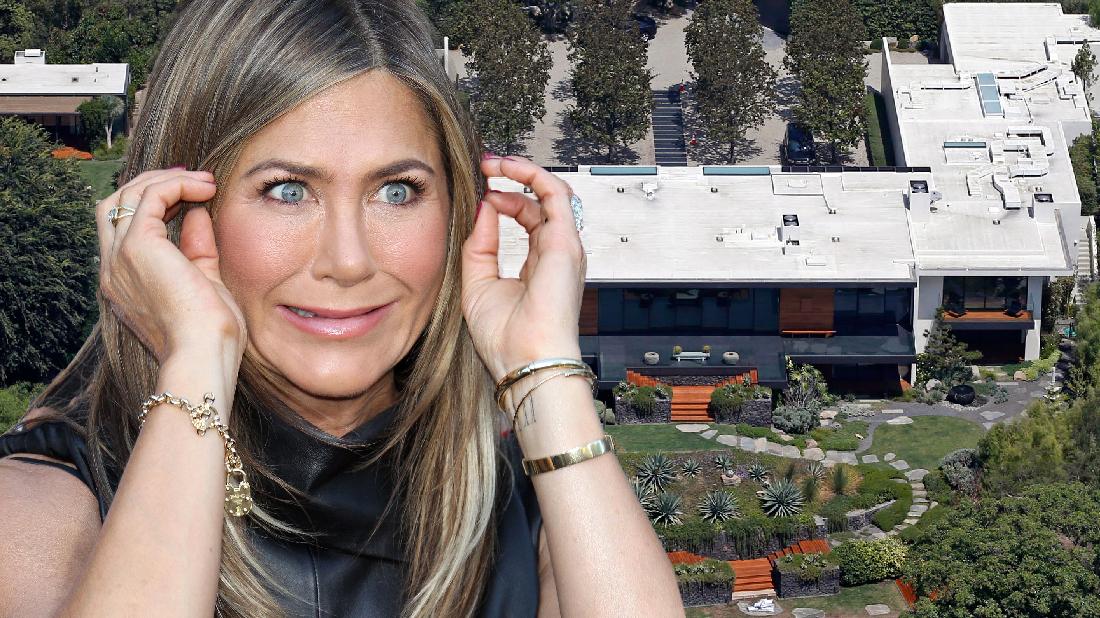 Article continues below advertisement
The sisters took casual snaps of Jen during the previous magazine shoot which are only now coming to light.
In one photo, Jen, clad in a denim shirt and fashionable wide legged jeans, is seen smiling and hugging her dog Clyde in her living room.
She's also pictured reclining on a long leather day bed and sitting in her backyard.
The stylists captioned another photo "Jean Genie," to stress how great Aniston looks in jeans.
But as Radar told you, horrifying 911 calls involving allegations of domestic violence and drugs were made about the same mansion!
Radar learned the most explosive call came on April 18, 2018 — just two months after Aniston and second hubby Theroux announced they were separating.
According to 911 records, a female suspect wearing "no clothing" was in the garage at Aniston's $21 million Bel-Air home and "threatening a male victim with a possible knife" at 2:49 a.m.
Article continues below advertisement
The caller also claimed there was a "history of domestic violence" at the address. But according to official documents, "there was no evidence of trouble" when police arrived.
The people allegedly involved were not identified, but sources told Radar the Friends star and Theroux were known to have blowups — and that they had erupted in a face-to-face showdown at the mansion on December 14, 2017.
Although a rep for the actress denied the December incident took place, "Justin removed himself from the situation before it got physical" and checked into a hotel, an insider said at the time.
Yet another troubling 911 call about Aniston's palatial seven-bedroom pad involved alleged illegal drug activity.
Radar has learned that on March 3, an anonymous caller "overheard at a party" that "NARCO aka narcotics were being distributed or sold from the garage of the subject location."
But police could not enter the property to check for drugs without a search warrant, according to official records, and no further action resulted.
Article continues below advertisement
In other ominous incidents, a silent panic alarm was activated from the master bedroom at Jen's home on two separate occasions just three days apart in October 2017.
One alarm was tripped just before 11:15 p.m. and the other just after 1 p.m. Authorities said one call was for a possible burglary.
Despite the 911 records obtained by Radar under the Freedom of Information Act, a rep for the actress denied any of the incidents occurred.
Plus, a source in Hollywood suggested the cops may have been scammed.
"Prank calls on celebrity homes happen regularly and a security team deals with the situation," the source said.
Aniston's 13,000-square-foot residence sits in a gated community near other A-list pads.
The star bought the property 2011 for $21 million but reportedly spent two years renovating it to her -- and later Theroux's--specifications.
But they split and she lives there alone now. She told Architectural Digest about her home during the recent shoot, "there's nowhere else I want to be."
Aniston and Theroux have appeared to remain friends.
As Radar recently reported, Theroux rushed to Jen's home earlier this summer to mourn the death of their dog, Dolly.