'Unashamed, Unafraid & Proud!' Demi Shares Unedited Body Photo 1 Year After Overdose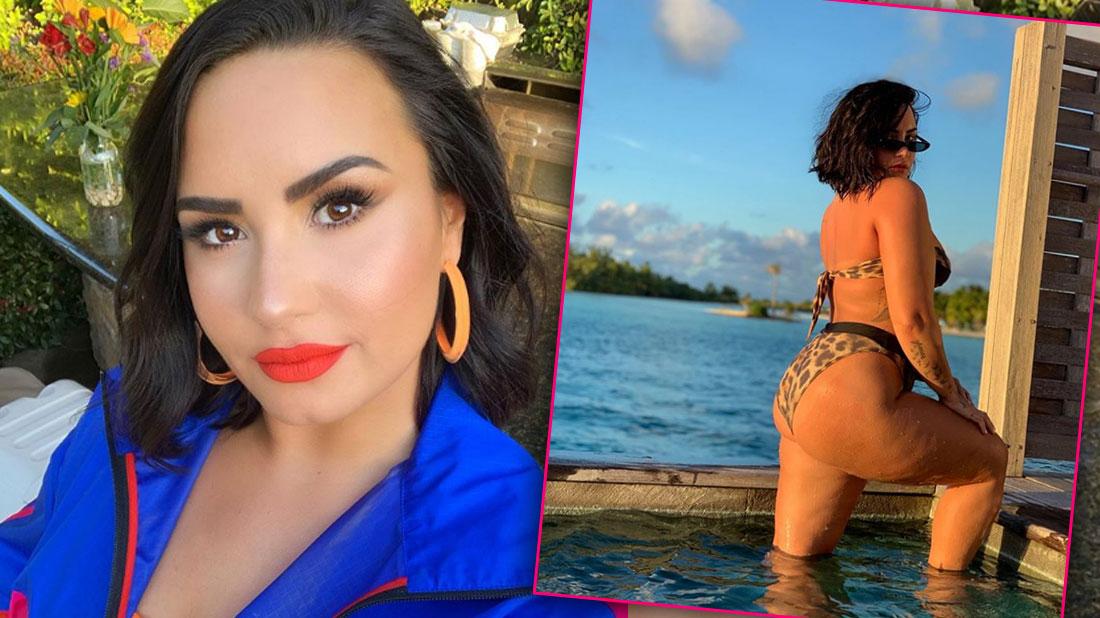 What's wrong with being confident? One year after her near-fatal drug overdose, Demi Lovato is embracing her body and focusing on living a more authentic, healthy life.
This Thursday, September 5, the "Tell Me You Love Me" singer, 27, shared a steamy Instagram photo of herself looking curvy in a leopard bikini.
"This is my biggest fear. A photo of me in a bikini unedited. And guess what, it's CELLULIT!!!! I'm just literally sooooo tired of being ashamed of my body, editing it (yes the other bikini pics were edited - and I hate that I did that but it's the truth) so that others think I'm THEIR idea of what beautiful is, but it's just not me," she wrote in the caption.
Article continues below advertisement
The star gave a sexy over-the-shoulder look and showed off her booty while standing inside a resort pool.
"This is what I got," she continued. "I want this new chapter in my life to be about being authentic to who I am rather than trying to meet someone else's standards. So here's me, unashamed, unafraid and proud to own a body that has fought through so much and will continue to amaze me when I hopefully give birth one day."
Lovato explained how happy she is that she's not longer doing extreme diets to keep her weight down.
"It's such a great feeling to be back in tv/film while not stressing myself with a strenuous workout schedule before 14 hour days, or depriving myself from a real birthday cake rather than opting for watermelon & whip cream with candles because I was terrified of REAL cake and was miserable on some crazy diet shit. Anyway, here's me, RAW, REAL! And I love me. And you should love you too!" she wrote.
Article continues below advertisement
She added that while she's not yet "stoked" with her appearance, she's learned to appreciate it, and hopes to inspire other women to embrace their bodies too.
The pop diva then revealed that she's been working on new music, one year after coming face-to-face with death!
RadarOnline.com readers recall Lovato was rushed to the emergency room after taking Oxycodone laced with fentanyl during a party at her house on July 2018. After she was treated by doctors, she checked herself into a rehab center, and is now committed to her sobriety.
Luckily, her fans, friends, and loved ones couldn't be happier with her recovery and new outlook on life.
Seeing her bikini post, multiple celebrities took to the comments section to voice their praise.
"Yes yes yes," wrote Bebe Rexha.
"Look at me like that again ? love yaself" wrote The Bachelorette's Mike Johnson — weeks after saying he'd love to date the singer!
"Showing us YOU is so incredibly beautiful. Thank you Demi! Love you Mama!" wrote Ashley Graham.
Article continues below advertisement
"YOU did this. YOU. YOU are amazing...YOU are smart...you are beautiful... you are wonderful... you are brave...and you are kind. And I'm proud of YOU. Hell Im proud to know YOU! Bravo for loving YOU first and in turn inspiring millions," commented her manager, Scooter Braun.
"YES," wrote Hailey Baldwin along with a string of fire emojis. "YOU LOOK INCREDIBLE."
"You never have to meet ANYONE ELSES STANDARDS EVER AGAIN, YOU ARE FREE!! So FLY, Baby Girl - set the world on fire. DO IT!!" wrote Lovato's mom, Dianna De La Garza.
It didn't take long for fans to post their own unedited shots, tagging Lovato. Overwhelmed by the "love and support," the singer shared some of them on her Instagram Story, thanking everyone for the positive feedback.