'RHOC's Gina Kirschenheiter Breaks Down In Tears Over DUI Arrest: 'I'm So Bummed'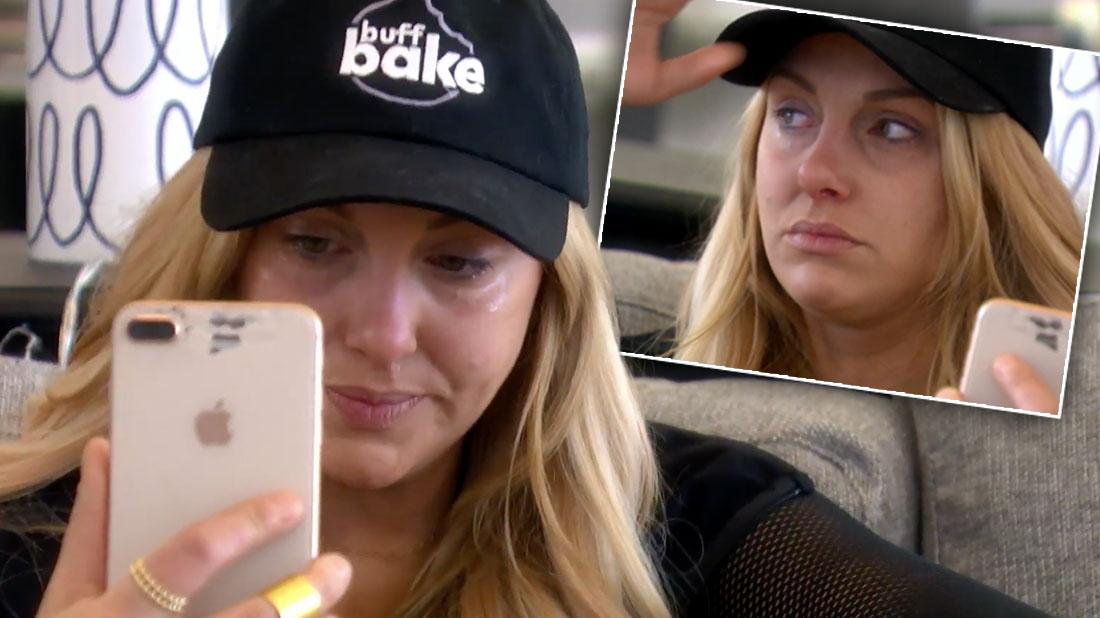 The season 14 premiere of The Real Housewives of Orange County kicked off on August 7 with Gina Kirschenheiter breaking down in tears over her humiliating DUI arrest.
Gina, 35, was in the middle of settling into a new home after ditching her estranged husband Matt. While FaceTiming her dad, Gino, the mother of three recalled her guilt over the January 31 lock-up, which she previously called a "very bad choice" after a "mom's night out."
Article continues below advertisement
"I am doing really good but I'm so bummed I made a stupid freaking decision to, like, get in the damn car and drive that night, you know?" Gina said.
Matt's estranged wife then confessed the boozy bust up was "my worst defining moment ever."
"I want my kids to not remember what I did wrong but what I did about it after I did that thing wrong," she said between sobs.
As RadarOnline.com reported, the mother of three avoided jail time after pleading guilty on July 9 to one misdemeanor count of driving under the influence of alcohol and one misdemeanor count of driving with a blood alcohol level of 0.08% or more.
She was sentenced to three years informal probation and must submit to six months in an "offender alcohol program" in addition to community service.
As RadarOnline.com readers know, Gina's life was also flipped upside down on June 22 when she claimed Matt allegedly attacked her. She was granted a temporary restraining order against her ex after he allegedly hit, choked, dragged and threatened to kill her.
Meanwhile, Shannon Beador entered the season in high spirits as she arrived to workout with her hunky trainer Steven and her three teen daughters.
Article continues below advertisement
"Ladies and gentlemen, introducing the new Shannon Storms Beador. I've lost 40 pounds and I've gained a lot of fun," Shannon said proudly in a confessional.
"I'm proud of myself, damnit! It was two years of hell. The hardest work was changing the insides, getting to a place where I knew that I was going to be ok," Shannon added. "Then the weight started just coming off."
Kelly Dodd also seemed to be loving life, thanks to her new fling with Los Angeles plastic surgeon Dr. Brian Reagan.
MORE ON:
Gina Kirschenheiter
"I have been dating Dr. Reagan for three months now. He works at the place where I got my boobies done, and we are in love," Kelly revealed.
Kelly drove up to Shannon's house and immediately complimented her tighter frame.
"You are wasting away! You look great," Kelly told Shannon.
Shannon told Kelly that although she was dating a couple of "dudes," there was one in particular she was really into.
RadarOnline.com was the first to report that Shannon's new man is her current boyfriend, John Janssen!
Article continues below advertisement
Of course, the season premiere also gave fans an opportunity to meet the newest OC housewife, Braunwyn Windham-Burke, who replaced Vicki Gunvalson.
Braunwyn and her husband Sean have seven children. The new Orange County housewife confessed that she wasn't always living a glam lifestyle. She was born in a trailer park but ultimately found love with her husband after meeting at a frat party. They have been married for 19 years.
"Sean is so hot," said Braunwyn. "He is so sexy. He has a really naughty side that no one knows about."
Also in the episode, Tamra Judge and Shannon paid a visit to Kelly's plastic surgeon boyfriend to get botox. However, the outing turned awkward when Tamra asked Kelly if she would be ok seeing ex housewife Vicki Gunvalson because she wanted to invite both of them to her upcoming house party.
"I don't care," Kelly replied. "If I get drunk and sloppy and Vicki's there, she's really going into the pool."
For more housewives drama, tune into The Real Housewives of Orange County on Tuesdays at 9 p.m.