'RHOC' Star Gina's Ex Gets Supervised Visits With Kids In Heated Restraining Order Hearing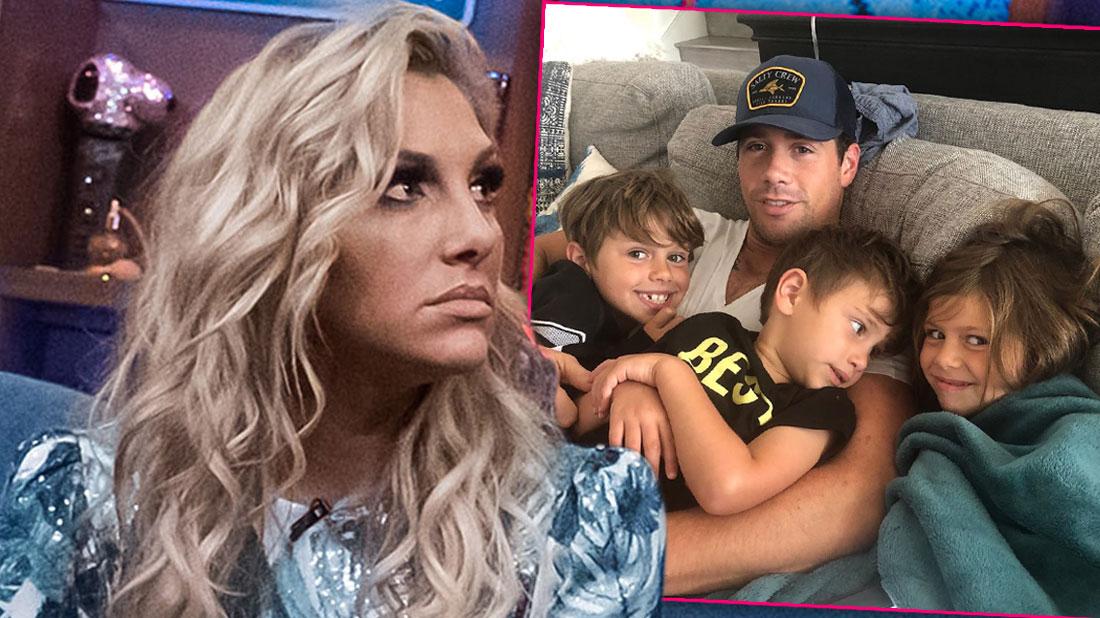 After a heated court hearing, a judge ruled to extend The Real Housewives of Orange County star Gina Kirschenheiter's temporary restraining order against her estranged husband following his domestic violence arrest — but troubled Matt did receive some good news at the tense July 16 court hearing, RadarOnline.com can exclusively report.
With Gina's support, Matt can now visit with his three young children in a supervised setting. (In June, a judge ruled the 35-year-old dad could not see Nicholas, 7, Sienna, 5, or Luca, 4, in any circumstance under the order.)
Article continues below advertisement
Gina's attorney, Tracey Lundquist, said the mom of three still intends to ask for the permanent restraining order, but she agreed to allow Matt to see the kids under the supervision of the paternal grandparents, as well as the paternal aunt and uncle.
Matt's attorney, Haylee Rosen, said Matt also went to New York after Gina agreed to the supervised visitation, but the kids and Gina, 35, are still in New York.
Matt is asking for unsupervised visits, Rosen said.
"After the Petitioner took the children to New York, we entered into this agreement," Rosen stated in the hearing. "My client then went to New York so he could be closer to his children. We don't know specifically when she's coming back. They had family arrangements to all come back in July 27. She is staying in New York. He wants to submit visitation for the kids, unmonitored in New York. If she's coming back to California when and what specific visitation, and then we could continue this hearing out."
Article continues below advertisement
Rosen added, "There is nothing in her paperwork that indicates professional monitoring for the children is necessary. My client has never been arrested, let alone convicted of anything. He has no DUIs. I think the mother doesn't have a driver's license anymore. He's a great and devoted father to his children, whether it's here in California or New York."
Lundquist said Gina is "okay" with maintaining the supervised visitation. "She's fine with his sister monitoring the visits."
Rosen said Matt has agreed to stay at his parents' home so he can be with the kids during the supervised visits, but it has been difficult with the monitoring requirement because of everyone's busy schedules.
"They are stuck in the house which is difficult ... they have their own lives, and that's problematic," Rosen told the judge.
While Matt, donning a gray suit, was in the Orange County, California courtroom, Gina was not present.
MORE ON:
Gina Kirschenheiter
Article continues below advertisement
The judge admonished Lundquist, and said Gina has to be present in court.
Lundquist later asked the judge to continue the temporary restraining order until the next hearing, to which Judge Palafox replied, "Your client should be here if she wanted a restraining order."
"Right, I understand, and I will fall on that sword," Lundquist replied. "I thought we had an agreement to continue and I thought it would just be the attorneys this morning."
Lundquist added Gina hasn't interfered with the visitation agreement, but added, "I'm being told there are some issues with the grandparents, but my client doesn't have any issues with the aunt and uncle."
"Your client isn't here to testify to what those issues are," the judge told Lundquist. "She already agreed to it before, so if you want me to make a change, you need to produce evidence. Otherwise, I will keep the order consistent with what the parties previously agreed."
Article continues below advertisement
The judge then said the temporary restraining order will remain until the next hearing on August 14.
Also, Matt's monitored visitations will continue, but he will get kids during alternating weeks.
Since Gina is still in New York with the kids, she will have them from July 14 to 21, and then Matt will have the monitored visits from July 21 to July 28, and alternating weeks after that until they all come back for the hearing next month.
"My client will go wherever those kids are," Rosen told the judge.
The only time Matt spoke during the hearing was when the judge asked how far his parents live from where Gina is staying in New York.
Matt replied his parents live in Long Island, and Gina's parents are staying about an hour and a half away in Westchester, which he said is about 80 miles.
The judge then ordered the exchanges should take place at each family's residence.