Kim Says She'll 'Give Up Being Kim K' In 10 Years To Focus On Being A Lawyer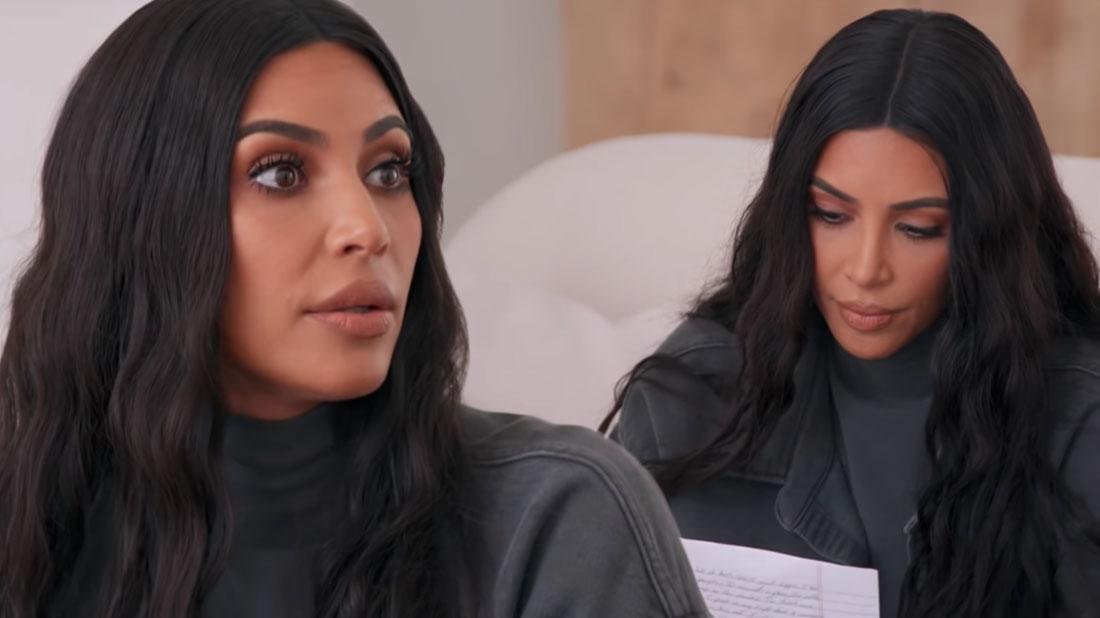 On the latest episode of Keeping Up With the Kardashians, Kim Kardashian freaked out after starting a lawyer apprenticeship in San Francisco, whining, "I won't have time for events, for favors, for friends and for literally everything for four years!"
Kim, 38, first revealed her new aspirations while having lunch with a friend, who told the mother of three, "Honestly this reminds me so much of your dad. It really does."
Article continues below advertisement
"I remember in the O.J. case I would be going through his stuff. I think he would be really proud of me. My dad always told me that hard work is really important," Kim responded before dropping a bombshell.
"My goal would be, in ten years, to give up being Kim K. and focus on this and be an attorney and fight for so many deserving people. It would be really interesting to have his Robert Kardashian At Law plaque that I saw on his desk every day growing up and to have mine right next to it."
"It is so much fun to be around people who are super smart and get it and want the same thing. I was talking to this girl Jessica and she is literally the top prison reform attorney," Kim revealed to her friend.
"We were talking, and she told me that there is this apprenticeship. In the state of California you can bypass your degree and go straight into law school," Kim said, before flashing back to a conversation that Kim had with Jessica Jackson, who runs a firm in San Francisco.
Article continues below advertisement
"You have to work for 18 hours a week out of our office. You would have to take a monthly test and I would have to work with you for five of those hours," Jackson told Kim during the call.
Needless to say, Kim accepted the gig — but not without complaining!
"I literally have to fly to San Francisco every week. I am here so we can get in lots of hours and study and get started," Kim said as she was shown entering the San Francisco law firm.
"I am dealing with my three kids. I am dealing with my career. I am dealing with a fourth baby coming, and the stress of law school. Just because you put in an apprenticeship doesn't mean anything less. It is a full-time commitment," the star continued.
But when Kim told hubby Kanye West about her fears, he wasn't having any of it!
"I think you can get in control of your schedule. Once you manage your time, you will be able to manage your time to give attention to me and attention to kids and attention to law," Kanye, 41, told her.
Article continues below advertisement
Towards the end of the episode, Kim brought Kanye and daughter North West to San Francisco.
"Jessica and Erin are the best teachers ever. I think that the timing is really perfect. It is going to be really hard but it is also really important to keep this private for a while so I can really focus," Kim said. "The best way to change the system is to really know the system. I am excited to take this on and to really focus because we can make such a difference."
MORE ON:
Keeping Up With the Kardashians
Another main storyline this episode was Kourtney Kardashian's evolving relationship with son, Mason Disick.
While Kourtney, 40, and sister Khloe Kardashian were talking about dressing their kids up for Halloween, Kourtney revealed to Khloe, 34, that she was offered the cover of GQ Magazine in Latin America.
However, because Kourtney's storyline this episode was about how she needed to be there for her kids, she wasn't sure on whether or not to accept the offer, as it would require her to be in Mexico City to launch the issues on Halloween!
Article continues below advertisement
The following scene showed fans what Mason, 9, is really all about: helping others!
"The Watts Empowerment Center is a community center in Watts that was going to be closing so we helped bring it back to life," Kourtney told Khloe while the two were in Kourtney's kids' playroom with all three of her children.
Kourtney said Mason gifted a bicycle to a child whose family she met while working with the center.
"This was the kid's only toy, so I showed the kids and Mason couldn't sleep that night. So he was like, 'let's go down to the Watts Center and see the kids."
"Today, we are cleaning out their playroom to give to the kids. Let's be generous!" she said.
The next scene was of Kourtney, Mason, and Penelope Disick at The Watts Center, which was filled with their used toys. Mason clearly took his mom's advice and when the center asked Mason for advice on what to do with his old toys, he said, "Just have fun with them. And share!"
Article continues below advertisement
The third prominent storyline in the episode was Khloe Kardashian's new art hobby, and Scott Disick's desire to broker her art pieces.
Being the supportive friend he is, Scott, 35, brought Khloe an easel to start painting again. She was touched by the fact that Scott knew how much she wanted to be an artist.
When they called momager Kris Jenner on FaceTime to show her the hairless peach that Khloe painted, Jennifer Lawrence answered the phone!
"I am the new Kris," the actress said. After she told Khloe that her piece was "completely legit," Lawrence said, "I am going to be 100 percent honest with you. We wouldn't be having so much fun if you were here."
Later in the episode, Scott revealed to Khloe that he took her art works to an appraiser. Sadly, the appraiser didn't see the true value of Khloe's art and told Scott that her art was "worth less than the materials used!"
But not to worry, because Scott and Kris' connections are invaluable!
"I am getting offers. I got $6,000 for three paintings," Scott told Khloe while the two were hanging out with momager in the last scene of this week's episode.
"I promise I could sell something for at least $5,000," Khloe blasted back. "I don't have time for all of this right now."