Scott Doesn't Want To 'Disrespect' Sofia But Still 'Loves' Kourtney: 'We Are Soulmates'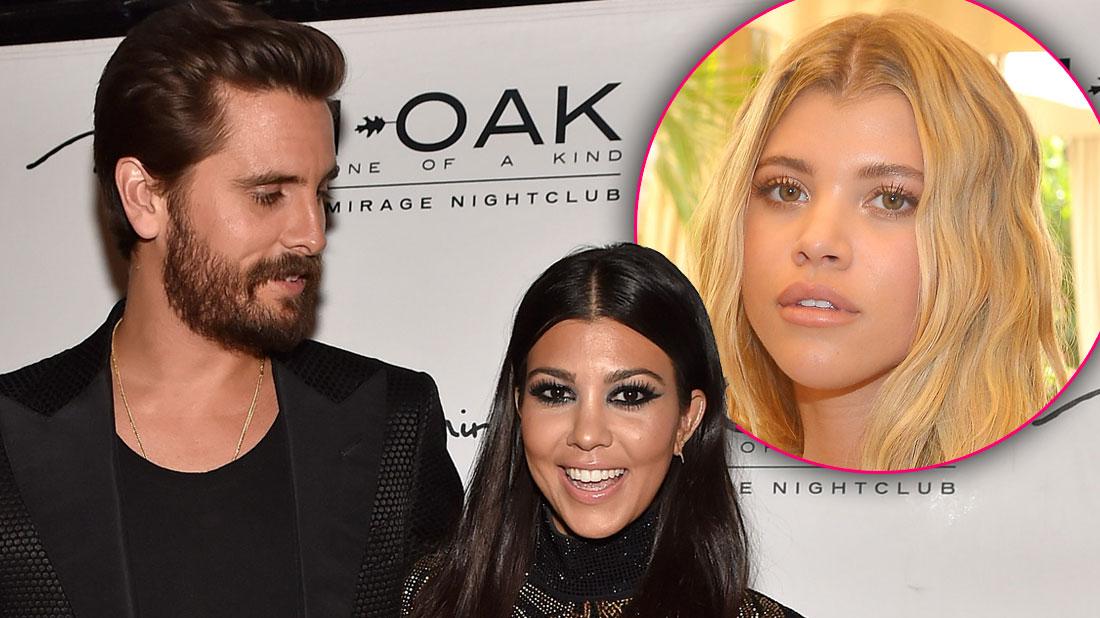 Kourtney Kardashian and Scott Disick got deep and personal on the latest episode of Keeping Up With the Kardashians.
While on the family's tropical getaway to Bali, the stars visited renowned local healers, hoping to get from them invaluable wisdom and spiritual guidance. What Kourtney, 40, and Scott, 35, got, however, nobody expected.
"I normally don't like this type of stuff," Kourtney admitted after son Mason told her she spent too much time on Instagram. "But I'm really trying to connect and improve my relationships."
Article continues below advertisement
She then sat down with Scott and the healer, who told the former couple that they are "soulmates."
"You guys are together in this life and you have been for a while. You have a very deep bond," said Mas Joko.
He told them they're "two old souls in a previous life that keep meeting," and experienced a tragedy in a past life.
He said they "came together in this life. Every soul will have a soul mate it's up to you how you want to end up this life, together or not together."
Scott and Kourtney sat in silence, shocked by their reading.
"I don't really know what to think. I'm in another relationship," said Scott, speaking of girlfriend Sofia Richie. "I just want to take whatever good away from it that I can."
"I just really wasn't expecting that this is what was going to come out of this reading," Kourtney said in her confessional. "I feel really claustrophobic or something. We've come to such a good place — we're finally able to travel together as a family. There are so many positives. But the whole soulmate thing comes up … I don't know. It's just a lot to think about."
Article continues below advertisement
"Do you believe in soulmates?" a producer asked her, and she admitted: "Yeah."
Scott and Kourtney — who share kids Mason, Penelope, and Reign together — struggled to figure out what to think of their reading.
"For a very long time her and I were in a relationship romantically and we had three children," said Scott. "Then we split about three years ago, and for the past couple of years we've been trying to make things work and I think we're doing a much better job now than we were."
Ultimately, the dad-of-three asked the healer to help him and Kourtney "protect" their relationship, while shed asked that he bless them for "whatever is meant to be."
In her confessional after the reading, Kourtney said she finally felt comfortable with the healer's words.
"It feels like we're entering a more transparent phase of our co-parenting relationship," she said of her relationship with Scott. "I don't know what the definition of soulmate is, but Scott and I, we're going to be in each other's lives forever. We are soulmates, in a sense. No matter what, whether we're ever together or not."
Article continues below advertisement
After hearing the news, Kim Kardashian and Khloe Kardashian were stunned, but admitted they do not believe Kourtney and Scott belong together.
"They genuinely enjoy each other's company and they'll always have this attraction. But they're just in two separate places," Khloe, 34, said, and Kim, 38, agreed, saying: "They're separated for a reason."
"I like Kourtney and Scott being separate," Kim added. "You can have soulmates in your life but then reality sets in, and I do think they are separated for a reason and I hope things don't get awkward."
"I mean, Sofia knew going into this that I was extremely close with Kourtney," Scott said. "She was like, 'Listen, I will never get between you and your family and your children. Just speak to me and make me comfortable.'"
"That's very mature of her," Khloe said. "I don't know if I could do it."
"I couldn't. She's a better person than I am," Scott replied. "I thought for a very long time that I was going to live a very miserable life. I didn't think that I was going to have happiness again. My biggest thing to Kourtney was no matter who we're with, even though our children might not see everything, they do feel it and they can hear it and everyone needs to be okay with each other."
Article continues below advertisement
When Khloe asked him if he thought the "soulmate" conversation would bother Sofia, 20, Scott didn't know what to say.
"I definitely don't want to disrespect my relationship with Sofia because it means a lot to me," he said. "Whether Kourtney and I are soulmates or not, I feel like I owe a lot to Kourtney for the times that I missed when I wasn't the best partner to her. So I feel like I will forever be making up for that lost time for the rest of her life."
RadarOnline.com readers know Scott was a hard-partier for years towards the end of his relationship with Kourtney, all which caused him to spend little time with his kids. Now, however, he's a changed man, and, according to the family, a very active parent.
"At the end of the day, I don't want to hurt anybody," he added. "Sofia knows that we're raising three kids together and until our kids are 100, I'll still be making sure that Kourtney and my kids are a priority in my life."
Article continues below advertisement
Still, Khloe was concerned about Sofia's feelings.
"If I was Sofia, I would be so insecure," she told Scott when the two were alone. "I don't care how confident you are. It's weird if you're Sofia."
Also in the episode, Kim got exciting news from a medium that her late father, Robert Kardashian, is going to be reincarnated in her second son.
During the reading, the medium told Kim "Your father's here," and asked about a "second boy."
"I have another boy that is coming in May," a stunned Kim said.
"That's where he's going to be reincarnated," the medium said about her father.
Khloe was stunned by the prediction. "Publicly no one knows Kim is having a boy," she said, lending credence to the reincarnation theory.
Meanwhile, Khloe's own reading focused on her disastrous personal life.
"You don't have self-confidence," the medium told her. "You're very smart. People love you. But you feel sad. There is something that is hurting you. A traumatic experience."
Article continues below advertisement
The seer continued: "What happened in the past you're feeling uncomfortable. Angry. You can't forget that. Sometimes you don't trust the person you're with."
And Khloe knew exactly what she was talking about.
"Ever since what's happened between Tristan and I. Nobody knows I fight an inner battle with myself. In regards to what is the best thing to do in my relationship and for me. This woman is spot on with me and it is kind of freaking me out," she confessed.
The reading about Tristan Thompson really made Khloe take a second look at their situation.
"Basically Tristan is a cheater and I can't figure out what to do," she told Kourtney. "And I fight with myself all the time and I go back and forth."
Khloe confessed that she had not completely forgiven cheating Tristan, 28.
"I'm suppressing all my emotions and I'm pushing them down," she said. "It's hard to overcome cheating. It's hard to gain the trust back. You wonder if you'll ever get back to where you were prior to this whole cheating scandal."
Stay with RadarOnline.com for weekly recaps of Keeping Up With The Kardashians.