Scheana Starts Explosive Fight With Adam At Jax & Brittany's 'VPR' Engagement Party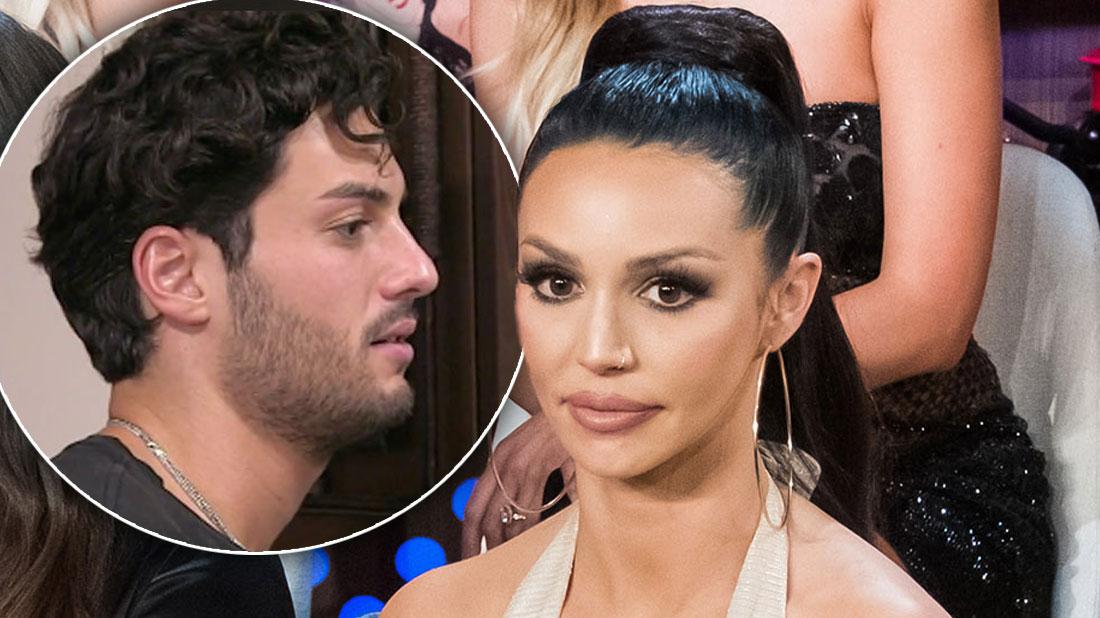 Article continues below advertisement
Ever the defender, LaLa told her: "If he doesn't want that happening, he should commit to you."
"I know now he's making me feel like sh*t," Scheana said.
"Dudes work their way into their heart and you really give it your all and they end up walking on you," Lala told her, and she burst into tears.
"It gets worse. I didn't even tell you guys the whole story," she sobbed.
"You're not pregnant, right?" Kristen asked.
"The thing he loves more than anything else in the world are penguins so I looked into it and you can adopt them at the aquarium," Scheana told the girls.
"You adopted this motherfu**ing penguin," an incredulous Lala asked.
"If he's still mad at me after I got him a f**king penguin then we're done."
On the party bus traveling to Brittany and Jax's engagement party, Adam refused to even talk to Scheana.
Article continues below advertisement
"I hate the tension between Adam and I. I just want to sit and hug him and make this all better, but he won't even make eye contact with me," she told Katie Schwartz and Stassi Schroeder.
Then she spilled the details about her wild night with the model, Ethan.
"Two bottles of wine later he goes down on me for like 30 minutes," she said and revealed that Adam never does that.
Stassi was shocked. "Adam doesn't go down on you?" she asked. "No, that's not his thing," Scheana told her.
Adam sought advice from Tom Schwartz who told him not to break up with Scheana just because she had sex with someone else, but he wasn't convinced.
"Once a penis goes into a vagina that's very intimate," Schwartz said.
"She knew that it would upset me," Adam insisted.
"Dude this is not a deal breaker, in my opinion," Schwartz told him. "I think you should go talk to her."
Scheana finally confronted Adam at the party, pulling him aside for a heart-to-heart talk that went poorly.
Article continues below advertisement
"You look really handsome," she told him. "You look gorgeous you really do," he told her.
"I told you yes, I'm uncomfortable with this," he told her about their relationship and her date. "You f**ked him, there's no other way to describe it," he yelled at her.
"Do you love me?" Scheana badgered him.
"Answer the f**ing questions. Stop. Answer the questions," she said.
"No," he told her. "Answer it," she said, not realizing what he meant.
"I just did. No!"
He said he couldn't get over her date. "You were just with another guy," and she told him: "I thought about you the entire time."
"Oh, thank you for the consideration," he sarcastically told her. "That makes it so much f**king better."
"I'm so f**king sorry that I did something that made you realize that you had feelings. But if I didn't would you have ever spoken up? No! We would have just kept doing what we were doing. So, I was like maybe I should do it just to see," Scheana rambled and then grabbed onto him.
Article continues below advertisement
"Give me a hug," she begged. "Please, Scheana, I need to walk away," he said and broke off her embrace.
"Even though we're not in a relationship I feel like we just broke up," Scheana said in her confessional.
"I don't want to do this anymore," Scheana sobbed to Kristen. She even sat with Brittany's grandmother crying about her heartbreak.
Jax slammed her dramatics. "My engagement party is amazing. If I had to complain about one thing it would be Scheana making it about herself and crying in the corner about Adam Scott who she wants to marry tomorrow. Like get your sh*t together."
Apart from that, the bash went smoothly.
Stassi spoke to Brittany's dad about how much Jax had changed.
"I know that Jax has lied and cheated and duped us all in the past over and over again. But this is the first time that Jax has actually proposed to someone," she said and revealed that she had Brittany's back.
"I think we will all crucify if he messes up again. I'll find some spikes, light them on fire and shove them up his a**."
Article continues below advertisement
Brittany struggled with telling LaLa that she wasn't a bridesmaid and was chagrined when LaLa said she didn't mind and even gave her an engagement present trip to Cabo on her fiancé Randall Emmett's PJ.
Lisa Vanderpump gave a toast to the couple, saying: "Tonight is the night that many of us thought would never happen. How you've grown up Jax Taylor. I know it has been a challenging year and life is about the obstacles you overcome. With her as your partner you're really going to go a long way," she said and then joked: "If you mess with my Kentucky muffin I'm coming for you."
"I know there are doubts," Brittany said in her confessional. "I love this man more than anything in the entire world. To hell with everybody else's opinions. I really truly believe we are going to live happily ever after."
And Jax was determined to make things work with Brittany. "I know how much I love her and how much I want this. It just fuels my fire to prove them wrong."
Stassi and her boyfriend Beau Clark ended the season in a good place.
Article continues below advertisement
"You're going to ask her to marry you, aren't you?" Lisa asked Beau. "I am," he told her and Lisa was fully on board.
"Beau listens to Stassi. He nurtures her, he cares for her. He loves her more than she loves herself."
"Everything that Lisa is saying just reaffirms in my mind that Beau and I are in a healthy relationship. I just want Beau to follow me where ever I go carrying our dogs," she joked.
Ariana Madix had a mature conversation with Lisa about her criticism of the Toms.
And James Kennedy ended the season having dinner at SUR during the engagement party, telling girlfriend Raquel Leviss that he never cheated on her.
"I think that now that we've moved in together it will be harder to make something like that up," Raquel said. "I'm going to be with you every single day."
And he even promised to marry her one day.
"Down the road I see marriage and maybe babies," Raquel said in her confessional. "We're perfect for each other."