NeNe Accused Of Knocking Producer's Tooth Out During Wild Closet Brawl: He 'Went To The Hospital!'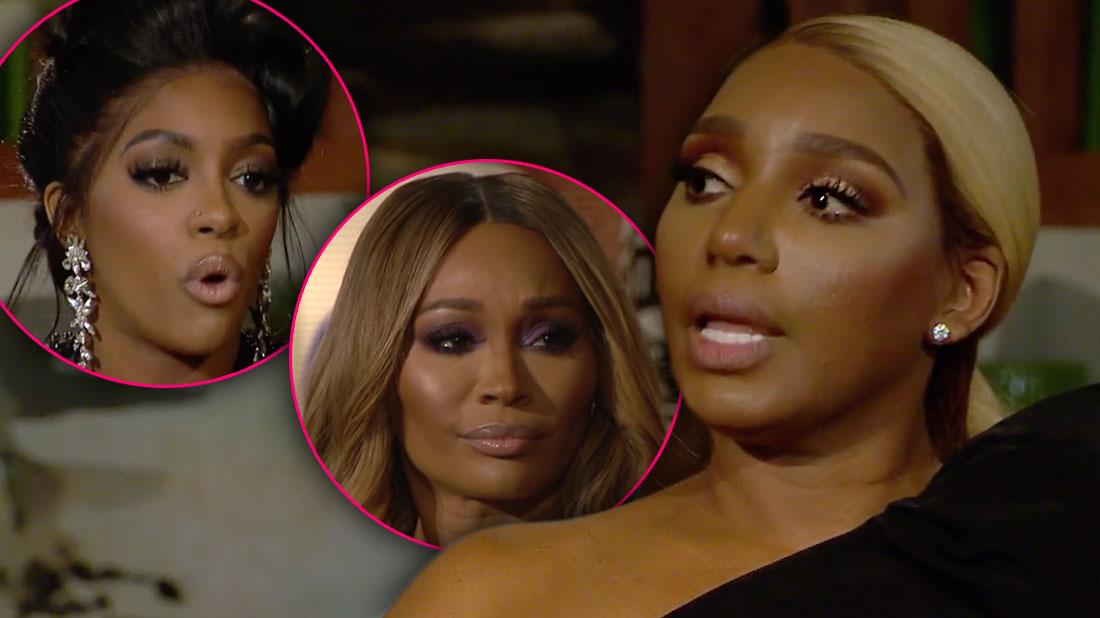 "I want to talk about the closet."
Andy Cohen started off the Real Housewives of Atlanta reunion part three by getting right to the point: did NeNe Leakes put her hands on pregnant Porsha Williams during the infamous closet incident?
When Andy asked NeNe if she regretted the fight, the star shocked him by saying: "The one thing I hated most when I watched it was all the cursing."
"What about putting your hands on someone?" he asked. "What about it?" she responded.
Article continues below advertisement
"Did that bother you?" he asked.
"No. It didn't bother me," NeNe told him. "It didn't. I said we were not filming in my closet, and no one is to go in my closet. That was a rule said up front."
"Does it give you the right to put your hands on someone," Andy asked again and NeNe replied: "It doesn't give me the right to put my hands on anyone."
Then she explained what happened with the crew member during the fight.
"I didn't hit him. I pulled his t-shirt. And it was a t-shirt and it tore," NeNe explained.
"Well, him, but the other guy got choked up, scratched up, went to the hospital," Porsha said.
"Did he go to the hospital?" NeNe said, pretending like she didn't know. "I didn't hear nothing about that."
Porsha had even more information. "He absolutely did and absolutely had scratches on his back. Choked up and head drug against the wall."
Article continues below advertisement
Kandi Burruss confirmed that story, saying: "His tooth got knocked out."
"I heard his tooth was cracked," NeNe said, "but nonetheless, it didn't give me the right to touch him."
When Andy asked if NeNe should have been fired for getting physical Eva Marcille came to her defense.
"Absolutely not. I think that she was thoroughly disrespected in her own home. Whatever happens after you disrespect someone in their own home is fair game. Period," she said.
"When she pulled the camera guy by his shirt, security grabbed NeNe," Eva claimed, but Porsha told a different story. "They grabbed her after she choked the producer," she said.
"The producer that she choked up was holding his hands up in the air, making sure that every move was on him from her," Porsha continued.
Kandi agreed with Porsha, saying: "I was out of the closet by then and he was holding his hands up in the air."
Article continues below advertisement
And Porsha slammed NeNe's attitude about the situation.
"I felt like for her to put her hands on anybody that not and not have any remorse whatsoever is wrong," she said.
"Were you scared?" Andy asked.
"It was scary. It was fast and it was furious, and she was angry," Tanya Sam said.
"If somebody is sitting here and they say they were not terrified they are f**king lying," Porsha said.
Unseen footage of Porsha saying, "I'm scared," was shown.
After Marlo Hampton said she didn't remember NeNe touching her, Porsha gave her side of the story.
"First of all, just like Kandi said we all thought it was a playful situation. And then NeNe comes in, and she said, 'I said get out!'" Porsha recalled.
"And at that point, I felt a hand on my back, and my belt came off, and I went forward. So, at that point, I was like, 'Okay, you know what? She means it.' And once I walked on out the closet, that's when I saw the man's shirt ripped, and then I saw her choking up the producer. And that's exactly what happened," Porsha continued.
Article continues below advertisement
NeNe completely disagreed. "Porsha you're saying I touched you, I put my hand on your back? I put my hand on your back? I wasn't even behind you," she said.
"I was the last one to leave out of the closet. Once I got to the front of the closet, I felt a shove and my damn belt came off. You were behind me," Porsha insisted.
Kandi said that she couldn't be sure that NeNe touched Porsha because she was already out of the closet, but said that NeNe "came downstairs, I say aggressively. You came downstairs, you were going off again I was just trying to calm the situation down."
NeNe and Kandi apologized to each other but the fight between Porsha and NeNe didn't seem to end.
Marlo brought up Eva's wedding and post-wedding drama, saying that she had more than one bridesmaid trash-talking her, but Eva didn't care.
"What happened is what often what happens. I ended up falling out with one of my bridesmaids," she said about the ex-friend that spilled the beans on her financial situation.
Article continues below advertisement
"My wedding was fabulous I loved every minute of it, I'd do it over again," Eva said.
RadarOnline.com readers recall that confronted by Marlo at her ceremony, the America's Next Top Model alum confessed that she had sexual relations with a woman, but denied she was a lesbian. And she also insisted that she moved houses frequently because she felt threatened by her daughter's father.
In yet another dramatic RHOA storyline, Cynthia and NeNe's friendship ended for good.
After Cynthia was caught lying about inviting Kenya Moore to her party, invited NeNe was done with her.
"I felt very hurt and betrayed. I don't believe a word they're saying. The proof is on the audio on the show," NeNe said about Cynthia and Kandi having Kenya at the bash. "Betrayal."
"If NeNe wants to fall out about this petty a** sh*t then let us fall out over it," Cynthia said.
Andy finally asked both women what they got out of their relationship but only Cynthia gave an honest answer.
Article continues below advertisement
"I've been through a lot with Nene," Cynthia said. "I've always tried to be a supportive friend to her, and it has not been easy because she is not the easiest person to be friends with. I own what this looks like. There are a lot of very nasty things that she says about me on this same episode which she is not addressing. I'm not weak. If I was weak, I wouldn't have been sitting on this couch for nine years. I'm not going to stress myself out about anything that is no longer making me have peace. It is what it is."
"Do you have anything to add?" Andy asked NeNe, who only replied "No."