Bossy Operator! Kate Middleton's Mom Carole Is Behaving Like A Diva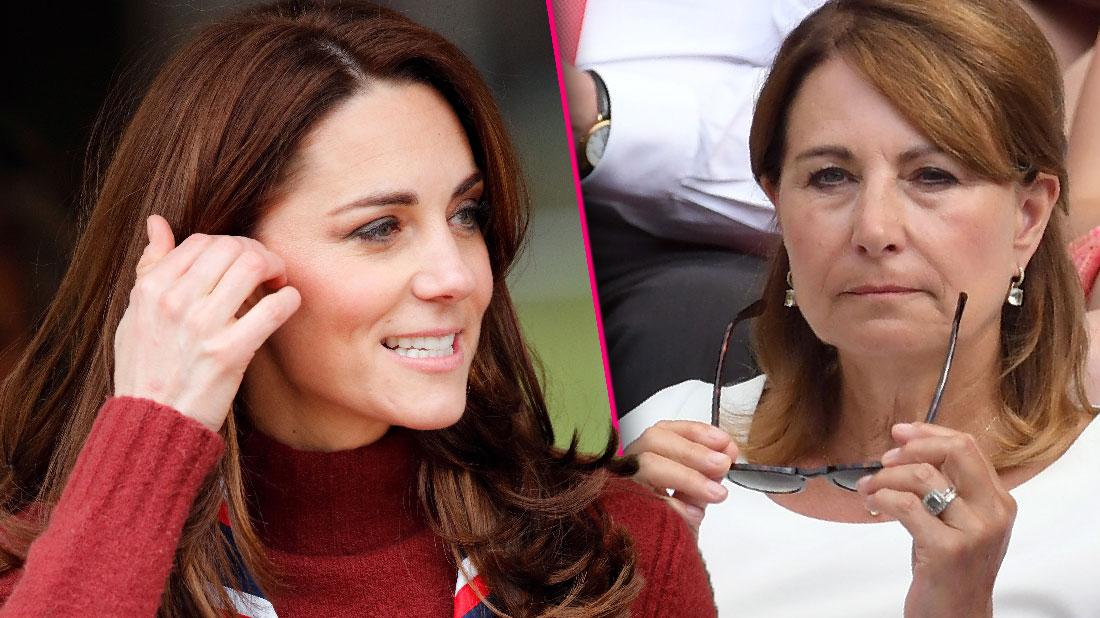 Forget about Meghan Markle!
Because Kate Middleton's mom, Carole Middleton, is behaving like a diva with her staff.
The Uk's Mail On Sunday newspaper is reporting that her hardworking staff is fed-up with her antics.
Carole Middleton runs a successful party-planning business but it is anything but fun to work for her.
Insiders claim that she constantly bombards them with demanding e-mails while she docks their pay if they go on dental visits.
Article continues below advertisement
And if they choose to disagree with her then she will shun them completely.
The 64-year-old rules over her 20-strong team at the open-plan floor of Party Pieces HQ, a converted cow barn in a hamlet in a quiet pocket of rural Berkshire, England.
Talking about her business she said 'It's still a big family thing.'
But some of her staff are less than impressed with these values.
They say there is another side to the company and offer examples of what they describe as Mrs Middleton's tough management style.
One employee is said to have received 71 emails from her in one day.
Other staff said that she would occasionally click her fingers to get someone's attention when she was under pressure, which was seen as irritating.
Some claimed even the 'sound of her Range Rover pulling up' outside the office was enough to set them 'on edge'.
And they credit her husband and business partner Michael Middleton, 69, as being the person who irons out over any problems.
Article continues below advertisement
The couple founded Party Pieces in 1987 when she was a flight attendant and he a British Airways dispatcher.
And it has afforded them a comfortable lifestyle boosted by the fact that their daughter Kate Middleton married Prince William in 2011.
Staff arriving at work are required to enter a personal code into a computer. It logs exactly when they come and go and ensures that they have worked their allotted hours.
The company accountant may then send Mrs Middleton the names of anyone who might have fallen short of their quota.
Sometimes they may be emailed and given the choice of having money deducted from their pay or making up their hours.
Even time off for a dentist appointment might count against staff, claimed one ex-employee.
"I could understand having to clock in if you are being paid by the hour – but we were salaried staff," revealed a source.
Article continues below advertisement
And at Christmas time there was very little cheer for the staff.
He added: "It was miserable. You would think a company selling party items would be full of cheer. Carole once spoke about us playing rounders in a field near her home, but it failed to materialize."
Another former employee said: "If you disagreed with her then she would bestow her favour on someone else, whoever happened to be flavour of the month.
"She would go out for lunch with them and be very friendly towards them. You would then find you were being cut out of emails that were within your speciality.
"Once she clicked her fingers wanting someone to come over to her desk, which I thought was demeaning and unprofessional. I saw her doing it to others as well.' Staff with a problem would invariably seek out her husband.
An ex-employee said: "He is an absolutely lovely guy and is seen as a bit of a father figure to everyone. One year we had a fantastic Halloween campaign, our best ever.
Article continues below advertisement
"Mike sent a lovely email around congratulating everyone but his wife followed it up with an email reminding everyone there was too much stock left over – even though we had broken sales records.
"We would often go to Mike if something was wrong. He'd roll his eyes and as if to say 'What has she done now?'
"Then he'd go and have a word with her and joke that Carole causes chaos and confusion.
"Mike would be full of praise and appreciative of our efforts. She would expect us to respond to emails at seven or eight at night.
"And they weren't simple – it would be her demanding, something to the effect of 'I need you to do this and send it back to me tonight'.
"Often we would have to work late or over the weekend because she hadn't signed something off until very late. She insisted on signing off everything but often she would disappear for hours.
"She was once needed desperately to sign something off but no one could get hold of her. I then saw her on the TV at Wimbledon.
Article continues below advertisement
"Carole's main job was to produce the quarterly catalogue – and she did a good job of it, but there were two occasions where people had to work throughout their weekend putting it together because she insisted on last-minute changes. There was never an apology, she just expected people to do it."
Earlier this month it emerged that Party Pieces had laid off more staff amid fears for its future.
A company spokesman said its structure was being 'reviewed to align with its financial targets'.
"Her communication style is curt... you will find people who take offence at that, and she should be better at adjusting to her audience," said a source.
"It bordered on clumsy and not reading the audience necessarily well, but it was not rude or nasty."
It remains to be seen how Party Pieces will fare during 2019.