New JFK Assassination Book Reveals Alleged CIA Cover Up Of Images And Film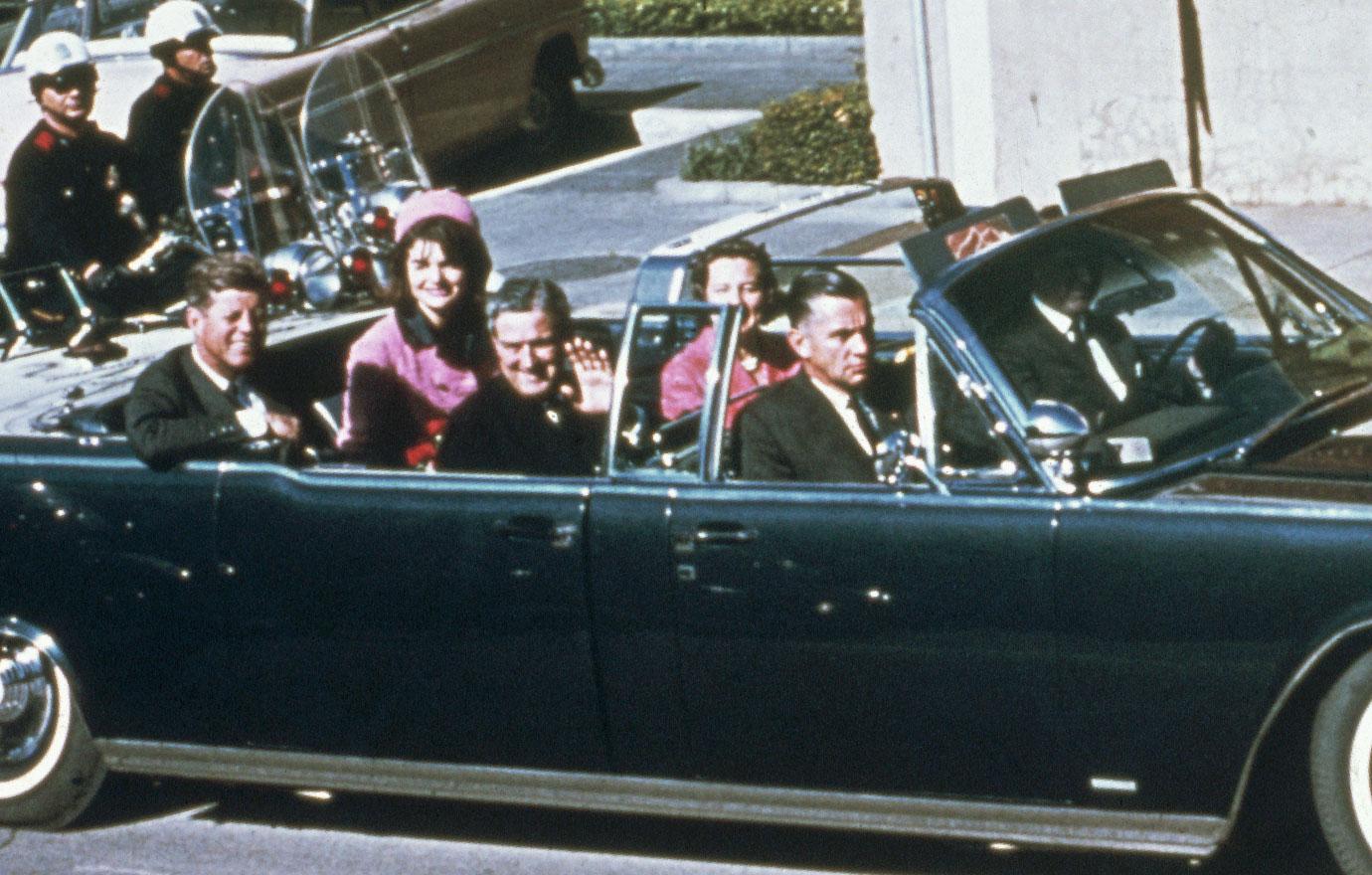 Photos and film of John F. Kennedy's shocking assassination were allegedly doctored, RadarOnline.com has learned.
Expert Tim Fleming's new book, JFK And The End Of America, has dissected the maze of conspiracy theories still cloaking the President's shocking murder 55 years ago.
The tome has stated that America's 36th president Lyndon B Johnson and ex-CIA director Allen Dulles colluded with the government, business titans, the military and the CIA to kill Kennedy – to ensure they held on to power and profit from the defense industry.
Article continues below advertisement
Fleming, who has studied the Kennedy assassination for 50 years, has written that JFK had his brains blown out as his drive to pull America out of Vietnam and split the CIA into "a thousand pieces and scatter it to the winds" threatened the establishment and the money-spinning business of war.
The book states, "Since 1963, we have been at war or under a threat of war, spending nearly six of every 10 tax dollars on defense.
"Kennedy was moving America toward a permanent peace state, threatening the national security/military establishment whose existence is dependent on a permanent war state."
Describing how a cabal of conspirators ruthlessly mopped up evidence of their shooting – which Fleming believes involved several snipers – the author wrote, "Relatively speaking, accomplishing the deed was straightforward. The more insidious part of the plot was blocking all avenues by which the truth of it could be unearthed.
Article continues below advertisement
"The tricks of illusion, red herrings and fakery kicked into high gear the moment Kennedy was hit."
There have been numerous theories about JFK's death, but Fleming has alleged that a "Photographic Clean-Up Crew" was deployed to ensure the mound of photographs and film shot on the day of Kennedy's killing did not survive "in their original, unaltered state."
"With so much coverage, there should have been a complete photographic record by which many of the mysteries could have been solved," Fleming adds.
"However, most of the photographers reported the images they recorded were stolen, altered, deleted or simply ignored.
"It is possible we will never knowhow many images were confiscated and destroyed on 11/22/63."
Fleming has stressed how Orville Nix – whose footage of Kennedy's assassination captured the opposite view of the killing to the Zapruder film – believed his clip was altered by the government before being returned to him.
Article continues below advertisement
Fleming added that images of "human movement" on the infamous grassy knoll on Dealey Plaza were also sliced from other footage.
He has claimed that a witness named Phil Willis believes an image he took of Jack Ruby – who shot Kennedy's "lone assassin" Lee Harvey Oswald – was cut out of his photograph after it was confiscated by supposed secret service agents.
Fleming also has told in his blockbuster book how congressman Henry Gonzalez had his camera stolen before he could develop shots of the day Kennedy was murdered.
And he has recounted how soldier Gordon Arnold had his video camera "yanked" from his hand by a rifle-wielding cop after he heard a shot ring out on the grassy knoll.
Canadian journalist Norman Silias is among the litany of other photographers named by Fleming who says his image of the Kennedy shooting was never returned to him by authorities who took it for "analysis."
Fleming also has written about tells how an image taken by assassination witness Mary Moorman was "obviously cropped" by authorities who confiscated it to cut out the moment JFK limo driver William Driver pulled a gun on the doomed president.
Article continues below advertisement
Revealing how he feels Greer, who died aged 75 in 1985, was involved in the Kennedy hit, he said: "William Greer slowed the limo down, coming to a complete halt according to 21 witnesses, at the exact moment when the president was struck in the head.
"The motionless car made Kennedy a stationary target for the assassins.
"At the same time, Greer took his left hand off the steering wheel and pointed it at the president as if he were aiming something at him.
"The Zapruder film shows no gun in Greer's hand, but witnesses in Dealey Plaza saw the gun in his hand. Witness Hugh Bezner said he 'observed what appeared to be a nickel-plated revolver in someone's hand in the president's car'."
Some have tried to discredit the theory Greer was involved in the killing by claiming what looks like a handgun is a reflection of the sun on the hair of Greer's secret service colleague Roy Kellerman.
Article continues below advertisement
Fleming has alleged that the secret service was full of right-wingers who despised Kennedy's liberalism and womanizing, and was "vulnerable to infiltration by those who wanted him dead."
And the author has written in his book that the failure to find "lone-nutter" Oswald's prints on the Mannlicher-Carcano rifle he was said to have used to shoot Kennedy is proof he was simply a patsy.
Fleming added,"There were dozens of operatives on the ground, some disguised as tramps and rail-road workers.
"Evidence was sabotaged, witnesses were intimidated and the assassins' escape was facilitated by men with false government identification badges."
We pay for juicy info! Do you have a story for RadarOnline.com? Email us at tips@radaronline.com, or call us at (866) ON-RADAR (667-2327) any time, day or night.