Chilling Evidence Exposed! Top-Secret Memo Shows J. Edgar Hoover Ordered JFK Murder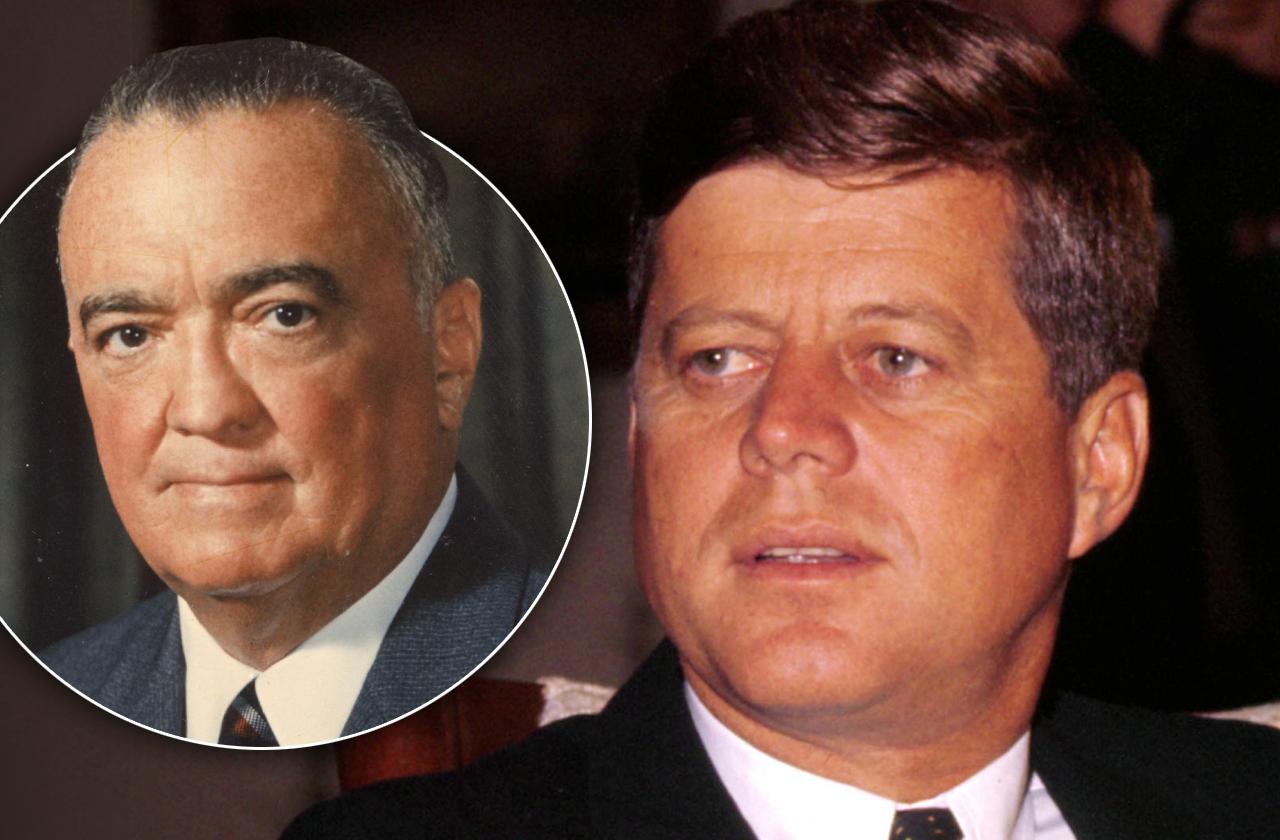 FBI Director J. Edgar Hoover ran the deep-cover conspiracy that killed President John F. Kennedy in Dallas — and RadarOnline.com has exclusively obtained a shocking top-secret government document that proves it! An explosive in a never-before-seen telex — now in the possession of RadarOnline.com — reveals Hoover told FBI field offices JFK would be assassinated in Dallas five days before the Nov. 22, 1963 tragedy!
Article continues below advertisement
According an expert who's spent decades investigating JFK's murder, Hoover's memo proves the FBI czar led the plot to kill Kennedy.
"I personally believe J. Edgar Hoover not only was part of a cabal to kill Kennedy, but led it — and the telex was sent to cover himself after the fact!" forensic analyst Steven Jaffe told RadarOnline.com.
The telex was sent on Nov. 17, 1963, at 1:45 a.m. Eastern time, and warned: "THREAT TO ASSISINATE PRESIDENT KENNEDY IN DALLAS TEXAS NOVEMBER TWENTYTWO DASH TWENTYTHREE NINETEEN SIXTYTHREE."
The telex — reproduced here in its entirety — was typed in capital letters, and included numerous spelling and other errors. RadarOnline.com has recreated the telex exactly as it appeared on a single page. "BUREAU HAS DETRERMINED THAT A MILITANT REVOLUTIONARY GROUP MAY ATTEMPT TO ASSINATED PRESIDENT KENNEDY ON HIS PROPOSED TRIP TO DALLAS TEXAS.
"ALL RECEIVING OFFICE SHOULS IMMEDIATELY CONTACT ALL CIS; PCIS LOGICAL RACIAL AND HATE GROPUP INFORMANTS AND DETERMINE IF ANY BASIS FOR THREAT.
Article continues below advertisement
"BHRGEU SHOULS BE KEPT ADVISED OF ALL DEVELOPMENTS BY TELETYPE."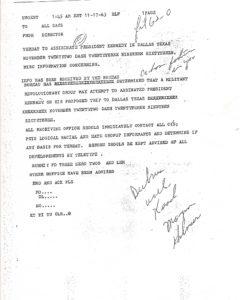 RadarOnline.com obtained the telex from Jaffe, who was a forensic analyst on the JFK assassination investigation team headed by New Orleans District Attorney Jim Garrison that probed the official findings of the Warren Commission.
Moviemaker Oliver Stone told the story of that investigation in his 1991 film JFK. Garrison's probe remains, to date, the only one to bring charges in connection with JFK's murder.
A reproduction of the telex was handed to Mark Lane, a young lawyer on Garrison's team, in January 1968, according to Jaffe.
"Lane had given a speech about the JFK murder at Tulane University, and returned to his car at nearly midnight," said Jaffe, 73, the last surviving member of Garrison's team.
"After getting into his car, a shadowy figure appeared in the back seat, startling him," Jaffe told RadarOnline.com.
Article continues below advertisement
It was William Walter, a former FBI agent in New Orleans.
"Walter told Lane he feared for his life since many of the key witnesses in the JFK investigation had died of, as he put it, 'unnatural causes,' " Jaffe said.
"He then told Lane about the telex — and said after receiving it, Special Agent in Charge Harry Maynard of the FBI's New Orleans field office summoned his other four agents and wrote their names on the telex."
Maynard's writing can be seen on the copy of the telex published here.
"Walter told Lane that late on the night after JFK was shot, he looked for the telex in the New Orleans field offices, and found that it was missing!" Jaffe told RadarOnline.com.
"Walter said, 'Even the file folder itself had been removed' — and when he finally mentioned the telex, he was immediately fired by the FBI."
After interviewing Walter, Lane wrote out a statement and Walter signed it, Jaffe said.
Article continues below advertisement
According to Jaffe, Lane told Walter, "I have to show this to Garrison," and Walter replied, "I know. I've been waiting for the right time to come forward."
Walter then gave Lane a copy of the missing telex, which he had reproduced from memory, Jaffe added.
When Lane asked whether the other field agents would back up his story, Walter replied, "Not a chance," Jaffe said.
Lane, who died last year, obtained a copy of the original Hoover telex after filing a Freedom of Information Act request with the National Archives in 1976.
He gave a copy to Jaffe — who explained why he believes the telex disappeared from the New Orleans office.
"After it was discovered that Oswald was a confidential informant for the FBI, Hoover made it clear that he didn't want any reports kept in the files that might embarrass the FBI," said Jaffe.
"Clearly, Maynard or someone else in a position of authority pulled the telex after Kennedy was killed!"
Article continues below advertisement
The telex was not among the 2,891 JFK assassination files just publicly released by the National Archives.
Jaffe suspects the Hoover telex is among the nearly 300 files President Donald Trump ordered held back — or someone pulled it from the file after Lane obtained it through his FOIA request!
JFK assassination investigators have long suspected Hoover was either part of the secret faction that plotted to murder Kennedy — or was involved in its cover-up.
"Hoover had a tumultuous relationship with the Kennedys," Jaffe claimed to RadarOnline.com.
"He wanted to go after communists. They wanted him to target the Mafia. It's been suggested Hoover wouldn't go after the Mafia because they could blackmail him on his cross-dressing and homosexuality.
"Hoover also spied on Jack Kennedy and built a dirt file on him to keep him in line.
"There is speculation JFK and his brother, Bobby, were going to fire Hoover after the 1964 election."
As for the telex, Jaffe told RadarOnline.com: "It is my opinion, based on 50 years of investigating JFK's murder and examining hundreds of thousands of related documents, that this telex is authentic — and it was sent to cover up Hoover's role!"
We pay for juicy info! Do you have a story for RadarOnline.com? Email us at tips@radaronline.com, or call us at (866) ON-RADAR (667-2327) any time, day or night.