Bombshell! Nazi Murdered JFK As Part of CIA Plot, Sensational New Book Claims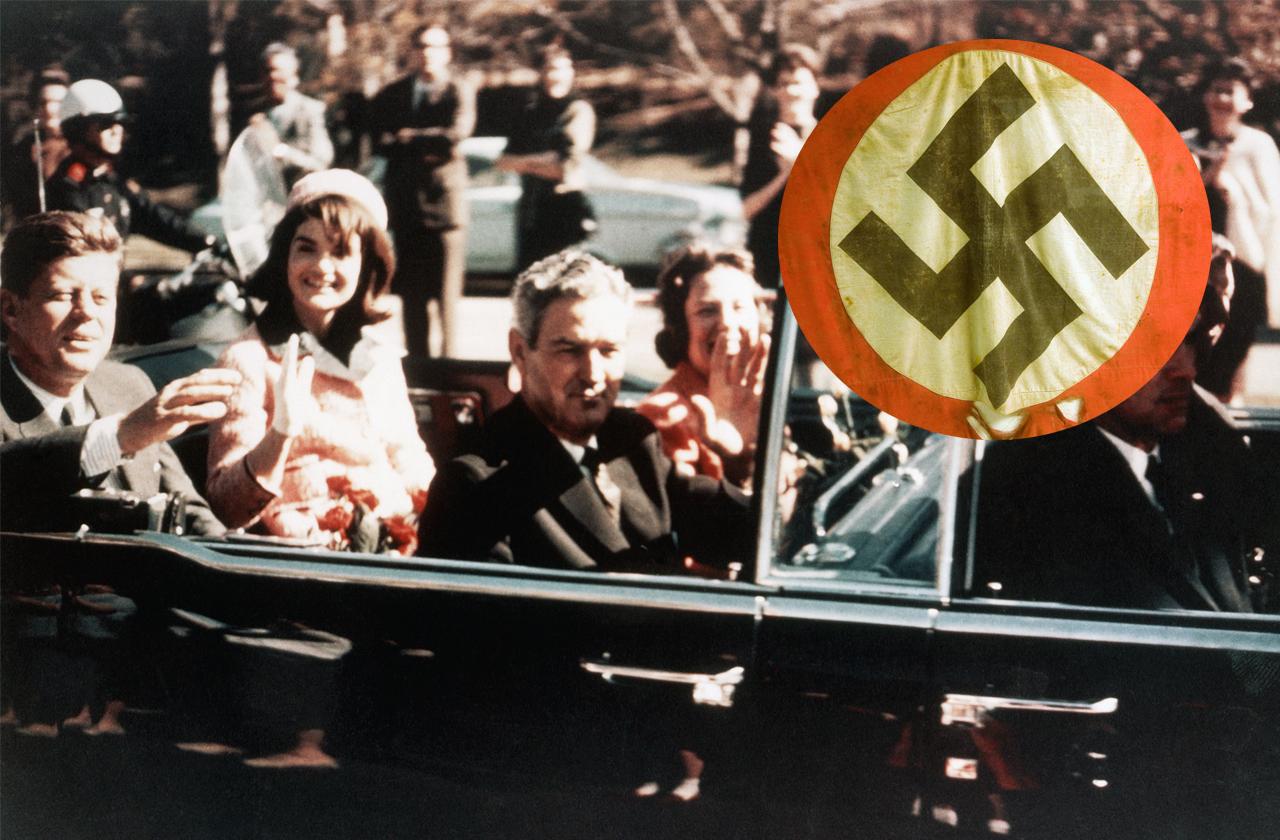 On the 55th anniversary of John F Kennedy's assassination a new book claims he was murdered by Nazis.
'The Skorzeny Papers' alleges that Hitler's favorite commando Otto Skorzeny was paid by the CIA to carry out the execution in Dallas on November 22, 1963.
It is claimed that the playboy president had his head blown off to prevent his affairs with Soviet 'honey trap' hookers being revealed.
The new book reopens the investigation into the most infamous shooting in American history.
Article continues below advertisement
Former US Navy intelligence major turned historian, Ralph Ganis, says he has proof that ex-SS commander, Otto Skorzeny, was recruited by the CIA and US military to put together the Kennedy kill squad.
His evidence reveals documentation showing the scar-faced SS chief was paid by CIA agents through a series of companies, including an oil firm, to help murder the president.
Ganis said: "The early-'60s were very different times, and Kennedy was killed partly out of fear he would bring shame on the US.
"He was having affairs with Soviet prostitutes, and if that had come out at the peak of the Cold War, it would have rocked America."
The author believes Kennedy was shot in the head on November 22, 1963, in an establishment-run hit to stop him splitting up the CIA and halting defense spending.
He added: "I did not start out researching the Kennedy assassination – I started my new book as a piece on Otto Skorzeny.
Article continues below advertisement
"But after I spent tens of thousands of dollars buying a set of Skorzeny's personal papers at an auction in Europe, I realized they showed he had been paid by the CIA to help arrange the team that killed the president.
"The payments were funnelled through companies including an oil company, and one of the assassins Skorzeny recruited was a top French killer."
Ganis believes that although Skorzeny did not actually pull the trigger on JFK his expertise was used by the CIA in the murder.
Lt-Col Skorzeny, once dubbed "the most dangerous man in Europe" by British and US spies, was known as "Hitler's commando" as he was the only SS boss to be personally decorated by the dictator with the highest rank of the Iron Cross.
At the end of WWII he was captured by American forces – but escaped with the help of SS officers disguised as US soldiers.
He later claimed in his memoir American authorities allowed him to escape.
Despite scores of other SS chiefs being executed after WWII, Skorzeny was allowed to settle in Spain where he died of lung cancer, aged 67, in 1975.
Historian Hank Albarelli Jnr, whose upcoming book 'Coup In Dallas' is due out this spring, also believes the Nazis killed JFK.
He says at least three teams of shooters were put together to gun down Kennedy – including ex-Hitler henchmen.
We pay for juicy info! Do you have a story for RadarOnline.com? Email us at tips@radaronline.com, or call us at (866) ON-RADAR (667-2327) any time, day or night.