Sex Abuse Cover-Up: 'Predator' Priests Accused Of Producing Child Porn On Church Grounds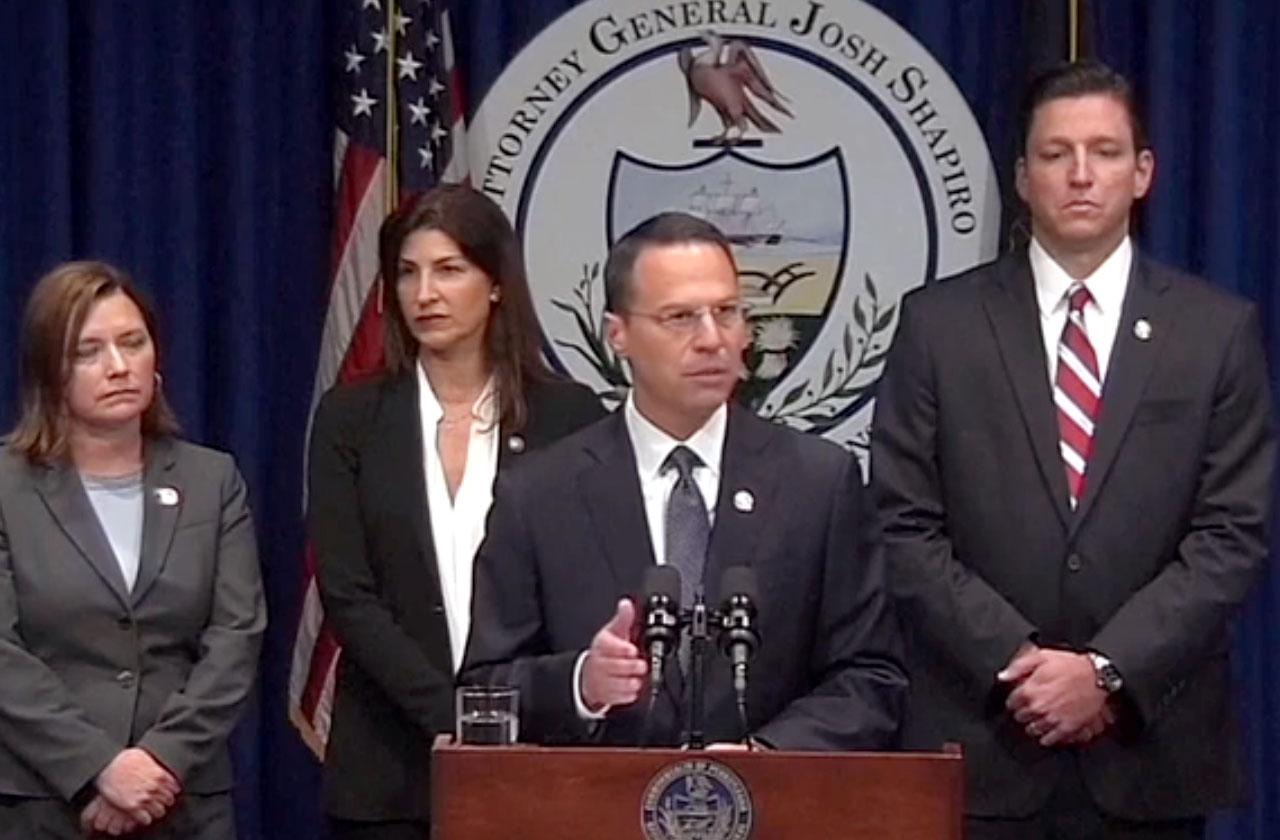 Pennsylvania Attorney General Josh Shapiro revealed that a statewide grand jury spent two years uncovering abuse of children by priests — and a systematic cover-up spanning decades by senior church leaders in Pennsylvania and the Vatican, RadarOnline.com can report.
"Today, the most comprehensive report on child sexual abuse within the church ever produced in our country was released," Attorney General Josh Shapiro said in a press release obtained by RadarOnline.com. "Pennsylvanians can finally learn the extent of sexual abuse in these dioceses."
Article continues below advertisement
"The cover-up was sophisticated," Shapiro continued. "The abuse scarred every diocese. The church protected the institution at all costs."
According to the Attorney General, more than 1,000 children were victimized sexually by "predator priests," stating that the real number of victims is believed to be in the "thousands."
Shapiro announced 301 Catholic priests were identified as sexual predators in the two-year grand jury investigation.
RadarOnline.com obtained a copy of a letter mailed to Pope Francis at the Apostolic Palace dated July 25.
Shapiro wrote: "Credible reports indicate that at least two leaders of the Catholic Church in Pennsylvania – are behind the efforts to silence the victims and avoid accountability."
In the letter, Shapiro urged Pope Francis to direct church leaders to "follow the path" he chartered at a Seminary in 2015. "You pledged to 'follow the path of truth wherever it may lead. Clergy and bishops will be held accountable when they abuse or fail to protect children.'"
Article continues below advertisement
"Sadly, some of the clergy leading the church in Pennsylvania have failed to heed your words. A comprehensive investigation by the Office of the Attorney General found widespread sexual abuse of children and a systemic coverup by leaders of the Catholic Church," Shapiro wrote in the letter to Pope Francis.
A group of at least four predator priests in Pittsburgh allegedly groomed and abused young boys.
They used whips, violence and sadism in sexually assaulting their young victims, the report claims.
One boy, not yet 18, was allegedly forced to stand on a bed in a rectory, strip naked, and pose as Christ on the Cross for the priests.
They took photos of their victim, adding them to a collection of child pornography which they produced and shared on church grounds, the attorney claimed.
Father Chester Gawronski of Erie Pennsylvania allegedly fondled boys and told them he was giving them a "cancer check," according to the 864=page grand jury report.
Article continues below advertisement
Father Raymond Lukac was accused of impregnating a 17-year-old girl, and forging another pastor's signature on a marriage certificate then divorced her immediately following the birth of their child.
Father Joe Pease allegedly sexually assaulted a boy between the age of 13 and 15. Peace admitted to diocese officials to once finding the victim naked upstairs in the rectory – but called it "horse play."
"Wherever we find child sexual abuse – in a government office, in a university, or in places of worship - we're going to investigate it and protect victims from further harm," Attorney General Shapiro wrote in the press release. "Today, after decades of enforced silence and institutional cover up, the voices of the victims of sex abuse in the Catholic Church in Pennsylvania are finally being heard. The time for institutions to place their own interests above protecting our children is over."
We pay for juicy info! Do you have a story for RadarOnline.com? Email us at tips@radaronline.com, or call us at (866) ON-RADAR (667-2327) any time, day or night.