Exclusive
'Spit On White People!' Steve Harvey CAUGHT In Racist Rant On Shocking Tape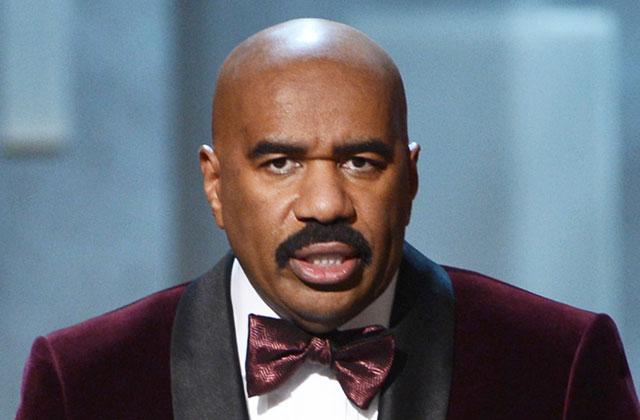 Article continues below advertisement
"I don't give a s--t about America!" Harvey bellowed on one tape, the owner of the recording, Joseph Cooper, told RadarOnline.com.
On others, Cooper said Harvey urged fans to "spit on white people!" and "go assault old white women!". But in a legal twist, Harvey filed a lawsuit against Cooper, accusing the Dallas man of using the recordings to "extort" him for a whopping $5 million. Court papers obtained by RadarOnline.com claim that Cooper tried to sell old recordings of Harvey's comedy routines, made more than 20 years ago, because of the sensitive material they contained.
"Mr. Cooper has initiated a campaign to essentially extort me, coerce me and embarrass me as I started to build my entertainment career," Harvey claimed in the documents.
The star's lawyers claimed that "virtually every time Harvey was hired for a television show Cooper would contact the owners or principals to inform them of potentially embarrassing material and or tapes and attempt to have them influence Harvey to pay for the tapes."
Article continues below advertisement
"Cooper has repetitively communicated to Harvey how sensitive he believes these tapes are and how release and publication of the tapes could adversely affect Harvey's career."
But Cooper insists that the world needs to know about what's on the explosive audio tapes. In an exclusive interview with RadarOnline.com, Cooper blasted Harvey as "the worst person that's ever been on television."
He reportedly created the tapes — 120 hours' worth — after he was hired by Harvey in March of 1993 to videotape his comedy act at the Steve Harvey Comedy Club in Dallas. The club either no longer exists or operates under a different name — and Harvey performed as a stand-up comedian for the last time on Aug. 2, 2012. But since then, Harvey has built up a vast empire worth $100 million – including radio, TV and book publishing businesses. Cooper sued Harvey himself in 2014 for $20 million.
In court documents obtained from a deposition, the TV comic admitted that the tapes contain material that is "a lot edgier" than the family-oriented jokes he now uses. Back then, he said, "I didn't have to concern myself with branding or imaging or anything. You could just say — I thought I was funnier." But will his fans be laughing when they hear he called his white roommates "honkies," according to Cooper?
Article continues below advertisement
On other tapes, he says, Harvey complained about having only "30 minutes to tell how I hate whites!" The tapes are just the latest scandal to rock Harvey's empire. Following his on-air goof in December 2015, where he crowned the wrong Miss Universe, his shady past came into light.
As RadarOnline.com reported, he star's ex-wife Mary previously accused him of serial cheating, child abuse and even bigamy! He was also involved in a profanity-laden show-down with Jesse Jackson in 2002 in which he screamed the N-word and called the famous preacher a "dumba** motherf****r!"
More recently, Family Feud viewers blasted Harvey for making racy comments on air that made the show unsuitable for children!
Are you a Steve Harvey fan? Let us know in the comments!
We pay for juicy info! Do you have a story for RadarOnline.com? Email us at tips@radaronline.com, or call us at 800-344-9598 any time, day or night.