Exclusive
Outrageous!' Prince Charles & Camilla's Secret $750M Cash Grab EXPOSED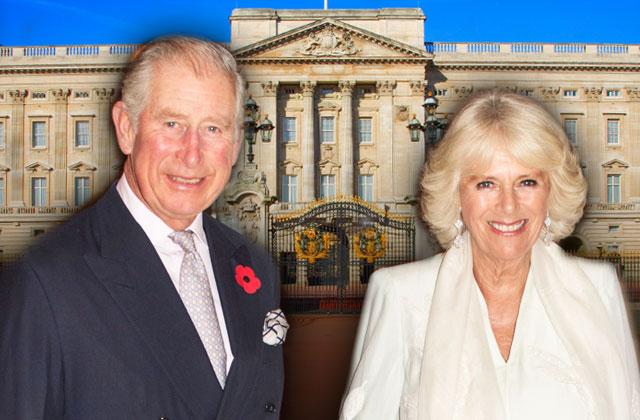 Arrogant Prince Charles is acting like an emperor, a palace insider told RadarOnline.com, demanding British taxpayers fork over a staggering $750 million to renovate Buckingham Palace!
"It's outrageous," says a member of Britain's House of Commons, who asked RadarOnline.com to protect his identity. "He's crying poor and wanting to add another burden on the public!"
Officially, Queen Elizabeth, 90, is still living in the palace while Charles and his snooty wife Camilla maintain a separate residence.
Article continues below advertisement
But Charles and Camilla are eager to move into the palace — and show the world THEY are in charge. But first, the castle has to be made "fit for a king and his queen," says a source close to Charles.
The renovations — which include 10 miles of water pipes, 6,500 electrical sockets, 500 sinks and toilets and 20 miles of privacy fencing — will take a decade to complete.
"Obviously, Charles isn't fixing up the place for his mother — who could keel over at any minute," says a grim palace insider.
"He'll be packing her off to Scotland — permanently — right after the holidays as he settles into power.
"No, these costly improvements are for the comfort of Charles and Camilla, who insists they 'should live in luxury as befits Britain's rulers.'"
Sources say Camilla has demanded the other royals currently living in the palace — her father-in-law Prince Philip along with Charles' brothers Andrew and Edward and sister Anne — get the boot!
Article continues below advertisement
"As you can image, there's little love lost between Charles' relatives and Camilla, who has backstabbed all of them by spreading poisonous lies while scheming to get Charles the crown," the insider told Radar.
"They also hate her for sleeping her way to the top. As Charles' longtime mistress, she sabotaged his marriage to Diana.
"Once she's openly the queen, Camilla will have the servants pack the bags of the other royals and ship them out."
Queen Elizabeth had decided to skip over her son Charles and make her grandson William and his popular wife Kate the new rulers.
But Charles, with Camilla whispering in his ear, organized a brazen coup. He secretly got powerful people like military heads and other nobles behind him to seize the throne.
"Charles is notoriously tight-fisted, so he has decreed the British taxpayers will have to foot the bill for the renovations," says the insider.
"He claims his family — which was worth $2 billion just five years ago — is now flat broke! Buckingham Palace hasn't been refurbished since the 1950s and now it's due for a major overhaul, but Charles is ordering that the bill be delivered to his cashed-strapped people while he and Camilla laugh all the way to the bank!"
We pay for juicy info! Do you have a story for RadarOnline.com? Email us at tips@radaronline.com, or call us at 800-344-9598 any time, day or night.