Exclusive
Blood On Her Hands! Hacked Hillary Emails Reveal She Knowingly Delayed Benghazi Rescue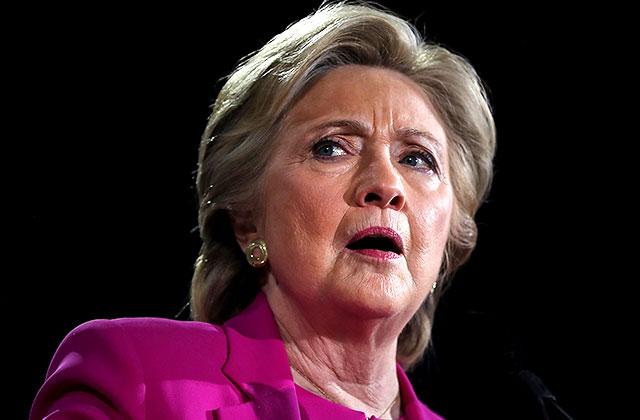 Hillary Clinton refused to send help as the terrifying Benghazi attacks unfolded, according to messages allegedly hacked from her email server and distributed by Russian operatives.
RadarOnline has obtained a report about the allegedly hacked messages that was created by Italy's foreign intelligence agency, or the Agenzia Informazioni e Sicurezza Esterna, after a meeting with their Russian counterparts on October 22. (These files were written in Italian, and then translated by a respected New York City professor of the language.)
Article continues below advertisement
One section of the report deals with September 2012 — the same month as the attack that killed U.S. Ambassador to Libya Christopher Stevens, and three others. In an alleged message from Clinton to top aide Huma Abedin, the secretary made it clear she wasn't going to rush to take action.
"Avoid that they appeal to the AUMF, lets give a political weight to the wait, take time," the message reads. (The acronym AUMF most likely refers to an "authorization for the use of military force.")
The text continues, "What has happened has happened, at Sigonella they are standing still, they have to remain firm."
Sigonella almost certainly refers to Naval Air Station Sigonella, located in the Italian island region of Sicily. According to reports, a US Air Force source once claimed that attack jets were being armed and fueled at Aviano Air Force Base in northern Italy on Sept. 11, 2012, or the night of the Benghazi attacks. The source has said the jets could have refueled at Sigonella, which is located some 400 miles from Benghazi, and helped stave off the slaughter.
Article continues below advertisement
But according to the message, Clinton insisted, "the more hours go by the better it is," claiming, "it will seem that he is not able to take a decision about an international scenario." Was she trying to make President Barack Obama look bad?
In the file obtained by RadarOnline, the reproduction of the alleged email is followed by an analysis apparently performed by Italian intelligence agents.
And in this section the analysis reads, "It looks like H.C. wants to weaken the image of the president."
A month later, Clinton was still trying to figure out what to do about the bloody attacks, if the emails can be believed.
In section dated October 2012, or one month after the attacks, the secretary allegedly wrote, "We have to talk about Benghazi, immediately, warn everybody, get ready for me the documents C, I have to understand who is behind all this."
In that case, the Italian intelligence analyst wrote, "For the writer it's evident that they are looking to find a responsibility for that happened during the assault in Benghazi. The documents C are those considered 'Confidential.'"
But for Clinton, putting documents like these on her private email server could ultimately be her downfall.
Story developing.
We pay for juicy info! Do you have a story for RadarOnline.com? Email us at tips@radaronline.com, or call us at (866) ON-RADAR (667-2327) any time, day or night.
Additional reporting: Melissa Cronin, Doug Montero, James Robertson, Lachlan Cartwright, Patty Gonzalez, Nick Erickson.