Exclusive
Telling Tales? John Ramsey May Have Changed Story After JonBenét's Murder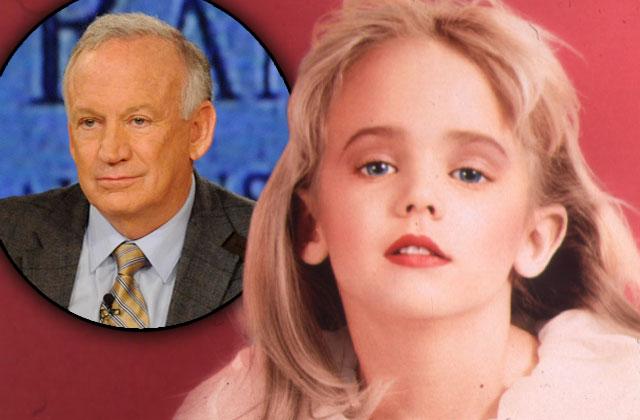 Little beauty queen JonBenét Ramsey's father confessed to police he's to blame for the 6-year-old's death — but lied about her big brother's whereabouts the night she was killed!
In shocking secret videotapes of John Ramsey's three-day interrogation by Colorado lawmen obtained by RadarOnline.com, the heartsick father covered up what his then 9-year-old son Burke was doing before JonBenét's battered body was discovered in the basement of the family's Boulder home.
Article continues below advertisement
On the 1998 interrogation tape, Burke's father claims it's "obvious" JonBenét was murdered by "an intruder" angry over his company's $1 billion success and blames himself for "thinking about security" but not carrying through with the idea.
While discussing what happened after his wife, Patsy, found a bizarre three-page ransom note claiming JonBenét was kidnapped, John says he "ran upstairs to look at her room" while Patsy checked on Burke. He insists he "looked into" Burke's room "and he was in bed and he was asleep. I knew he was there and OK."
John and Patsy first told cops Burke, now a 25-year-old computer programmer, was asleep when they made the 911 call to report
JonBenét's disappearance.
On the 1998 tape, John had this exchange with murder investigator Lou Smit:
SMIT: You say Burke left the house before the body was found. Do you recall the circumstances surrounding Burke leaving?
RAMSEY: I went into his bedroom to wake him up. I told him JonBenét was missing, gone. I remember him crying and just hustling to get up. I remember him delaying to get a toy or Nintendo or something before he left to take with him.
Article continues below advertisement
But it was a shocking whitewash!
Now a recently aired CBS documentary suggests new evidence on six seconds of 911 audio contains Burke's voice as Patsy's talks to cops.
Using modern technology, CBS investigators say they believe they can hear Burke asking, "What did you find?" and John saying, "We're not speaking to you," with Patsy allegedly asking, "What did you do? Help me, Jesus."
That bombshell theory is refuted by the Ramseys' lawyer L. Lin Wood, who blasts the documentary as "disgusting and revolting."
He insists that the theory about the 911 call isn't new and comes from a 2000 book published by former Boulder police detective Steve Thomas and a 1997 article in a local Boulder newspaper — and is "totally false."
But the Ramseys did change their story about Burke. John admitted in 2001: "Burke was awake."
We pay for juicy info! Do you have a story for RadarOnline.com? Email us at tips@radaronline.com, or call us at (866) ON-RADAR (667-2327) any time, day or night.