REVEALED: Hillary's Campaign Team Plotted With Goldman Sachs To Silence Press!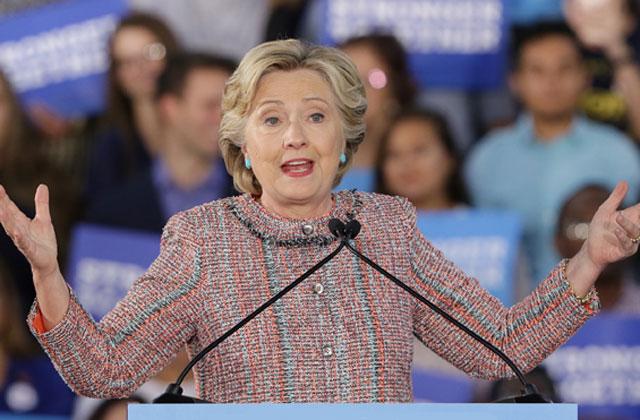 Hillary Clinton and the fat cats at Goldman Sachs secretly cooperated to hide their relationship from Americans!
That's the latest revelation from today's Wikileaks email dump.
RadarOnline.com has uncovered a series of emails between Clinton's camp and the higher-ups at the notorious banking firm, showing the Democratic nominee is more closely intertwined with GS than she lets on.
In one email from April 27, 2015 the head of corporate communications for Goldman Sachs, Jake Siewert, offered up a useful piece of information to Jennifer Palmieri, Clinton's current director of communications.
Article continues below advertisement
"This is a piece of Goldman research on the current state of the US economy that will probably get some pick-up," Siewert wrote.
"The WSJ is writing on it this evening and will probably publish tonight on line," Siewert continued.
He then added that Palmieri might want to "pass along to the economic team. I suspect Democrats will appreciate the part that talks about how smaller firms are being left behind by big companies."
Clinton's team responded with, "Good Stuff."
But the cozy relationship doesn't end there. Disturbingly, Siewert vetted press requests with Clinton's team!
In one email from October 2015, Siewert passed along a message from Jeff Gerth, an investigative reporter for Pro Publica, who was inquiring about "the finances of the Clintons." Gerth added that he wanted to speak with Timothy Paul, a former director at Citigroup and current CFO at Goldman Sachs who worked with the Clintons.
Article continues below advertisement
Siewert told Gerth he did not know Paul, but said he would "check in and see whether he's willing to chat about that chapter of history."
Siewert then turned around and secretly forwarded the conversation to Palmieri writing, "Can only imagine what this is all about. Wanted to make sure you were aware." Palmieri thanked him for the tip.
Possibly the most startling of all the emails dates back to December 2013, when a reporter named Mike Dorning contacted Siewert to inquire about the role former Bill Clinton Chief of Staff John Podesta "played in Clinton 2nd term push to use executive actions to further agenda."
Siewert sent the inquiry directly to Podesta writing, "Guidance? I can make stuff up but happy to emphasize whatever you'd like."
"Was thinking of stressing the deep knowledge and expertise around executive power and what can be done independent of congressional action," he wrote.
Siewert's forwarded message illustrated the potential censoring of reporting that Clinton's camp engaged in before and during her bid for the White House.