Exclusive
Bill's 'Secret Lover' EXPOSED In New Email Leak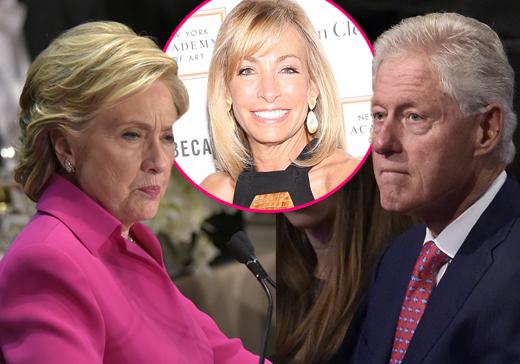 Hillary Clinton's top staffers held a secret conference call to craft a plan to deal with Bill's busty blonde mistress, the notorious "Energizer!" That's the shocking revelation from the latest explosive Wikileaks release, RadarOnline.com has learned.
As RadarOnline.com has reported, the Clintons have tried to hide Bill's secret mistress, Julie Tauber McMahon, for years — with little success. Back in 2014, The National ENQUIRER exposed their secret rendezvous, and the newly released emails show how Clinton's camp was thrown into a tailspin.
Article continues below advertisement
On July 25, 2014, top Clinton aide Cheryl Mills emailed Podesta and other campaign officials a link to an article about Clinton's mistress.
"Who is the 'Energiser' sic who has been Clinton's secret lover?" the subject line of an email sent from top Clinton aide Cheryl Mills to campaign chairman John Podesta read.
Within hours, Podesta had forwarded the email to an assistant, "for scheduling" a call between him, Mills, and Bill's former chief of staff, Tina Flournoy.
By that very night, they had convened.
What they discussed remains a mystery, but it's clear that for Clinton, the Energizer is the dirty secret that just won't go away.
As RadarOnline.com reported, a previous Wikileaks data dump proved that months after the staffers had this call, Podesta brought up the troubling blonde yet again in a December 2014 email exchange to Mills.
The subject line read simply: "Julie."
Article continues below advertisement
"Saw her picture in this or last weeks sic Enquirer," Podesta wrote, likely referring to a series of stories that The ENQUIRER and Rada published in late summer and fall 2014, revealing the jaw-dropping rumors swirling about Tauber McMahon and Bill.
He continued, "Probably need to revisit our Whitehaven conversation." Whitehaven was the Clinton's DC mansion.
Mills responded cryptically, "k."
Were they suggesting that Whitehaven might have been one of the couple's love nests? In 2014, the couple were spotted several times near the Clintons' home in Chappaqua, New York.
The ENQUIRER visited Chappaqua in summer 2014 and found that the duo had been spotted at a local jewelry store, Desires by Mikolay, where Slick Willy bought his busty blonde a bracelet. Another eyewitness spotted them having a summer lunch at French bistro Le Jardin du Roi.
"They even held hands at the table!" an eyewitness said at the time.
Insiders told The ENQUIRER at the time that she and Bill first met in 1998, and continued a clandestine relationship for years. She denied it, telling The ENQUIRER in March 2011,"My reply remains the same, we are friends and the allegations are false." But one of her relatives passed a polygraph test about the allegations.
"It became a running joke in the family," the source told The ENQUIRER. "If Clinton traveled to London, we'd learn Julie was also visiting London. When Clinton went to France, we'd discover Julie was also in France."
We pay for juicy info! Do you have a story for RadarOnline.com? Email us at tips@radaronline.com, or call us at (866) ON-RADAR (667-2327) any time, day or night.