Exclusive
Exposed! Evil Robert Durst Planned 'Manson-Style' Superstar Slaughter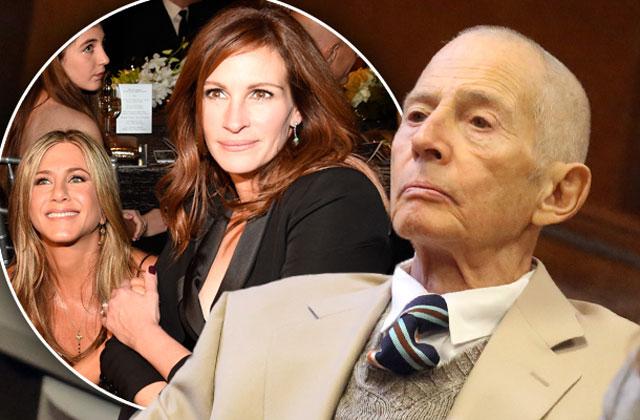 RadarOnline.com has exclusively learned that millionaire madman Robert Durst planned to "turn Hollywood's red carpets red with celebrity blood" by whacking superstars — including Barbra Streisand, Julia Roberts and Jennifer Aniston.
That's the sensational claim of an imprisoned jewel thief who told RadarOnline.com in a blockbuster world exclusive that Durst asked him to carry out the A-list massacre using his connections with the New York Mafia and Colombian drug cartels.
Article continues below advertisement
"He said 'his people' would obtain all home addresses and to start with 'L.A.' area celebs," claimed the insider, adding Durst promised to cough up $100,000 for the first celebrity, $200,000 for the second — up to $1 million.
Other stars targeted by the demented real estate heir were Celine Dion, Janet Jackson, Meryl Streep, Sharon Stone, Drew Barrymore and Raquel Welch, according to the source.
Federal agents have interviewed him about 73-year-old Durst's "celebrity hit list" — and he may testify at the murderous mogul's upcoming trial for killing pal Susan Berman.
RadarOnline.com is withholding the name and location of our source, now serving 15 years for escaping prison after being convicted for burglary and grand theft auto.
The source claimed he was attending locksmith school in the early 1980s when he met Durst outside the New York City school. The encounter developed into a relationship, said the source, as he provided Durst with cocaine, marijuana and firearms.
The source alleged that Durst hatched his sinister plan after New York authorities re-opened the case of his wife Kathleen mysteriously vanishing on Jan. 31, 1982, amid vicious fighting with Durst, and her demand for a $250,000 divorce. Authorities wanted to re-interview Berman, who, it's believed, provided the loony developer with a fake alibi for Kathleen's disappearance.
Article continues below advertisement
According to the source, Durst, who was afraid Berman would reveal his secret, hatched his celebrity hit list plot to fool police into believing a "Manson-style" serial killer was on the loose, thus deflecting suspicion from his planned murder of his UCLA college pal, Berman.
"He wanted the same gun and techniques used on the celebrities as would be used to kill Susan Berman," said the insider. "He wanted to create such a panic that all suspicion would be removed from him, and he'd beat his L.A. case for murdering her. It was a ruse."
As RadarOnline.com reported, Berman was killed execution-style on Dec. 24, 2000, in her L.A. home. Her murder remained a cold case until HBO filmmakers caught Durst muttering to himself while being recorded during the filming of the 2015 documentary The Jinx. "What the hell did I do? Killed them all, of course," Durst said.
Durst was charged with Berman's murder a day before the final episode aired. He is currently imprisoned on weapons charges in New Orleans and awaiting transfer to California where he will stand trial for Berman's murder.