Presidential Election 2016
America Hates Hillary! Clinton's Popularity Ratings Reach A New Low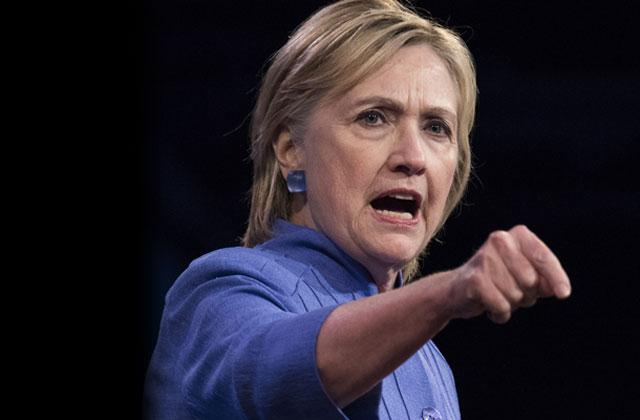 Hillary Clinton is fighting to maintain her lead in the polls, but her stock is sinking fast. RadarOnline.com has learned that the candidate has just recorded her lowest popularity ratings ever!
The recent ABC/Washington Post poll reveals that, among, registered voters, 38 percent viewed her favorably while 59 percent had an unfavorable opinion of the Democratic nominee. These numbers represent "her lowest popularity ratings since taking the public stage a quarter-century ago," the New York Post explained.
Article continues below advertisement
Clinton's ratings among women had dropped from 54 percent to 45 percent, while her ratings among Hispanics dropped from 71 percent to 55 percent.
The former secretary of state would be "the most unpopular major-party presidential nominee in modern US history" if not for Trump, according to the Washington Post.
Her growing unpopularity is likely due to the plethora of scandals circling her campaign. Tom Fitton, president of conservative watchdog group Judicial Watch, made a startling claim about Clinton saying, "One of the dirty little secrets in Washington is that Mrs. Clinton can be impeached now," according to The Daily Mail.
Though FBI director James Comey announced in July that the Bureau would not be prosecuting Clinton based on her mishandling of classified information in her private email server, Fitton said if Clinton were convicted by the Senate, "the sanction could be ineligibility for future office."
"The Congress thinks that Mrs. Clinton lied to them," Fitton claimed. "You have the mishandling of classified info that was quite evident and other violations of the law including federal records laws with the associated graft of the Clinton Foundation. There's plenty to begin at least an impeachment inquiry in the House."
Article continues below advertisement
Mishandling of technology has been a focal point throughout the 2016 presidential election. In addition to Clinton's email scandal, the Democratic National Committee was hacked this summer, leading to the resignation of its chairwoman Debbie Wasserman Schultz.
Also this week, Guccifer 2.0, the hacker or hackers who in June leaked over 250 files prepared by DNC staffers, publicly released documents from former speaker of the house Nancy Pelosi's computer.
The hacker released the files on his website. One document suggests Pelosi had been aware for two years that President Obama's proposed airstrikes were not capable of defeating ISIS. "Airstrikes alone won't defeat ISIS," the document reads.
The files also include various "fundraising notes, a memo explaining how Democrats should respond to Black Lives Matter, and background information on immigration, the Islamic State in Iraq and Syria (ISIS) and the Benghazi terrorist attacks," The Hill reported.