Exclusive
Dolly Parton Pulls Gun On Perv Who Thought She Was A Hooker!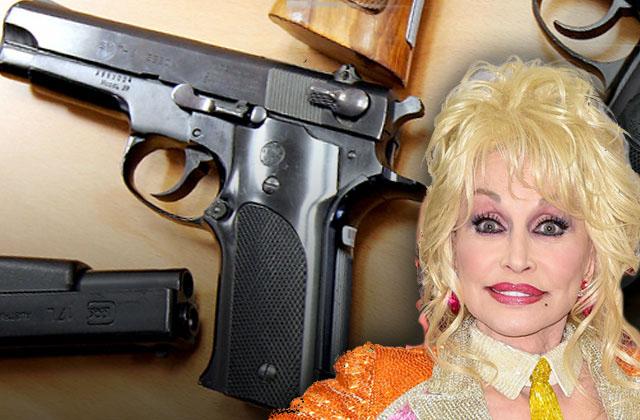 Tiny Dolly Parton packs a pistol in her handbag, and she used it once on a curb-crawler who started hustling her and a pal one terrifying night!
"I was in New York walking with a girlfriend when some man came on to us," she explained. "He thought we were hookers I guess, and he propositioned us. Well, I stuck my hand in my bag, pulled out my gun, pointed it at him and told him if he didn't take a hike I'd turn him into a soprano."
Article continues below advertisement
The result? "He left us alone right quickly after that," she recalled.
Parton's defenseless little-girl looks hide her natural pluck and gutsy self-confidence. But unfortunately, some of her fans have only gotten weirder — and more dangerous.
When Parton, 70, started getting death threats from a strange man in Kentucky years ago, she could have panicked, hired bodyguards or refused to venture outside her high security homes.
But that's not Parton. She wasn't going to become a victim for the rest of her life or end up some kind of recluse. Instead, she learned how to handle a gun and started taking sensible precautions in the hopes she would never have to pull the trigger.
She's also received nightmarish death threats from the KKK because her Tennessee-based theme park, Dollywood, used to hold "gay days."
Even though the event wasn't sanctioned by the theme park, it still sparked a KKK protest in 2004. The threats continued even after Gay Days founder Ryan Salyer ended the event in 2009, noting, "After dealing with the police, the lawyers and the Klan's death threats, it all became too much."
Said a friend, "Dolly has now been targeted by the KKK for more than 10 years. She's a Christian, but she marches to her own beat and says she isn't in the business of judging anyone."
"Dolly won't back down on what she believes in, but she's gotten weird letters from some unhinged people that have really unnerved her," noted the source. "She feels like she's got a bulls-eye on her back."
We pay for juicy info! Do you have a story for RadarOnline.com? Email us at tips@radaronline.com, or call us at (866) ON-RADAR (667-2327) any time, day or night.