Dolly Parton Very Worried About Goddaughter Miley Cyrus: 'She Told Me She Had To Murder Hannah Montana'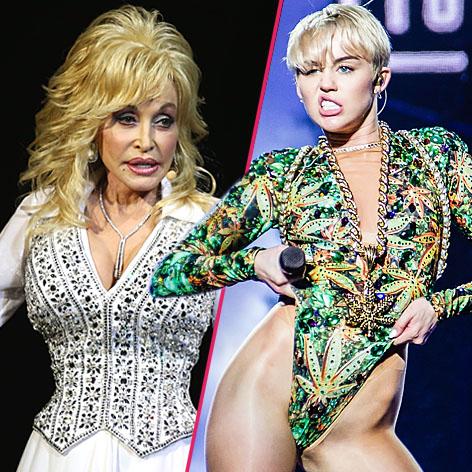 Dolly Parton is very worried about her beloved goddaughter, Miley Cyrus.
"She told me she needed to 'murder Hannah Montana'," the country music legend told the London Sun .
"I think she felt she had to make that severe a change. And she obviously did," Parton continued.
"I'm hoping that she holds it in the road and doesn't do so many things that are that bizarre. I don't think the crowd would be so forgiving again if she did anything else that was really offensive. I don't want it to overshadow her talent."
Article continues below advertisement
Parton also confessed she is "very worried" about the Wrecking Ball singer's attitude towards drugs. Cyrus has been very open about her use of marijuana which she called "the best drug on earth" in an interview last year.
Parton didn't address the most recent Cyrus news. The singer was hospitalized for what her reps called an "extreme allergic reaction" to an antibiotic. All remaining dates on the U.S. leg of the Bangerz Tour have been postponed. It will pick up again May 2 in one of Cyrus' favorite cities, Amsterdam.
For all her concerns, Parton is being optimistic about Cyrus' future.
"If she is as smart as I think she is, I think she'll make the right decisions." she said.