Exclusive
Cry For Help! Selena's Posts About Justin Cheating Were 'Red Flag' Before Rehab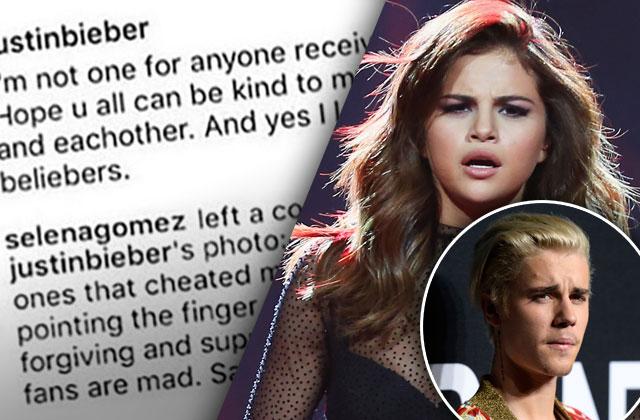 RadarOnline.com has exclusively learned that alarm bells began ringing for those close to recently rehabbed Selena Gomez after the singer took to Instagram to slam her ex, Justin Bieber.
According to a source close to Gomez, the 24-year-old's recent snarky comments on Bieber's Instagram, which suggested he cheated on her, were a major "red flag" for her mom, Mandy Teefey, 40.
As RadarOnline.com reported, a war of words erupted on the social media site between Gomez and Bieber after she told him to "stop posting pictures" of his new 18-year-old girlfriend, Sofia Richie, if he "can't handle the hate."
Article continues below advertisement
"It's funny to see people that used me for attention and still try to point the finger this way," Bieber, 22, responded, adding: "Sad. All love."
But Gomez wasn't taking his dig lying down.
"Funny how the ones that cheated multiple times, are pointing the finger at the ones that were forgiving and supportive, no wonder fans are mad. Sad. All love," the "Kill Em with Kindess" singer sniped back.
According to the source, Gomez's fighting words were a sign to her mother that she "wasn't thinking clearly."
And when Gomez got "major blowback" from the fight, said the source, she took it "just beyond horribly — beyond!"
As RadarOnline.com exclusively revealed, Gomez checked into rehab on Aug. 30 after she returned from performing in Auckland, New Zealand.
Gomez had been using "Lunesta, Ambien, Klonopin and Xanax. Not all at once. And more 'recreational' than any one thing specifically," revealed the source.
Gomez's rep did not respond to RadarOnline.com's request for comment.