Exclusive
'60 Days In' Star Rob Holcomb Exposes Show Fakery In Scathing Tell All: 'They Lied!'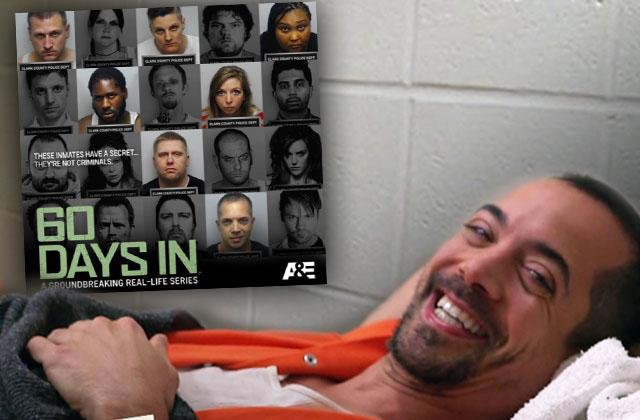 Article continues below advertisement
Holcomb's fellow inmates of Clark County Jail went as far as to let him use their phone and computer time, provide him with magazines, books, pen and paper, and even offer him drugs.
"Random acts of kindness made jail comfortable," he said. "They treated me better than my big brother!"
But the real-life teacher's description of his fellow inmates wasn't how they were portrayed to viewers once the series aired.
"They tried to make it look like I was going to be attacked," he explained. "The show made inmates look like animals; in reality they were kind human beings suffering from drug problems."
Holcomb believes producers of the series, who he refers to as, "mutton headed morons," should be "embarrassed of the garbage they produced."
"When you watch the show, you get the feeling inmates are bad people and you should be scared to go to jail," he added. "In reality, many are respectable people who made poor decisions."
Article continues below advertisement
Holcomb explained how the show's biggest misconception was how he acted "crazy" around the inmates.
"The reason why I was arrested is because I stole horse trailers," he said. "How stupid can someone be to come up with that cover story? I acted insane as nobody messes with the crazy guy. The show was not about finding drugs, it was about ratings. I was there to entertain."
Holcomb believes airing the unedited footage could help addicts overcome their addiction issues through treatment, not incarceration.
"They need counseling," he said. "Locking up non-violent drug users is breaking apart families and burdening taxpayers. They could go to a rehab center and get help."
Holcomb is also hoping to use his experience on the show to educate viewers on the importance of helping orphans through Haitian Street Kids, Inc.
"With the money paid for going to jail, I got three more orphans are off the street in Haiti and back in school this past January," he said. "Unfortunately, I don't have the money to enroll them this September. My fundraising hit rock bottom because of the false portrayal of me on the show."
Article continues below advertisement
Holcomb even put his time behind bars to good use by working on his book that helps parents teach their children to read and write.
Despite the charitable opportunities the show provided for Holcomb he still believes it did "more harm than good."
"The producers told me it was going to be a documentary, they lied," he slammed. "A&E needs to air an episode of what really happened, in doing so maybe we can have social change!"
We pay for juicy info! Do you have a story for RadarOnline.com? Email us at tips@radaronline.com, or call us at (866) ON-RADAR (667-2327) any time, day or night.