Exclusive
'Little People' Fakery EXPOSED! Roloff Family Caught RED-HANDED Scripting 'Reality' Scene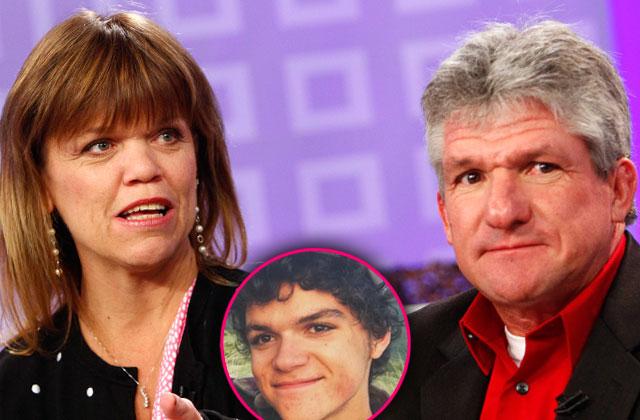 Earlier this month, rebel Jacob Roloff put his family on blast for playing "characters" on their long-running TLC reality show, Little People, Big World, and blatantly reading lines fed by ratings-hungry producers.
Now, it seems the 19-year-old has called out his clan again by indirectly revealing that an entire scene on the season finale was scripted!
On this week's season show, The Next Chapter, divorced parents Amy and Matt threw a big bash together in celebration of only daughter Molly's college graduation at the family's Oregon farm.
Article continues below advertisement
During the festivities, Molly stood up and dropped a bombshell that seemed to shock the entire clan.
"I have an announcement. I got a job!" she said.
"Really?" asked Amy.
"At an accounting firm in Spokane, so I will be staying in Spokane," Molly responded, referring to the Washington city in which she attended school.
Proud dad Matt lamented his baby girl's official relocation to a new town.
"It's very bittersweet announcement…I just always expected that she would gravitate close by," he said.
Molly's big brother Jeremy, 26, and his controversial Christian blogger wife, Audrey, 24, appeared directly on camera, and though Jacob hasn't made a cameo in years, his girlfriend Isabel could be spotted smiling in a few frames.
It all seems like a sweet surprise. But, in an Instagram post from May, Jacob revealed the truth about Molly's announcement: she got the job "months" before the party, and the whole family knew about it!
Article continues below advertisement
"My sister graduated summa cum laude — with the highest distinction — and had a job lined up literally months before school ending which is really no surprise to people who know her," he captioned the snap. "She's gonna have her own office and clients and it's hilarious and awesome because we all knew it!"
Will Jacob and his family ever see eye to eye? Sound off in the comments.