Exclusive
'Little People' Parents Matt & Amy Roloff Finalize Divorce: Find Out Who Got What!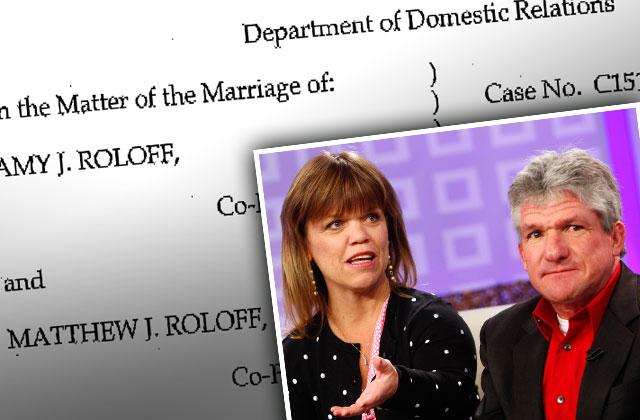 It's a sad time for Little People, Big World fans. Parents Matt and Amy Roloff have finalized their divorce, RadarOnline.com has learned.
Fortunately for their four children, the couple ended their nearly 30-year marriage amicably. According to Oregon's Washington County Circuit Court documents exclusively obtained by RadarOnline.com, Matt and Amy agreed to divvy up their assets fair and square, and were both "satisfied" with the results.
Article continues below advertisement
The TLC reality stars and entrepreneurs equally split interest in their four companies: R6 Productions, Roloff Family Farms, R Pumpkin Productions and Roloff Properties.
IT'S OVER: READ THE DIVORCE PAPERS
However, Amy, 51, now has full control of her business, Living Large Enterprises, while Matt, 54, kept his companies MRE, Inc., and MR Speaking.
The couple equally divided their original family photographs and videos, but both parties promised to make the other copies within one year of the judgment filing.
The only uneven trade came down to the cars. Amy got the 2013 Ford Escape, while her ex-husband took home his 1966 and 1967 Volkswagen Bugs and a 2011 Cadillac. Daughter Molly, 22, won the 2006 Honda CRV.
Fortunately, there was no battle over their brood. Son Jacob, 19, is a statutory party, but he is not attending school. Therefore, neither parents has to provide child support, documents state. (The clan, which also includes twins Zach and Jeremy, 26, recently reconciled with the youngest sibling after he claimed he was "f***ed" out of his reality TV earning.)