Exclusive
Coroner Releases Alligator Attack Victim Lane Graves' Autopsy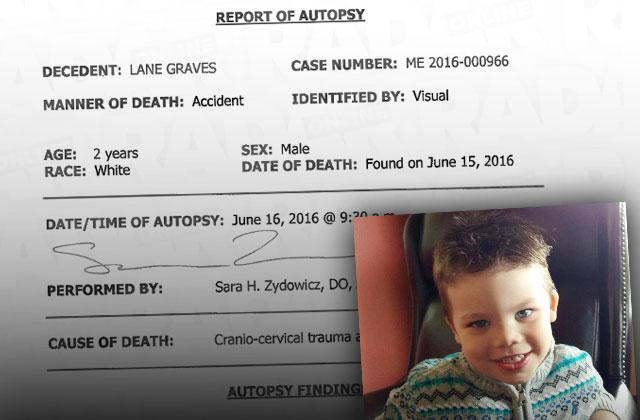 Article continues below advertisement
"This afternoon a complete autopsy was conducted on Lane T. Graves by Dr. Sara Zydowicz, Associate Medical Examiner with the District Nine Medical Examiner's Office," a rep for the Orange County Coroner told RadarOnline.com shortly after the little boy's body was found intact on June 15.
According to the autopsy report, Graves was "dressed in a pair of blue shorts worn with a short-sleeved T-shirt emblemized with the American flag" and was wearing a disposable pull-up diaper underneath the shorts.
The report also revealed that the alligator left Graves with severe injuries that were concentrated around his head.
"The right side of the scalp" had "a vertically-oriented laceration measuring 2.3 x 0.3 cm." with "a maximal depth of 0.4 cm.," stated the coroner.
"The skin on the left side of the hair-bearing scalp in the parietal region has two recent puncture wounds," continued Zydowicz's gruesome findings.
The animal, which was later hunted down and killed by officials, also caused damage to Graves' skull in the form of a fracture, as well as abrasions on his eyelid, eyebrow and jaw, among other injuries.
Zydowicz concluded that "after examination of the body, it is my opinion that Lane Graves…died as the result of cranio-cervical trauma and drowning."
"The manner of death is classified as accident," she added.