Swallow The Truth! The Brew Hillary Clinton And Donald Trump Need To Try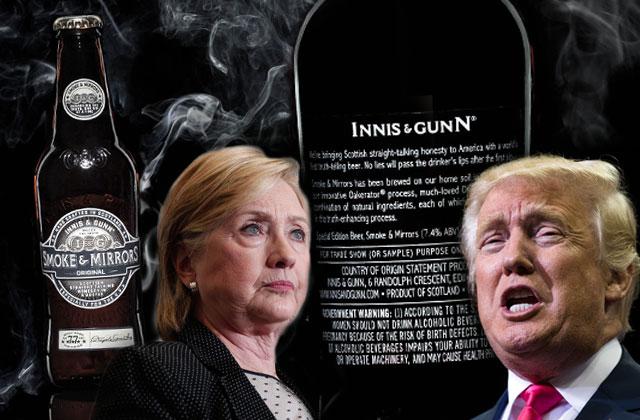 Who doesn't want their president to tell the truth?
The 2016 presidential battle between Donald Trump and Hillary Clinton has become one of the most thrilling races in decades, and one beer brand is taking full advantage.
Award-winning beer brand Innis & Gunn have launched Smoke & Mirrors, the first truth-telling beer, made from ingredients designed to foster truthfulness.
They even sent bottles of the new brew directly to Trump and Clinton, since trustworthiness is one of the most important qualities necessary in any world leader.
Article continues below advertisement
How does it work? Smoke & Mirrors is made from three natural ingredients - Licorice root, Mullein, and Vine essence, all of which are said to aid the truth-telling process.
Dougal Gunn Sharp, the founder and master brewer at Innis & Gunn is a strong proponent of honest political campaigning and said, "Scotland is a straight-talking nation and we're looking forward to bringing a little part of our Scottish candidness over to the States, along with our most innovative brew to date, Smoke & Mirrors."
Sharp continued, "At Innis & Gunn, we're committed to pushing forward the boundaries of beer innovation; experimenting with new brewing methods and flavor profiles. Our latest beer has been brewed especially for the American people and demonstrates how beer can be so much more than just a drink. Through Smoke & Mirrors, we have the power to open up a more real, more honest world."