Daddy's Girl! Secrets Of Tiffany Trump's Relationship With Donald REVEALED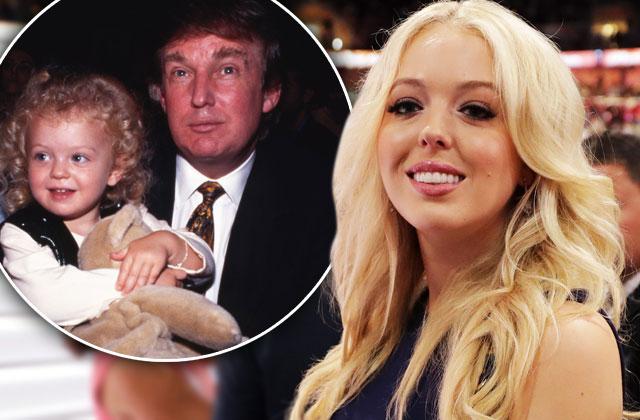 Tiffany Trump spoke about Donald Trump's softer side at the Republican National Convention last month. But what really happened behind closed doors as she was growing up? RadarOnline.com has the details!
Even from her first days, Tiffany cast a spell over her proud dad. "This is the most amazing experience I've ever had," raved the elated pop shortly after Tiffany was born in October 1993. "She's a perfect little girl."
Article continues below advertisement
"I cut the umbilical cord myself," Donald recalled at the time. "I was very nervous because then-wife Marla was in a lot of pain. I tried to convince her to take something, but she wouldn't. She's such a strong woman. I'm amazed."
Because Tiffany came early, Donald had to make a desperate after-midnight dash from New York City to be by Marla's side after she went into labor at his $20 million Florida mansion, Mar-a-Lago in Palm Beach.
"I was asleep in New York when I got the call at 1:30 a.m.," Trump said, recalling how he rubbed the sleep from his eyes as he sped toward a private jet waiting for him. "I was airborne by 3:00 a.m., at the hospital by 5:30."
The very next day, mother and child said goodbye to a room overflowing with flowers, cards, and gifts as they left St. Mary's Hospital for the short ride to the Trump estate, where Tiffany spent her first two weeks.
Article continues below advertisement
"He is absolutely and totally over the moon about her," one of Donald's friends said at the time. "Everyone is. Tiffany is absolutely phenomenal. Right now she is making the most adorable cooing noises. There is not one thing about her that's not beautiful."
After Tiffany was born, Donald was seen strolling alone with Tiffany in his arms and sharing some private time with his beautiful baby. "It was really the most beautiful thing to see him walking on the grounds and cradling Tiffany in his arms," a Mar-a-Lago insider said at the time.
According to another source, Donald had fallen so madly and deeply in love with Tiffany that he began carrying her into business meetings!
"She's hardly ever out of his arms," the source said at the time. "I can tell you, this is a new and much softer Donald than any of us have ever witnessed before. The change in Donald has taken all the guys, and everyone else for that matter, totally by surprise."